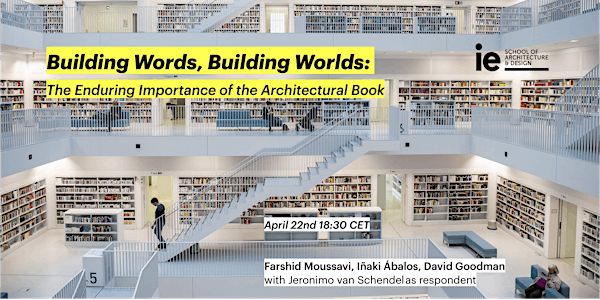 Building Words, Building Worlds: The Enduring Importance of the Architectural Book
Building Words, Building Worlds: The Enduring Importance of the Architectural Book
About this event
The protagonist of Victor Hugo's novel Notre-Dame de Paris warned that the printed book would eventually destroy architecture itself, so great was its ability to communicate directly to a mass public. While Hugo's pessimism may today seem to have been ill-founded, his belief in the power of the book remains relevant, especially as we are confronted with a flood of new architectural media that seem to challenge the primacy of the architectural book as a mode of research, of documentation, and of deliberate reflection. Join us for a lively discussion of the enduring power of the architectural book, its future, and its role in the development and dissemination of architectural thought.     
Speakers:  
Farshid Moussavi, Iñaki Ábalos, David Goodman, with Jeronimo van Schendel as respondent 
Farshid Moussavi 
Architect Farshid Moussavi is Professor in Practice in the Department of Architecture, Harvard University Graduate School of Design and principal of Farshid Moussavi Architecture (FMA.) She trained at Harvard GSD, the Bartlett School of Architecture University College London and Dundee University.  She has been a visiting professor at UCLA, Columbia, Princeton, the Architectural Association, and the Institute of Architecture at the Academy of Fine Arts in Vienna.  Moussavi has also served on design and architecture advisory groups for key institutions, was Chair of Master Jury of the Aga Khan Award for Architecture, a member of the Board of Trustees of both the Whitechapel Gallery and the Architecture Foundation in London. 
Iñaki Ábalos 
Architect Iñaki Ábalos co-director of the firm Abalos+Sentkiewicz AS+, with offices in Madrid, Cambridge, and Shanghai.   The work of the firm has been collected in the monographs entitled "Essays on Thermodynamics, Architecture and Beauty" (Actar, 2015) and "New Primitivism" (Arquine, 2021). He is also the author of essays such as "La Buena Vida" (Gustavo Gili, 2000) and "Absolute Beginners" (Park Books, 2021), a compilation of texts that will be published soon. Ábalos teaches as ETSAM, Madrid and is a visiting critic at Harvard GSD, where he served as Chair of the Department of Architecture.  He holds a PhD in Architecture from ETSAM and a Master of Science from CAUP Tongji University, Shanghai. 
David Goodman 
David Goodman is Associate Dean and Professor of Architecture at the IE School of Architecture and Design. He holds degrees in architecture from Cornell University and Harvard GSD and a Doctorate in Business Administration from the IE Business School.  Goodman is coauthor of the book An Introduction to Architecture Theory: 1968 to the Present. His work has also appeared in the journals a+t , Log, Journal of Architectural Education, Technology | Architecture + Design  and in the anthology Chicago Architecture: Histories, Revisions, Alternatives, among others. 
Jerónimo van Schendel   
Jerónimo van Schendel is the Director of the Master in Business for Architecture and Design at IE School of Architecture and Design.  He holds a degree in architecture from the School of Architecture of the Polytechnic of Madrid (ETSAM) and a Master in Architecture (M.Arch II), from Harvard University, GSD.