Do you have an idea of what will change the future of our cities? Are you excited about tackling urban challenges? This event is for you!
About this event
This online Citython edition will be held in the city of Lublin, Poland. This year edition is focused on more green, healthy and smart solutions for the City of Lublin.
The goal of this Citython is that young professionals search for innovative and creative solutions that can be applied in the citiy of Lublin to foster innovation.
This hackathon will provide an opportunity for brilliant young talents to design new solutions with the help of mentors and experts, who will be on hand throughout the event, while also experiencing the unforgettable thrill of coming together with peers who share the same passion for digital technology and innovation.
💻 Challenges:
The challenges teams will tackle in the Citython 2021 Lublin are:
Challenge 1: Green Connection -Green Connection is a concept of combining Lublin's green areas into a coherent recreational and natural system. Lublin has significant potential thanks to the unique terrain - river valleys, dry valleys and ravines permeating the urban buildings, parks, squares and the greenery of the estate. We have an opportunity to provide a more fulfilling urban experience and to design for health, equity, and accessibility. The answer to this demand may be the connection of green areas in Lublin into the Green Connection.
Challenge 2: Green Ring Road in the City - To delineate and design a bicycle bypass of the city connected to the existing pedestrian and bicycle infrastructure and consistent with the urban greenery. A key element is to plan a bypass that is compatible with the idea of green corridors and to approach the city as an ecosystem.
Challenge 3: Challenge surprise - We have prepared a big surprise for you and your team, which we will announce during the introductory webinar. At that stage, we can say that the third challenge will be not easy to resolve, but thanks to the teamwork you will tackle a real urban challenge and help the City of Lublin and its citizens.
Don't forget to indicate, in the registration process, which one you and your team will work on during the Citython 2021 Lublin.
🏆 Awards:
There will be one winning team for each challenge (three winning teams in total), and each of them will receive a financial award of 500€. Along with the cash prizes, the winners will also get the opportunity to present their solutions during the Smart City Expo World Congress 2021.
👩🏻🧑🏻‍💻Teams:
The hackathon is open to both teams (of three to five people) and individuals of legal adult age from any country in Europe. The event organizers will help participants who sign up individually to team up with other participants in a group. The procedure welcomes all applications and shall not discriminate on the basis of ethnicity, religion, sex, sexual orientation, gender expression, age, or marital status.
🎟️ Participation fee: Citython 2021 Lublin is 100% free for all participants. Just apply and get your ticket!
More information about the previous editions you can find on the web.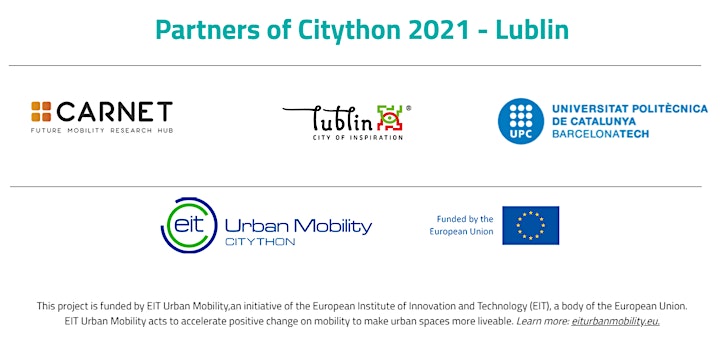 Organiser of Citython 2021 Lublin - Online Event
Cooperative Automotive Research Network (CARNET Barcelona)
Initiated by Seat, Volkswagen Research and the Universitat Politècnica de Catalunya (UPC), is an open hub to industrial and academic partners from the areas of automotive and mobility research & innovation, located in Barcelona with project-based collaboration. Its research focus lies on innovations and solutions that close the gap between automotive and urban mobility.