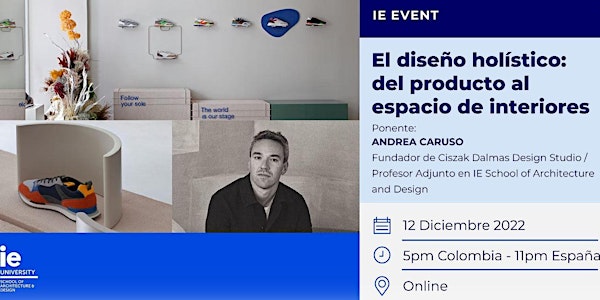 El diseño holístico: del producto al espacio de interiores
Probaremos que el diseño es un factor determinante para la innovación y la mejoría de la calidad de vida
About this event
Hoy en dia, hay una gran demanda de Strategic Interior Designers en varios sectores. Ahora más que nunca es necesario repensar nuestros espacios interiores y desarrollar soluciones estratégicas para una amplia gama de funciones, incluidas las corporativas, minoristas, educativas, hoteleras, de usos mixtos y más.
Queríamos invitarte a esta sesión online el próximo Lunes 12 de Diciembre 2022 a las 5pm (Hora Colombia) donde Andrea Caruso, Fundador de Ciszak Dalmas Design Studio y Profesor Adjunto en IE School of Architecture and Design, enseñará como a lo largo de su carrera, empezada por el diseño de producto y mobiliario en el norte de Italia y evolucionada al diseño de espacio y arquitectura de interiores, sea posible una visión y práctica del diseño sin etiquetas y libre de abarcar varias disciplinas a la vez.
Es esta perspectiva holística que permite abarcar proyectos con fondo más estratégico, probando que el diseño puede ser un factor determinante para la innovación y la mejoría de la calidad de vida, tanto para las sociedades como para las empresas.
No te pierdas esta gran oportunidad de escuchar a la "design strategic mind" que revolucionó el retail de HOFF en las tiendas de España.
Únete a la conversación, desde donde estés de Latino América.
Para más información sobre nuestro Diploma in Strategic Interior Design, book a call aquí.