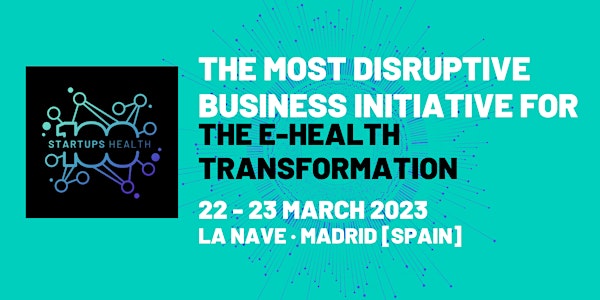 100Startups Health [Professional]
Exclusive for supporters, corporates, partners, startups and professional attendees
Cuándo y dónde
Ubicación
La Nave 5 Calle Cifuentes 28021 Madrid Spain
Política de reembolso
Contacta con el organizador para solicitar un reembolso.
La tarifa de Eventbrite no es reembolsable.
Acerca de este evento
9 horas 30 minutos

Entrada electrónica móvil
100Startups Health is the biggest business event for the eHealth sector that will take place in Madrid (La Nave), 1st and 2nd February with the ICEX Spain Trade and Investment and Youtopia as promoter and with the collaboration of Innsomnia and The Talent Route, the world's largest network of independent accelerators.
Corporates (pharmas, techs, hospitals, public regions, etc), international organizations, accelerators & hubs, startups/scaleups with the best technology solutions and professionals and innovation leaders in the health sector from around the world will gather for two days to connect, establish strategic alliances and do business.
With this ticket you will have full access to the day of the 23rd with:
Presentation of EU startups and scaleups projects.
List of the 100Startups and their valuation reports.
Accelerator programs and innovation hubs.
Launching of programs of hospitals, pharmaceutical and technology companies.
Networking space.
Conference and speakers program.
Presentation of the Galaxy Health Report by Innsomnia.
PROGRAM
8:30h – 9:00h Doors open and registration
9:00h – 9:15h. Institutional opening and joint presentation of 100Startups: Youtopia + ICEX Spain
9:15h – 11:15h. Panel 1#: Health, technology and globalization: are we facing a historic opportunity for its universalization?
10:15h – 11:35h. Reverse Talks: Corporates & Accelerators connecting with startups.
11:35h – 12.00h. Presentation: Galaxy Health Report by Innsomnia
12:00h -12:55h. Panel 2#: Co-creation between hospitals & startups: a win-win relationship that works.
13:00h Lunch & Networking.
15:00h -15:50h Panel 3#: "Future of Health: trends, technologies and threats".
15:50h – 16:55h Panel 4#: Across borders – Building International bridges to accelerate digitization of health.