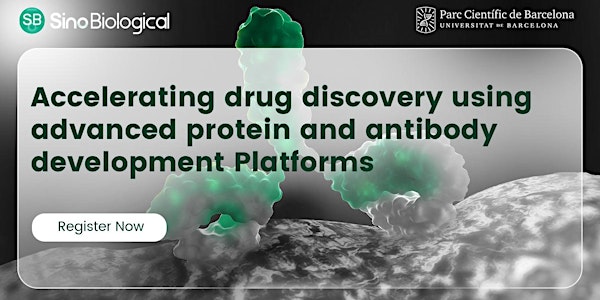 Accelerating drug discovery
Accelerating drug discovery using advanced protein and antibody development platforms
Cuándo y dónde
Ubicación
Parc Científic de Barcelona - Sala Dolors Aleu Baldiri Reixac, 4-10 08028 Barcelona Spain
Acerca de este evento
3 horas

Entrada electrónica móvil
Sino Biological and Barcelona Science Park organize an event to present different strategies to accelerate drug discovery using advanced protein and antibody development platforms.
Cancer is a disease characterized by misregulation of cell proliferation and differentiation. Moreover, cancer cells often escape the immune system's attacks by expressing inhibitory ligands and molecules. Immunotherapies such as immune checkpoint blockade, chimeric antigen receptor T-cell (CAR-T) therapies, antibodies to cancer antigens and cytokine therapy overcome the immune escape and offer a promising treatment for several cancers, as well as autoimmune diseases. Therefore, manufacturing high-quality therapeutic proteins and antibodies has become very important to meet medical needs. However, low protein yield, protein aggregation and degradation are common issues during therapeutic-protein production.
Sino Biological has provided many strategies to solve these difficulties such as codon optimization, single amino acid mutation and improvement of protein purification. Using several antibody development platforms and different protein production methods, Sino Biological has generated many therapeutic antibodies such as neutralization antibodies against SARS-CoV-2 or RSV; several immune checkpoint blockade antibodies including anti-PD-1, anti-CTLA-4 and anti-TIM-3 antibodies. Utilizing comprehensive cell-based assays, they have demonstrated therapeutic functions of these antibodies in vitro. Additionally, they have developed many long half-life therapeutic cytokines. Combining these cytokines with immune checkpoint blockade has shown synergistic effects to inhibit cancer progression, which can be applied on the preclinic trials and are benefits for cancer treatment in vivo.
Agenda:
9:30-9:35 Welcome, Dr. Anna Serra, Commercialization & Communication Director, Barcelona Science Park and Dr. Yu-Chih Lin, Technical Specialist, Sino Biological.
9:35-10:35 Accelerating drug discovery using advanced protein and antibody development platforms, Dr. Yu-Chih Lin.
10:35-10:45 Q&A Session.
10:45-11:15 Coffee Networking.
About the speaker
Dr. Lin is a technical specialist at Sino Biological Europe, where he provides technical assistance of the company's recombinant protein and antibody products, as well as support of CRO services of recombinant protein production and antibody development for its customers. He received his PhD in the field of cancer research and has years of experience in protein purification and functional protein studies. Before he joined Sino Biological in Frankfurt, Dr. Lin worked in a start-up company as a field application scientist, where he focused on the spatial proteomics and the novel biomarker discovery.