Este evento ha finalizado.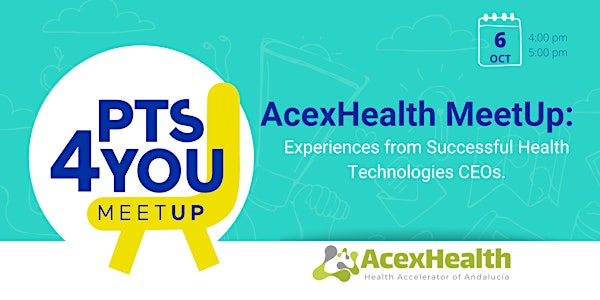 AcexHealth MeetUp: CEO Roundtable, Experiences from Successful Health Techn
AcexHealth MeetUp: CEO Roundtable, Experiences from Successful Health Technology CEOs (I)
Acerca de este evento
Meeting with Startups/Entrepreneurs from the Acexhealth Accelerator Program 2nd edition (mandatory) and 1st edition (optional). Open to the people registered to the MeetUp.
Objective: for startups and entrepreneurs from the Acexhealth Accelerator Program to get to know entrepreneurs and invertors in in the medical area with repeated success across decades of founding and leading companies.
4:00-4:15-Anil's Introduction: Overview of Anil's career and experience
4:15-4:45-Discussion: Prepared targeted questions around founding, funding development, market access, regulatory, IP, team, the roller coaster ride & exits.
4:45-5:00 Q&A from participants
Speaker:
Anil Sethi is a serial entrepreneur and investor in the medical area with repeated success across four decades of founding and leading companies. Among his seven health-tech companies there have been multiple successful exits including both an IPO and M&As. His first company, Dakota Imaging, was acquired by WebMD, and his second company - Sequioa - developed what became the HL7 Clinical Data Architecture for healthcare data exchange, and was acquired for nearly $200m by Citrix (2001). Gliimpse (founded 2013) was self-funded before being acquired by Apple (2016) and became a core technology for their digital health applications, with Anil serving as a Director of Consumer Health Strategy and Engineering. He then founded Ciitizen (2017), a patient-controlled platform for cancer and rare disease patients to digitize and share medical data for matching to clinical trials and improved treatments and research. Ciitizen was venture funded by Andreessen Horowitz (a16z) and Verily, and was sold to Invitae in 2021. Anil is a partner in Andreessen Horowitz's Bio Fund III-Q, L.P., an Advisor to Nina Capital and invests through his family office Sethi Family, LLC. Anil is a co-founder of Acoustiic.
Anil's younger sister, Tania, died from hepatic complications following stage IV metastatic breast cancer, and Anil has dedicated his career to the elimination of cancer as we know it. To keep a deathbed promise to Tania, Anil founded Ciitizen (an NVTA company). Ciitizen has partnered with LLS USA, Touch, The Black Breast Cancer Alliance, STBPX1, The Cute Syndrome Foundation, Shay Emma Hammer Research Foundation, Wishes for Elliott and countless other incredible patient advocacy organizations who believe in the power of patient consented data sharing to drive change. Having suffered the death of his little sister in 2017 then his father in 2021, each at the hands of cancer, Anil is mission driven to kill this monster.