Este evento ha finalizado.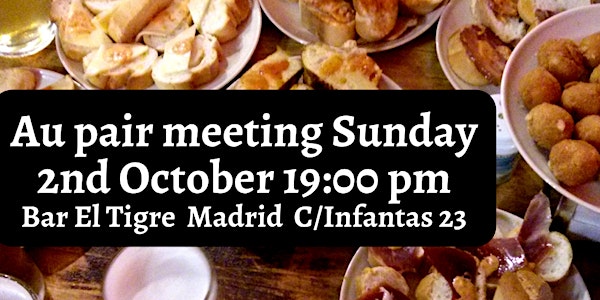 AU PAIR MEET&GREET AT TAPAS BAR IN MADRID
AU PAIR MEET & GREET AT TAPAS BAR EL TIGRE. MADRID
Cuándo y dónde
Ubicación
C. de las Infantas, 23 23 Calle de las Infantas 28004 Madrid Spain
Acerca de este evento
Activity: Meet & greet at Tapas Bar EL TIGRE
Date: Sunday October 2nd
Meeting point: Tapas Bar Sidrería EL TIGRE Calle de las Infantas 23 Madrid 28004 (Important: there are other bars named El Tigre in the same street in area, but we will be on number 23 which is bigger). Metro: Chueca, Gran Via, Sevilla, Sol. When you get into the bar go upstairs in first floor, where there is more space and some tables. You can contact through our Whatsapp group with people to meet them once you arrive at the Bar.
Normally people do not sit down, they stay standup like in a typical Spanish tapas bar, so it is easier to meet and talk to all people.
Time: 19:00 pm
Price of drink and food: between 3-6€. We recommend you to try Sidra (drink) and Papas Bravas.
Hope to meet you soon!