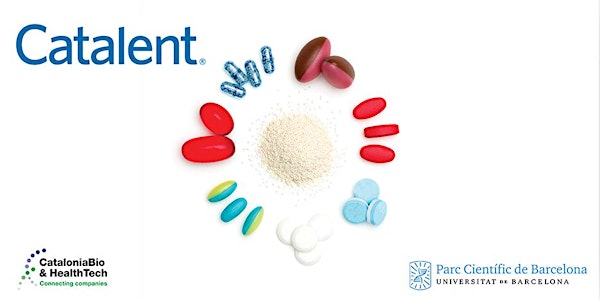 De-risking small molecule early drug development with leading technology
De-risking small molecule early drug development with expert technology selection
Por Parc Científic de Barcelona
Fecha y hora
jue., 27 de abr. de 2023 9:30 - 11:30 CEST
Ubicación
Parc Científic de Barcelona - Sala Dolors Aleu Baldiri Reixac, 4-10 08028 Barcelona Spain
Acerca de este evento
2 horas

Entrada electrónica móvil
You are invited to Catalent's co-hosted oral development and formulation workshop.
Catalent and Barcelona Science Park present: De-risking small molecule early drug development with expert technology selection on which Catalent experts will provide insight into how to classify new therapeutic drug candidates for issues relating to oral product development, anticipate and address challenges early, and plan for success in preclinical and early-stage clinical studies.
Agenda
09:30 - 09:35 Welcome, Dr. Anna Serra, Commercialization & Communication Director, Barcelona Science Park.
09:35 - 10:05 Key Considerations for Transitioning a Molecule from Discovery to Phase 1 Readiness
• How to assess if a molecule has potential of becoming a drug
• Using the Developability Classification System (DCS) to assess compounds
• Solubility enhancing technologies overview
• Fit-for-purpose formulations vs long-term commercially viable strategies
• GLP formulation - Formulation approaches and limitations for various animal species and route of administration
• Getting to the clinic faster with a suitable Phase 1 enabling formulation and dosage form
10:05 - 10:35 Using Physiologically-Based Pharmacokinetic (PBPK) Modeling in Drug Development
• Understanding the complete picture of bioavailability
• Leveraging in silico modeling to choose best candidate
• Building models with in vivo data and comparing performance of different approaches
10:35-11:00 Networking + Coffee
11:00-11:30 "Office Hours" with Catalent Science & Technology team. Team members will be available after the event to help you evaluate your preclinical drug candidates for developability, discuss dose form strategy, and answer your questions about how to bring a new molecule from discovery to clinic
1 on 1 meetings with expertsSchedule a meeting with Catalent experts, Stephen Tindal, Jan Neelissen and Jean–Christophe Hermier, to discuss how we can help you develop the best small-molecule drug product for patients. Book your free slot now!
Link: https://koalendar.com/e/meet-with-catalent-in-Barcelona
Speakers
Stephen Tindal holds a bachelor's degree in chemistry and analytical science from Loughborough University, and specializes in forensic data analysis. He has worked at Catalent for 32 years (16 years in the USA between 2003 and 2019) and is now based at Swindon, UK. Stephen has held leadership positions in Formulation Development, Process Development and both Clinical and Commercial Operations at FDA & EMA regulated facilities. Stephen is part of Catalent's Science and Technology Team where he leads the technical support in Europe. This S&T team are available for customer consultation in order to define the right path for any oral program, or to connect/engage other experts as needed.
Jan Neelissen, Scientific Advisor, has 20 years of industry experience in the field of DMPK, of which 17 years at AstraZeneca holding positions as Associate Principle Scientist delivering 7 clinical drug candidates, Associate Director in vitro DMPK, and Associate Director Modeling and Simulation. Dr. Neelissen is a biologist by training and received his doctoral degree from the University of Leiden, Netherlands
About Catalent
Catalent is a global leader in drug formulation development that offers comprehensive early phase drug development solutions. Specializing in PBPK modeling, molecule characterization, bioavailability enhancement, API-sparing development techniques, and phase-appropriate dose forms, Catalent helps get optimal drug candidate to clinic, faster. Catalent's integrated solutions, such as OptiForm® Solution Suite, Catalent Xpress Pharmaceutics™ and OneXpress®, Solution, aid in accelerating molecules from candidate to clinic and beyond. Its capabilities in lipid-based drug delivery systems, spray drying, hot melt extrusion and particle-size reduction, combined with broad expertise in developing challenging molecules, provide customers with optimal solution to suit each program need. Learn more on catalent.com/oral-dose/