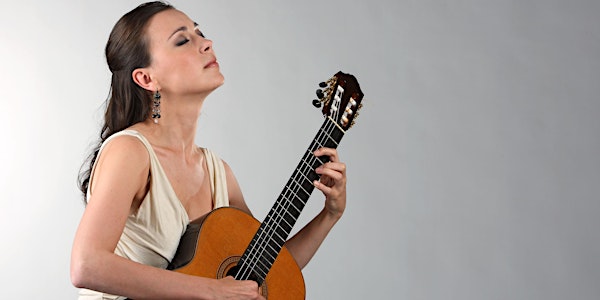 EKATERINA ZAYTSEVA - SITGES
GUITARRA ESPAÑOLA - SPANISH GUITAR "Una autèntica virtuosa, un concert extraordinari!!!
Por Mediterranean Guitar Festival
Fecha y hora
vie., 21 de jul. de 2023 21:00 - 22:00 CEST
Ubicación
ERMITA DE SANT SEBASTIA ERMITA DE SANT SEBASTIÀ SITGES Spain
Política de reembolso
Contacta con el organizador para solicitar un reembolso.
Acerca de este evento
1 hora

Entrada electrónica móvil
"A vegades només cal un parell de segons per entendre que presenciaràs una cosa extraordinària: el concert d'Ekaterina va ser una d'aquestes experiències úniques" T.Erikson
Concertista de trajectòria internacional, ha actuat a prestigioses sales com la Filharmònica de Sant Petersburg, el Palau de la Música Catalana a Barcelona, la Sala de la Ràdio Varsòvia o el Conservatori de Moscou, entre d'altres. De formació clàssica aborda estils d'altres àmbits com el flamenc i altres músiques del món.
Com a solista ha compartit cartell amb grans figures de la guitarra clàssica com David Russell, Manuel Barrueco, Aniello Desiderio, Zoran Dukic, Ricardo Gallen, etc.
La seva activitat interpretativa és molt diversa, cosa que l'ha portat a participar en importants festivals internacionals de guitarra clàssica, flamenc i jazz com a "Mestres de la Guitarra" aBarcelona, "Flamenc on Fire" a Pamplona, "La Nit Blanca" a Cordoba o "Volldamm Jazz Festival" de Barcelona.
Acerca del organizador
Our Mediterranean Guitar Festival brings you the best guitar sounds in the most emblematic churches in the Catalan coasts.
More than a hundred concerts from June to October, all of them with the Spanish guitar as the centre of attention, be it a soloist, a duet a quartet or other formations. By various well-known artists with a long-lasting and recognised concert background, who will delight the whole audience.
Find us in up to ten different Catalan villages, ranging from Costa de Barcelona, to Costa Brava and Costa Daurada.
Don't miss the best Spanish guitar melodies this summer!