Este evento ha finalizado.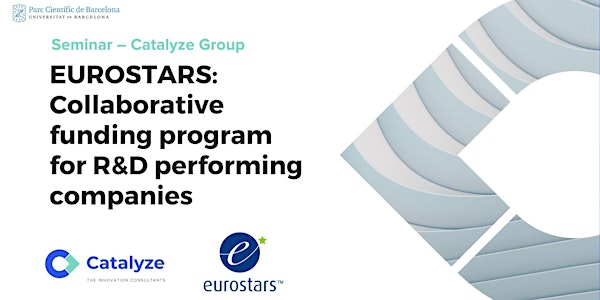 EUROSTARS: Collaborative funding programme for R&D performing companies
Join us to learn about this program and other EU funding opportunities and how to apply for them!
Por Catalyze - Parc Científic de Barcelona
Fecha y hora
mié., 15 de feb. de 2023 9:30 - 11:30 CET
Ubicación
Parc Científic de Barcelona - Sala Dolors Aleu - Edifici Clúster II Baldiri Reixac, 4-10 08028 Barcelona Spain
Acerca de este evento
Within the framework of the Barcelona Health Innovation Week held in Barcelona from the 13th to the 16th of February, Catalyze and Barcelona Science Park organize an event to discuss how applying for EU funding, namely Eurostars program, can help you accelerate your innovations and establish international collaborations. The key topics that will be discussed in this seminar are:
• Applying to the right funding at the right time: pre-clinical stage (Eurostars); clinical trials/ready to market (EIC Accelerator)
• Example of Eurostars awarded projects
• Consortium building and negotiation with partners.
Agenda:
9:30 - 9:35 Welcome, Dr. Anna Serra, Commercialization & Communication Director, Barcelona Science Park .
9:35 - 10:35 Innovation across borders: EU funding opportunities: Eurostars, Mr. Vlad Grecu, Business Developer at Catalyze & Dr. Eva Moreno, Business Developer at Catalyze.
10:35-10:45 Q&A Session
10:45-11:00 Networking+Coffee; 1 on 1 meetings. Those of you interested in one on one meetings can write and email to Vlad Grecu (vlad.grecu@catalyze-group.com) or Eva Moreno (eva.moreno@catalyze-group.com) to schedule a meeting after the event (11am).
About Catalyze
Catalyze, based in Amsterdam, is commited to accelerate healthcare innovations that have a positive impact on the world. They offer strategic consulting services, non-dilutive funding grant-writing (EU and US) and project management. The team consists of 100+ Life science professionals, all with master's degree, PhD or post-docs experience, all commercially trained.
Catalyze was founded 15 years ago by researchers and entrepreneurs that understand science and business. To date, they have raised over €850 million and built a network of more than 3000 projects (and investment) partners. This network includes researcher institutions, TTOs, start-ups, SMEs, NGOs and pharmas.
Speakers bio
Vlad Grecu, business developer at Catalyze for Life Sciences and Health projects. Medicinal chemist by background (MSci University of Nottingham, UK) driven by identifying companies ready to fill unmet clinical needs. My goal is to ensure that SMEs interested in non-dilutive financing are filling an application for the right project and at the right timing. Thrilled to have the opportunity to return to Barcelona where I completed my second masters (Master in Management, EADA Barcelona) and experienced living in one of the most vibrant cities of the world.
Eva Moreno, business developer at Catalyze for Life Sciences and Health projects. Given my passion for Life Sciences and a background in Veterinary Sciences (Madrid) and PhD in Molecular Oncology (Utrecht University, NL), I seek to bridge the gaps that exist between great innovative ideas and concrete, accessible applications positively impacting all stakeholders. I like to support early-stage organisations as well as researchers in developing a long-term sustainable funding strategy. I pride myself on being able to "think outside the box" in regards to a funding pathway, by tailoring the needs of the organisation.