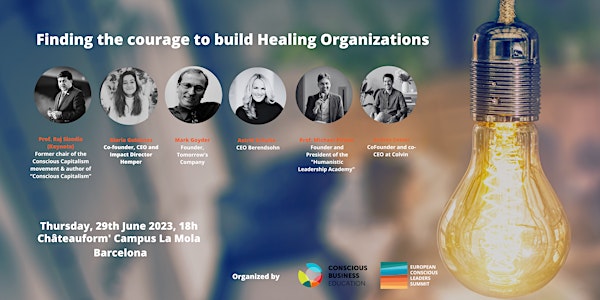 Finding the courage to build Healing Organizations
Keynote by Raj Sisodia & Panel with Prof. Michael Pirson, Astrid Schulte, Mark Goyder, Gloria Gubianas & Andrés Cester
Por Fundación Capitalismo Consciente
Fecha y hora
jue., 29 de jun. de 2023 18:00 - 23:30 CEST
Ubicación
Châteauform' Campus La Mola S/N Camí dels Plans de Can Bonvilar 08227 Terrassa Spain
Política de reembolso
Contacta con el organizador para solicitar un reembolso.
La tarifa de Eventbrite no es reembolsable.
Agenda
6:00 PM - 6:30 PM
Welcoming, inclusion, framing and opening.
6:30 PM - 7:15 PM
"Finding the Courage to build healing organizations"
---
Interactive Keynote by Prof. Raj Sisodia, Author of "Conscious Capitalism",
7:15 PM - 8:45 PM
"The future of Capitalism: we need more young conscious leaders.
---
Participate in a meaningful conversation about "The future of Capitalism: we need more young conscious leaders. Moderated by Prof. Michael Pirson, founder of the Humanistic Leadership Academy. With: ...

8:45 PM - 11:00 PM
Networking dinner
Acerca de este evento
5 horas 30 minutos

Entrada electrónica móvil
The Future of Conscious Capitalism.
Finding the courage to build Healing organizations
'The future of Capitalism' finding the courage to build healing organizations.
What impedes young entrepreneurs to find thecourage to do business consciously?
How to overcome the mindset that a business can either do good for people and planet or well financially?
What are healing organizations and what are its success factors ?
These questions are highly relevant when addressing the transformation of companies and the economy as a whole toward business being conducted consciously
Who will participate
Conscious Leaders gathered in Barcelona for the first European Conscious Leaders Summit
European Business Professors engaged in Conscious Business Education
Conscious Capitalists united by the purpose to create an economy where business is done consciously
What do you get out of it?
Learn from Business Leaders how they promoted doing business consciously, in and outside their companies
Hear from young conscious entrepreneurs: where they found the inspiration and courage to do business consciously - and what would have helped them
"The future of Conscious Capitalism lies in educating, inspiring, and supporting the next generations of leaders to do business consciously"
Acerca del organizador
El Capitalismo Consciente es una filosofía de empresa. Un modo de pensar el capitalismo y los negocios que mejor refleja dónde nos encontramos en el viaje del ser humano, el estado de nuestro mundo hoy en día, y el potencial innato que tienen las empresas para crear un impacto positivo en nuestra sociedad. La filosofía se basa en cuatro pilares: Propósito superior, integración de grupos de interés, líderes conscientes, y culturas conscientes. 
Conscious Capitalism International (CCI) es un movimiento global que se formaliza en Estados Unidos en 2010 y que se expande a través de capítulos locales en todas las partes del mundo. Este movimiento busca un cambio en el modo en el que se practican y se perciben los negocios alrededor del mundo. (www.consciouscapitalism.com)
Capitalismo Consciente Barcelona (CCB) es el primer capítulo del movimiento que se ha creado en España y el segundo en Europa. Lo fundaron un grupo de 27 líderes catalanes en mayo de 2015 constituyendo la Fundación Capitalismo Consciente. CCB es representante y voz local del movimiento internacional y por lo tanto se inspira en sus principios y estrategias. (www.capitalismoconsciente.es)