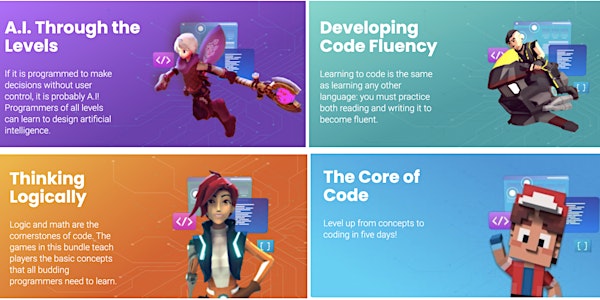 Múltiples fechas
#Free Coding Games Night
#learntocode on the 1st Friday of Each month with your friend and family near or far! #free
Fecha y hora
jue., 4 de mar. de 2021 15:00 - vie., 4 de ago. de 2023 15:00 PST
Acerca de este evento
Are you a #teacher?
A #parent?
A cool kid looking to learn some new coding skills?
Why not join some friends for some awesome coding fun?
We invite you and yours to #learntocode on the 1st Friday of Each month!
How?
1. Visit https://terminaltwo.com/ and join our platform
2. Invite your favorite friends, classmates, students
3. Log in on Friday at 8:00 pm PST
4. Start one of our #LearningQuests
**The Core of Code: Simple Syntax & Javascript
** Thinking Logically: Logic and math are the cornerstones of code. The games in this bundle teach players the basic concepts that all budding programmers need to learn.
5. Take a screenshot, post it and tag us and we will reshare your score!
6. Make Fridays Learn to Code Nights!