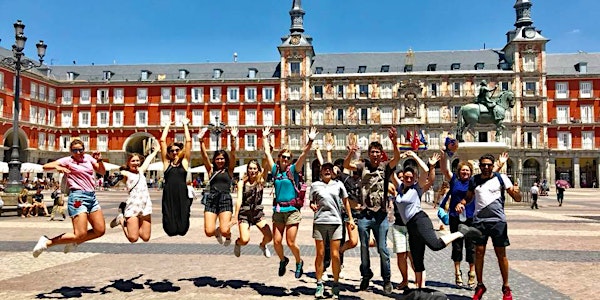 Múltiples fechas
Free Walking Tour Madrid Essential
The free tour Madrid Essential starts every morning at 11:00 am. The tour is offered in English and Spanish (separated groups)
Fecha y hora
sáb., 16 de mar. de 2019 11:00 - sáb., 30 de dic. de 2023 13:30 CET
Ubicación
El Oso y el Madroño 1 Puerta del Sol 28013 Madrid Spain
Acerca de este evento
⭐ ⭐ WELCOME TO MADRID! ⭐ ⭐
Explore with us different sides of Madrid by foot on a 2.5 hours free walking tour with passionate local guides and learn the history of the Spanish capital as you stroll through neighborhoods full of historic monuments, shops and cafés.
Get to know the Madrid we love! 💖 💖
Departing from the centric Puerta del Sol, your guide will immerse you in the energetic vibe of the city, describing what the capital was like throughout history, and how it turned to be the great city that it is today.
As well as the history, you will discover the artistic side to the city, see areas popular for nightlife, and discover modern architecture.
Some of the places you'll visit in this tour are:
Puerta del Sol (the main square) and it's monuments.
0 km
Arenal Street
Oldest Churros place in Madrid
Royal Teather (opera house)
Plaza Oriente
Royal Palace
Almudena Cathedral (main cathedral in the city)
Las Vistillas (panoramic views)
Barrio de los Austrias (the oldest neighbourhood)
Plaza de la Paja
Oldest restaurant in the world
Plaza Mayor
And more......
*Groups bigger than 6 people will be rejected even if they are in different reservations.
*For groups bigger than 6 people you should contact MADRIDE TRAVEL.
*The Free Walking Tour Madrid Essential is subject to be canceled if the tour does not have a minimum of 3 people. Either way, our guides will do their best to help you to make the most out of your stay in Madrid. THANKS FOR YOUR UNDERSTANDING.