Este evento ha finalizado.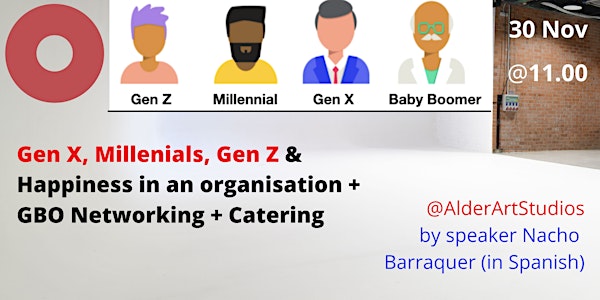 GBO event with Nacho Barraquer: Generational gaps & Happiness at work.
GBO Business Networking with Nacho Barraquer as a speaker on Generational differences and Happiness at work
Cuándo y dónde
Ubicación
Alder Art Studios 22 Carrer de Sagunt 08014 Barcelona Spain
Política de reembolso
Contacta con el organizador para solicitar un reembolso.
La tarifa de Eventbrite no es reembolsable.
Acerca de este evento
On the 30th of November at 11.00 GBO Barcelona is inviting you to the presentation of the recognised speaker and author of the book "Mata a Tu Gefe" ("Kill your boss") - Nacho Barraquer! Nacho will speak about the differences between Millenials, Centennials, Generation X and Baby Boomers and Organisational Happiness Management.
"If you wouldn't take a 60-year-old person to the same concert or to the same trip as a 40-year-old person or a 20-year-old ... Why do you manage them equally in the company?"
You will learn about generational differences at work and will have the opportunity to network with each other after the presentation while pica-pica and drinks are served.
An event will be held at new production studios near Sants, Barcelona @Alder Art Studios - spacious and bright event location with access to the terrasse.
You will need to book your place in advance to be able to attend the event.
Price of the event with catering included is 40 Euros.
This event is open to GBO Business Club members and to external audience as well.