Este evento ha finalizado.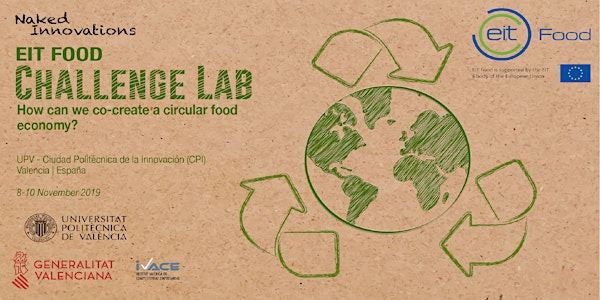 "How can we co-create a Circular Food Economy?" at EIT Food Challenge Lab
Cuándo y dónde
Ubicación
UPV - Ciudad Politécnica de la Innovación (CPI) Camino de Vera s/n Edificio 8G, Acceso A, 3º 46022 Valencia Spain
Descripción
Are you interested in joining a diverse team of innovators looking to transform the food system over a weekend?
EIT Food in collaboration with Naked Innovations and UPV will bring 80 people of all types of backgrounds together to Valencia for a Hackathon weekend. They will be placed in teams and be given a weekend to shape and develop innovative ideas, build prototypes and create viable business plans that could lead to impactful solutions towards a true Circular Food Economy. There will be prizes worth 1000 euros up for grabs for the most innovative people and impactful idea!
Why Circular Food Economy?
Today we are using a industrial model to produce and distribute much of our food but this model uses resources ineffeciently and wastefully. The current food system is highly complex and interlinked operating on a wasteful linear model. This has led to a number of negative social and environmental impacts, missed opportunities and a lot of waste.
In the EU alone, 88 million tonnes of food are wasted annually and the consequences seep far beyond homes, businesses and landfill sites. There is an urgent need for solutions that leads to true collaboration and integration among stakeholders across the entire supply chain to make the agri-food system more innovative, efficient, sustainable and with little to no waste.
The challenge for the Challenge Lab hosted in Valencia is therefore "How can we build a circular food economy that fully integrates the food supply chain leading to a more sustainable system with zero waste?
Agenda
Friday
1800-2030 - Rountable Discussion and Networking with snacks and drinks
2030-2130 - Challenge areas and Teams drafted and chosen
Saturday
0900-1300 - Understanding the challenge
1400-1800 - Ideating and building prototypes
Sunday
0830-1230 - Prototyping continued
1230-1500 - Pitches and awards
A circular breakfast and lunch will be provide on both Saturday and Sunday.
Register your interest
We are looking for people with the following backgrounds to participate:
- Agri-food business
- Tech/Food startups
- Students
- Academics/Researchers
- Government/Policy
- Local community
- Non-governmental organisations
- Design
- Technology
- Investment

If you are interested in this challenge and relate to one of the categories above, please register your interest and we'll get back to you as soon as possible to confirm if you can participate in this exciting event.
Background
EIT Food wants to transform Europe's food system, making it better for people's health and better for the environment. EIT Food is a pan-European partnership designed to empower innovators, entrepreneurs and students to develop world-class solutions to food challenges, accelerate innovation, create jobs and increase Europe's competitiveness.
In 2019, EIT Food are running three Challenge Labs across Europe which focus on different parts of the agri-food supply chain. One will be held in Spain, one in Poland and one in Italy.
These Challenge Labs are designed to tackle the big problems facing the food sector by bringing together diverse groups of people from across the industry. They hope to spark co-founder relationships, create new businesses and build links between industry, academia and startups.
If you have any questions or would like more information about the Challenge Lab, you can send an email to: info@nakedinnovations.uk