Este evento ha finalizado.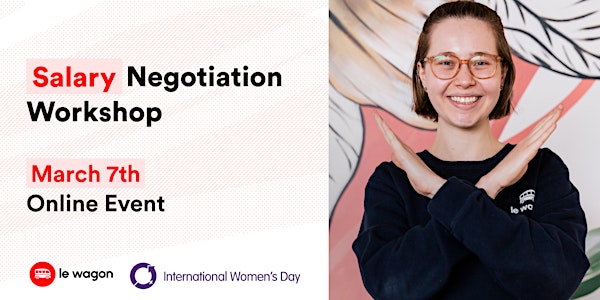 International Women's Day - Land a job in tech & negotiate your salary!
Get the right interviewing skills to land a job more efficiently!
Fecha y hora
lun., 7 de mar. de 2022 10:30 - 12:00 PST
Acerca de este evento
This is an online workshop for women 🙋‍♀️ Sign up for free here → https://bit.ly/3oSAsXI
You probably know that women are still under-represented in tech roles. At Le Wagon, we are determined to empower women in tech and do our bit for more gender parity 💪
To celebrate International Women's Day on March 8th, we've decided to organise FREE online events during the week, kicking off with this workshop about how to find a job in tech! 🚀
Having technical skills will give you the opportunity to apply for roles in companies you love but having the right interviewing skills will lead you to land a job more efficiently!
[Format] ⚙️
This workshop will be a one hour presentation followed by a 30 min Q&A, so make sure to have your questions ready!
The workshop includes:
• Job search tips to apply to relevant positions according to the career path you have chosen
• Overview of the interviewing process to know what to expect in every stage
• How to answer to technical interview questions and how to approach challenges
• Salary negotiation
🚗 [𝗔bout Le Wagon] 🚗
Le Wagon is Europe's leading coding school for entrepreneurs and creative people. We are now present in 40+ cities worldwide, with over 120 startups in operation, and have been rated the no#1 coding Bootcamp worldwide on Course Report & Switchup!