Este evento ha finalizado.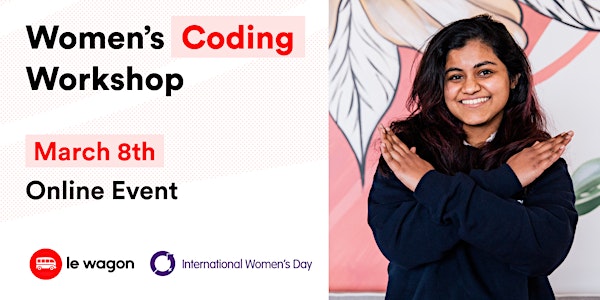 International Women's Day - Learn How To Build A Landing Page
Learn How To Build A Landing Page!
Acerca de este evento
This is an online coding workshop for women 🙋‍♀️ Sign up for free here → https://bit.ly/3HQmHQW
You probably know that women are still under-represented in tech roles. At Le Wagon, we are determined to empower women in tech and do our bit for more gender parity 💪
To celebrate International Women's Day on March 8th, we've decided to organise FREE online events during the week🚀
Le Wagon Women's Coding Day is a 2h workshop of coding dedicated to all women who want to gain coding skills 💪.
If you are interested or know women who want to discover to code, this is the place!
Our team of female teachers will assist you during this workshop on the basics of HTML and CSS. At the end of this workshop, you will learn how you can build your first landing page 🙋‍♀️
[Format] ⚙️
Learn how to code and design your website in one day! A very satisfying online workshop where you will code and design your own landing page using HTML, CSS and Bootstrap library.
We will also cover lots of design pro-tips to find icons, fonts and colours 🎨
🚗 [𝗔bout Le Wagon] 🚗
Le Wagon is Europe's leading coding school for entrepreneurs and creative people. We are now present in 40+ cities worldwide, with over 120 startups in operation, and have been rated the no#1 coding Bootcamp worldwide on Course Report & Switchup!