Este evento ha finalizado.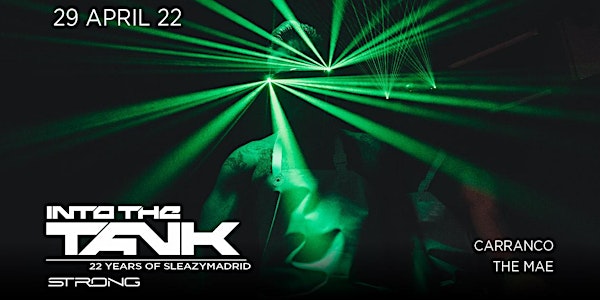 INTO THE TANK, SleazyMadrid 22nd Anniversary
An explosive fusion of energetic and melodic electronic techno house music styles in a real fetish masculine atmosphere.
Cuándo y dónde
Ubicación
STRONG Trujillos 7 28013 Madrid Spain
Política de reembolso
No se hacen reembolsos
Acerca de este evento
( … En Español debajo, ver más … )
INTO THE TANK at STRONG The Club
FRIDAY 29th APRIL 2022
SleazyMadrid 22nd Anniversary
▬▬▬▬▬▬▬▬▬▬▬▬▬▬▬▬▬▬▬▬▬▬▬▬▬
MAIN OFFICIAL PARTY to celebrate the 22nd ANNIVERSARY of SleazyMadrid. Get inmersed in the depths of a masculine-suggestive atmosphere where you can give free rein to your favorite kinks, having free rein to show off on the dance floor doing what really excites you and makes you horny. Prepare to be swept away in an energetic fetish atmosphere that is as stimulating as it is tempting.
CARRANCO and THE MAE will shiver you with their powerful and hypnotic "melodic-techno-house" style on the dance floor surrounded by hundreds of men into fetish and masculine outfit right in the perfect underground atmosphere.
● Advance Tickets Online at the cost of 20€ on https://bit.ly/35Pnw9E
Get special discounts by subscribing to our newsletters on www.intothetank.club
● On door tickets also available more expensive, according to hours and availability of capacity.
All tickets including access and a drink.
23:30 - 6:00h at STRONG The Club
C/ Trujillos 7 - 28013 MADRID
Metros: Callao / Sol / Santo Domingo
www.intothetank.club
facebook.com/intothetank
instagram.com/intothetank
twitter.com/intothetankclub
youtube.com/intothetankclub
soundcloud.com/intothetankclub
░░░░░░░░░░░░░░░░░░░░░░░░░░░░░░░░░░░
INTO THE TANK en STRONG The Club
VIERNES 29 ABRIL 2022
SleazyMadrid 22 Aniversario
▬▬▬▬▬▬▬▬▬▬▬▬▬▬▬▬▬▬▬▬▬▬▬▬▬
FIESTA OFICIAL PRINCIPAL para celebrar el 22 ANIVERSARIO de SLEAZYMADRID. Sumérgete en las profundidades de un ambiente masculino-sugestivo donde poder dar rienda suelta a tus morbos preferidos teniendo via libre para exhibirte en la pista de baile haciendo lo que realmente te excita y te pone caliente. Prepárate para dejarte llevar por una atmósfera fetichista llena de energía tan estimulante como tentadora.
CARRANCO y THE MAE te harán estremecer con su poderoso e hipnótico estilo "melódico-techno-house" bailando en la pista rodeado de cientos de hombres con atuendos fetichistas y masculinos en un ambiente underground perfecto.
● Entradas Online a 20€ en https://bit.ly/35Pnw9E
Consigue descuentos especiales suscribiendote a nuestra newsletter en www.intothetank.club
● En Puerta entradas también disponibles pero con precios más caros, según horarios y disponibilidad de aforo.
Todas las entradas incluyen acceso con una consumición.
23:30 - 6:00h at STRONG The Club
C/ Trujillos 7 - 28013 MADRID
Metros: Callao / Sol / Santo Domingo
www.intothetank.club
facebook.com/intothetank
twitter.com/intothetankclub
youtube.com/intothetankclub
soundcloud.com/intothetankclub