Este evento ha finalizado.

Política de reembolso
Contacta con el organizador para solicitar un reembolso.
La tarifa de Eventbrite no es reembolsable.
In this online training we will provide the basic knowledge of carbon footprint management and ways how to reduce it.
Acerca de este evento
INTRODUCTION TO CARBON FOOTPRINT MANAGEMENT
Online Training with CE Certificate*
Climate change today is already a reality. However, you can mitigate and fight against it. Therefore, organizations already have an economic and ethical obligation to contribute to the mitigation and compensation of CO2 emissions.
Since the regulation is changing, large companies are already required by law to communicate their NON FINANCIAL IMPACT. This will further produce changes and needs in the value chain. In this way more companies have to start raising awareness about the issue and have to acquire knowledge and skills to survive in this new economy.
WHAT TO EXPECT FROM THE ONLINE TRAINING?
In this online training we will provide you with a basic understanding of what the carbon footprint is and why it is essential to know how to manage it. We will show you different concepts of how to measure it and different ways how to reduce and mitigate it.
WHAT IS THE NEXT LEVEL?
Get your Continuing Education Certificate (CE)
You can take on Online Exam after the training and get your CE Certificate to build up your resume too. For more information see different ticket options.
ONLINE EXECUTIVE TRAINING
For a deeper understanding, we also have developed an Executive Training: "Fight Climate Change – Manage Your Carbon Footprint"
https://seeds-for-sustainability.com/en/courses/fight-climate-change-manage-your-carbon-footprint/
During the online training we will also present you the executive training and provide you with more details on the course.
Get your pre-inscription Coupon now & Register for the Online Training.
CHECK OUT ALL OF OUR COURSES HERE:
THIS IS WHAT WE DO. Watch now! #EngineOfChange
Have a look at our last Webinar:
Building Leader: HEMP. The next frontier in sustainability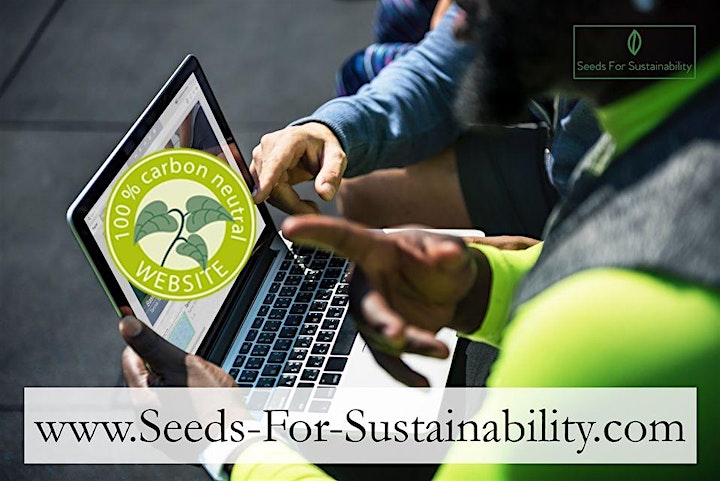 *CE CERTIFICATE:
In order to obtain your Continuing Education (CE) Certificate you need to register for an Online Exam & pay registration and administration fee. Please go to the ticket section.