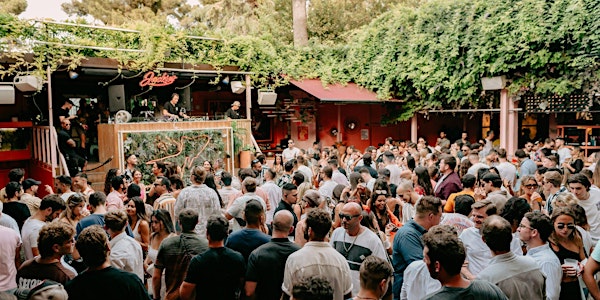 Jackies 6th anniversary w/ DJ W!ld, Harry Romero, Hector Romero (A-Z)
Jackies 6th Anniversary at La Terrrazza
Fecha y hora
sáb., 5 de ago. de 2023 18:00 - 23:30 CEST
Ubicación
La Terrrazza s/n Avinguda Francesc Ferrer i Guàrdia 08038 Barcelona Spain
Política de reembolso
Contacta con el organizador para solicitar un reembolso.
Acerca de este evento
5 horas 30 minutos

Entrada electrónica móvil
(ESP) Nos gusta celebrar las cosas a lo grande, por lo que para este 6to aniversario os traemos un line up inédito hasta la fecha con 3 pesos pesados de la historia de la música House como son Harry Romero, Hector Romero, Dj W!ld, junto con nuestro residente Piem. No te pierdas esta fecha única en la historia de Barcelona.
(ENG) We like to celebrate things in a big way, so for this 6th anniversary we bring you an unprecedented line up to date with 3 heavyweights from the history of House music such as Harry Romero, Hector Romero, Dj W!ld, along with our resident Piem. Do not miss this unique date in the history of Barcelona.
Meet us at La Terrrazza de Poble Español" to the rhythm of House & Disco Music. Sunny open air party, in our favorite space, a unique and magical open air space located in the "Poble Español" complex.
JACKIES is an independent House Music label from Barcelona and one of the most groundbreaking and incredible parties in the city. We bet on quality music. We believe in the transformative value of House music as a uniting axis between communities. After 5 years of history, we have had the pleasure of holding legendary parties in the main electronic music capitals of the world as Barcelona with our residency at La Terrrazza and W Hotel or in winter at Tunnel, in New York at the legendary Musica NYC club located in Manhattan, Miami at its famous music week, Amsterdam with our annual appointment at ADE on a boat with Louie Vega, in London at Egg or W Hotel, in Ibiza at Eden sharing the same space as Defected, in Tulum at the legendary Vagalume, Marbella in summer, Madrid and in our beloved Medellin, among others. We love to dance in summer under the light of the sun and the moon in open air spaces, and we take refuge under the bass of a club in winter. We welcome you to dance to the rhythm of House Music without rest, with top-level artists. Turn off the phone, forget your daily problems and connect with our magical ritual with the best House Music.
Artists we have worked with: Louie Vega, Moodymann, Dennis Ferrer, Todd Terry, Richy Ahmed, Steve Lawler, Christian Smith house set, Sam Divine, The Shapeshifters, Davide Squillace, Catz n'Dogz, Kevin Saunderson, among others.
Clubs: La Terrrazza Barcelona, ​​Pacha Barcelona, Musica Nyc, ​​Eden Ibiza, Vagalume Tulum, Supperclub boat Amsterdam, Mogli Marbella, Egg London, to name just a few.
Don't forget to follow our renowned weekly podcast with more than 15K monthly listens we select and promote the best international/national artists of the genre.
Acerca del organizador
Jackies is a Barcelona based promoter inspired on the expression "Jack your body" the mythical track by Steve "Silk" Hurley, that came out in 1986 pioneering the House Music movement in Chicago.