Este evento ha finalizado.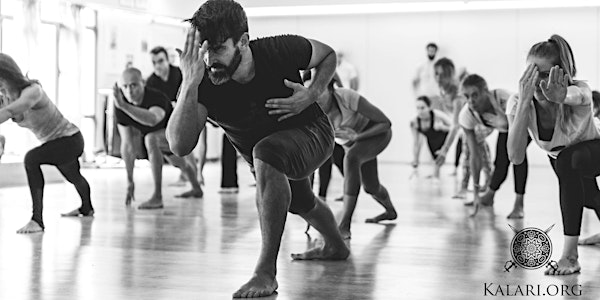 KALARI.ORG 60h Practitioner Training 2017
Cuándo y dónde
Ubicación
Yogaone mandri barcelona Spain
Política de reembolso
Contacta con el organizador para solicitar un reembolso.
Descripción
(english below)
QUE ES KALARI
Kalarippayat fue una vez una forma de vida en Kerala, y todos los niños de 6-8 años de edad – sin distinción de sexo, casta o religión – se iniciaría a la práctica en el comienzo de la temporada anual de lluvias. A menudo referido como el "Tantra Yoga de las artes marciales", Kalari no es simplemente un arte marcial y sanador sino una de las más antiguas formas de movimiento humano transmitido. Su secuenciación física feroz está profundamente conectada con nuestra conciencia evolutiva, el objetivo final es equilibrar los aspectos masculinos y femeninos en un nivel psicofísico,siendo conscientes de lo que las escrituras describen como "cuando el cuerpo se convierte en todos los ojos".
Este training de 60 horas Kalari impartido por Kai Hitzer ,servirá para crear una autopráctica sólida, haciéndote un verdadero Abhyassi y para preparar la participación en todas las próximas clases, talleres e intensivos. El entrenamiento del practicante también puede servir como el primer gran paso para convertirse en uno de los primeros maestros de nivel I de Kalari.org en el futuro.
El entrenamiento de 60h consiste en 6 módulos diferentes, cubriendo el curiculum básico de "Abhyassis" del Vaddakkan Sampradayam, el estilo del norte de Kalarippayat, como se ha practicado en Kerala desde tiempos inmemoriales:
Módulo I, 1-3 de septiembre: Gaja Mukha - La Iniciación
Módulo II,6-8 de octubre : Kalari Yoga Vanakkam - el flujo antiguo de Kalari Yoga
Módulo III,3-5 de noviembre: Pilaitangi - la furia transformadora de la forma masculina
Módulo IV, 1-3 de diciembre: Arapukai - Cuando el cuerpo se convierte en todos los ojos
Módulo V, Ayudha 2-4de febrero 2018 - Introducción a la Práctica de Armas
Módulo VI, 16-18 de febrero 2018 : Abhyassi - Cultivando el Flujo
6 módulos 10 horas por módulo:
Sesión I, viernes 19.00-21.00
Sesión II, sábado 09.00-11.00
Sesión III, sábado 14.00-16.00
Sesión IV, Domingo 09.00-11.00
Sesión V, Domingo 14.00-16.00
Precio por módulo: 200 €
Precio de la formación completa: 1000 €
Número mínimo de estudiantes 10.

KAI HITZER:
Kai descubrió Kalari a principios de 2004, en busca de un conjunto efectivo de ejercicios para ayudar a la recuperación de un síndrome de disco de deslizamiento. Inspirado POR la curación que sentía en su cuerpo, se embarcó en su primer viaje a la India, e inició sus estudios con el Gran Maestro Kalari Gurukkal CM Sherif de Kannur. Desde 2005 ha estado impartiendo talleres, clases y cursos de formación de profesores, sus lecciones se caracterizan por años de experiencia con las artes del movimiento y sus filosofías subyacentes. Kai Hitzer es uno de los pocos los instructores avanzados certificadas de la Academia Kalarippayat Kerala (KKA). Desde el año 2005, se encuentra con COLECTIVA SUTRA, en Hamburgo, norte de Alemania.
Consulta aquí las condiciones de contratación y Aviso legal
KALARI.ORG 60h Practitioner Training 2017
ABOUT KALARI
Now a dying art preserved only by a few remaining masters but slowly rediscovered, Kalarippayat was once a way of life in Kerala, and every 6-8 year old child – regardless of sex, caste or religion – would be initiated to the practice at the beginning of the annual rainy season. Often referred to as the "Tantra Yoga of Martial Arts", Kalari is not simply a martial- and healing art, but one of the oldest forms of human movement transmitted and still alive today. Its fierce physical sequencing is deeply wired into our evolutionary consciousness, ultimately aiming at balancing our male and female aspects on a psychophysical level, its ultimate goal the realized state which the scriptures describe as "when the body becomes all eyes".
The Kalari Practitioner Training by Kai Hitzer will primarily serve to create a rock-solid self practice, making you a true Abhyassi and eligible for participation in all upcoming classes, workshops and intensives. The Practitioner training can also serve as a stairway to becoming one of the first Kalari.org level I teachers in the future.
The 60h training consists of 6 distinct modules, covering the basic curiculum of "Abhyassis" of the Vaddakkan Sampradayam, the Northern Style of Kalarippayat, as it has been practiced in Kerala since time immemorial:
Module I,September 1-3 : Gaja Mukha - The Initiation
The entrance in the east of a traditional pit-style Kalari is sometimes called Gaja Mukha, the elephant face. Three and a half steps down into the pit, where your journey begins. Your first encounter with the Kalari practice will be Chezho Tozhil (warm-up excercies), Kalugal (leg swings) and Ashta Vadivu, the shamanic animal postures of the Kalari tradition, which constitute the psychophysical foundation of the Kalari practice. This is where we lay foundation.
Module II, October 6-8: Kalari Yoga Vanakkam - the Ancient Flow of Kalari Yoga
Kalari Yoga revolves around Kalari Yoga Vanakkam, the unique Sun Salutation from the Kalari Tradition, Ashta Vadivu and the silent practice of the Vandanam, the Salutation Form. The Vandanam has been opening the space for Kalari practices and ritual duels for millennia, its practitioners utilizing its subtle power to "cut themselves free" from worldly attachments.
Module III, November 3-5: Pilaitangi - the Transformative Fury of the Male Form
Male and female sequencing takes us deep into the heart of Vadakkan Sampradayam, the Northern Style of Kalarippayat. Pilaitangi is the male form and taps into what the scriptures call "transformative fury". Practiced with a one-pointed focus, it is not just a physical form, but a fierce invitation for our Kundalini to rise, as well a tremendously powerful tool of personal transformation.
Module IV,December 1-3 : Arapukai - When the Body becomes All Eyes
Now we are ready to take our first steps in the Female Form, expanding our senses outwards into a state of maximum sensory awareness. In this module we learn how to put the energy previously created in the male form into creative action, losing and regaining focus, jumping, crouching low and rising high. The Arapukai is not just a set of techniques, it tells an ancient story of cosmic creation.
Module V,january 26-28 2018 : Ayudha - Introduction to Weapons Practice
After realigning and energizing the body it has become time to meet a new set of teachers: Weapons. Becoming extensions of our bodies on a non-dualistic sense, every weapon in Kalari is associated with certain attributes, which are taught through partner practice. Entering a state of Yoga and cultivating steadfastness and Vairagya, this practice is a gatekeeper and marks an important transition into the higher stages of the practice.
Module VI,february 16-18 2018 : Abhyassi - Cultivating the Flow
Kalari practitioners are called Abhyassi, "the repeating one". In the module everything we have learned during these past 6 months culminates and comes together in its traditional order and tempo, providing you with a taste of how a traditional Kalari practice feels like. We will let our bodies do the talking and cultivate the flow. Surrender, and maybe you will get a taste of what it truly feels like "when the body becomes all eyes".
6 modules 10 hours per module:
Session I, Friday 19.00-21.00
Session II, Saturday 09.00-11.00
Session III, Saturday 14.00-16.00
Session IV, Sunday 09.00-11.00
Session V, Sunday 14.00-16.00
Price per module: 200€
Price full training: 1000€
Minimum number of students 10.

ABOUT KAI
Kai found Kalari in early 2004, looking for an effective set of excercises to help recovery from a slip disc syndrom. inspired by the healing he felt in his body, he embarked on his first trip to India, starting his studies under Kalari Grandmaster Gurukkal CM Sherif of Kannur. He has been passing on the art and workshops, classes and teacher trainings ever since 2005, his lessons characterized by years of experience with movement arts and their underlying philosophies. Kai Hitzer is one of the the few certified Senior Instructors of the Kerala Kalarippayat Academy (KKA). Since 2005, he runs SUTRA COLLECTIVE, a studio with a clay floor dedicated to the art and located in Hamburg, Northern Germany.