Este evento ha finalizado.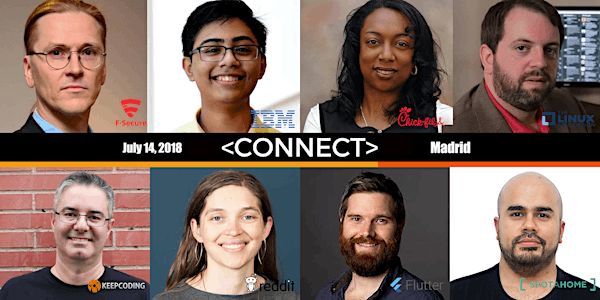 Cuándo y dónde
Ubicación
La Nave Calle Cifuentes, 5 Madrid Spain
Descripción
La Gran Cita Anual de los Desarrolladores.


Por tercer año consecutivo llega: KeepCoding Connect 2018 #KConnect18
¿Te interesa conectar con otros desarrolladores? ¿Buscas equipo para tu empresa o proyecto? ¿Quieres contacto directo con reclutadores? KeepCoding Connect es un evento sobre tecnología y desarrollo totalmente gratuito en el que nuestro principal objetivo es generar un impacto positivo en la vida de cada desarrollador a través de la calidad de los speakers invitados, su visión tecnológica del mundo, sus historias, y su trayectoria.
Una experiencia especial para desarrolladores. Los mejores estarán aquí, si quieres conocerlos, si quieres dar el siguiente paso, no puedes perdértelo.
---
Mira la información sobre inscripciones al final de este texto.
---
-Bienvenida a cargo de Fernando Rodríguez, iOS Globetrotter, cofundador y CLO de KeepCoding.
- Speakers de Connect 2018:
1. Tanmay Bakshi. Este chico de 14 años encontró su pasión por el código a los 5 años de edad. Ahora es el desarrollador más joven de la compañía IBM y ponente en las charlas TED.
2. Kris Borchers. Director Ejecutivo JS de la Fundacion de Linux. Está guiando a la organización que respalda el proyecto de JavaScript más utilizado en el mundo en una organización que se ha convertido en un jugador clave en todo el ecosistema de código abierto de JavaScript.
3. Brian Egan. Desarrollador Indie y autor del libro Flutter Cookbook, una guía del nuevo framework para crear aplicaciones nativas tanto para Android como para iOS.
4. Kesha Williams. Es desarrolladora e instructora de Java, Software Engineer Manager de Chick-fil-A y ponente en las charlas TED.
5. Mikko Hypponen. Es experto mundial en ciberseguridad y trabaja para la empresa F-Secure, así como ponente en las charlas TED.
6. Katie Bauer. Senior Data Scientist en el famoso foro Reddit, la tercera página web más popular en EE.UU.
7. Bryan McEire. Es cofundador y CTO de la compañía de alquiler de habitaciones y apartamentos Spotahome.-

+ Nerdworking, cervezas y frikismo.

Información de tu entrada:
¡Estamos encantados de que quieras acompañarnos en el mayor evento de KeepCoding!
Connect es un evento totalmente gratuito para los asistentes y por eso necesitamos saber que vas a poder venir. Pero ya sabemos como es la vida y sus imprevistos por ello al registrarte estás solicitando una entrada, cuando vaya llegando la fecha del evento nos pondremos en contacto contigo para saber si puedes seguir viniendo y enviarte tu entrada.
Pero esto es un evento de tecnologia y por supuesto será retransmitido en streaming, asique si por lo que sea no vas a poder disfrutar de Connect 2018 en su máximo esplendor, no te preocupes, no vamos a dejarte con las ganas, selecciona la Entrada Online y te enviaremos el link a tu email.
Los keynotes serán en inglés. No tendremos traductor simultáneo.
¡Te esperamos!
---
KeepCoding Connect 2018.
Welcome to #KConnect18
Are you interested in connecting with other developers? Are you looking for a team to add to your business or project? Do you want direct contact with recruiters?
For the third year in a row, KeepCoding is hosting Connect, an event about technology and development completely free in which our main objective is to generate a positive impact on the lives of each attendee through the quality of our guest speakers, their technological worldview, their stories, and their trajectory.
This will be a special experience for developers. The best speakers will be here! If you want to come listen to their stories or if you are ready to take on the next step in your tech career, you won't want to miss out on this event!
---
Check out the information below to find out how to register!
---
- A welcoming by Fernando Rodríguez, iOS Globetrotter, Co-Founder & CLO of KeepCoding.

- Connect Speakers 2018:
1. Tanmay Bakshi. A teenage prodigy. At just 14 years old, he is one of the youngest developers for IBM & IBM Watson, as well as a TED speaker.
2. Kris Borchers. Executive Director of the JS Foundation at The Linux Foundation and one of the major players of Open Source. Its mission is to bring the web open to all corners around the world.
3. Brian Egan. Indie Developer and author of the Flutter.io cookbook.
4. Kesha Williams. Software Engineer Manager at Chick-fil-A, Java instructor, and TED speaker.
5. Mikko Hypponen. Global Cybersecurity Expert at F-Secure and TED speaker.
6. Katie Bauer. Senior Data Scientist at Reddit, the third most popular website in the United States above Facebook.
7. Bryan McEire. Cofounder & CTO of Spotahome, a tech company that facilitates renting rooms and apartments at ease.
+ Nerdworking with beer, food, and photos.
Your ticket information:
We are so excited you are interested in joining us for KeepCoding's biggest event of the year!
Connect is a free event for attendees which is why we will need to know if you are going to attend. However, we know how life goes and how its unforeseen circumstances can arise, so after you register and as the date approaches, we will follow up with you to see if you will still be able to physically attend so that we can kindly offer others a spot if you cannot.
This is a tech event that will be live streamed. Therefore, if you are unable to physically attend Connect 2018 in its maximum splendor, don't worry because you can select the "entrada online" (online entrance) and we will send you a link to your email to watch the event live. The keynotes will all be in English.
We can't wait to see you there!