Este evento ha finalizado.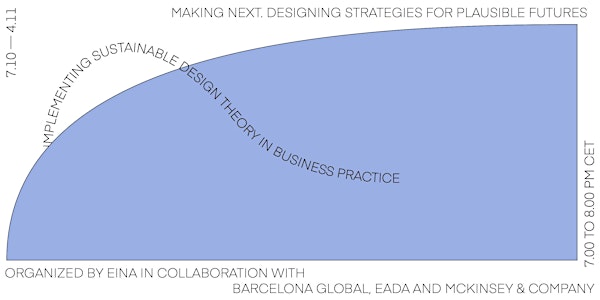 MAKING NEXT - DESIGNING STRATEGIES FOR PLAUSIBLE FUTURES
MAKING NEXT Designing Strategies for Plausible Futures: webinar cycle organized by EINA with Barcelona Global, EADA and McKinsey & Company
Acerca de este evento
How can I use sustainable design to create competitive advantage?
How other companies do it?
MAKING NEXT. Designing Strategies for Plausible Futures: cycle of webinars organized by EINA in collaboration with Barcelona Global, EADA and McKinsey & Company
Making Next is an international cycle of 5 webinars that will be held online from October 7 to November 4, every Thursday from 7:00 p.m. to 8:00 p.m. CEST/CET, on how to implement sustainable design in business practices. The webinars, aimed at different stakeholders within the company, are organized by EINA University School of Design and Art of Barcelona, ​​in collaboration with Barcelona Global, EADA Business School and McKinsey & Company.
Speakers from leading companies will present their perspectives on how to make business organizations sustainable. "We want to push companies to carry out conscious and transformative interventions through design and its material and technical possibilities," explains Pau de Solà-Morales, EINA Dean.
The speakers will present real cases on how to implement sustainable design in four business areas: Product, Product-Service Systems (SPS), Organizational Model Transformation, and Collaborative Ecosystems.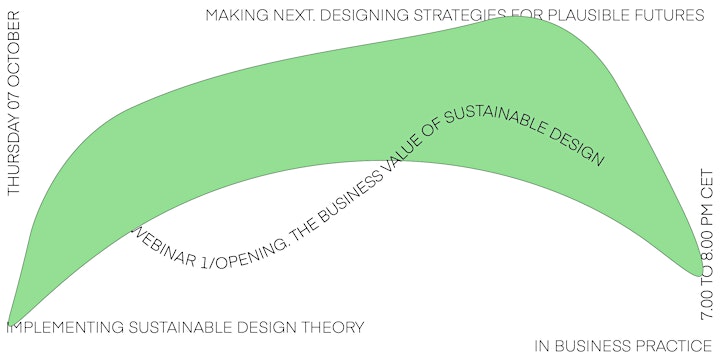 DAY 1 - Opening
THE VALUE OF SUSTAINABLE DESIGN IN ORGANIZATIONS
Thursday, October 07, 2021 - 7:00 to 8:00 pm CEST
SPEAKER
Ben Sheppard, Partner at McKinsey & Company and global leader of design research.
On sustainable design as a way to drive profits and business growth while innovating for success.
OPENING REMARKS & MODERATOR
Miquel Molins, President of EINA Foundation
Carlos Costa, Senior Advisor Banyan Global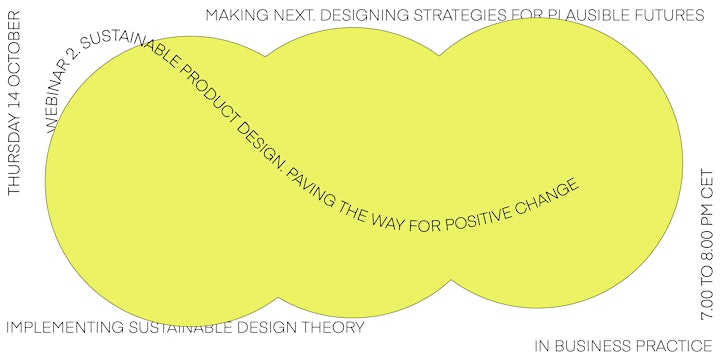 DAY 2 - Sustainable product design
PAVING THE WAY FOR POSITIVE CHANGE
Thursday, October 14, 2021 - 7:00 to 8:00 pm CEST
Eliminating the conflict between environmental criteria and business success. Design' as one of the most powerful tools to address urgent problems and tackle the complex social, political, economic and ecological challenges in these turbulent times.
SPEAKER
Julia Koerner, architect dnd designer working at the convergence of architecture, product and fashion design.
Using technology to emulate patterns and processes found in the natural world.
SPACE TO GENERATE DIFFERENCES
Design playing a crucial role in paving the way for positive change.
Javier Goyeneche, Founder of Ecoalf.
Axel Reinaud, Co-Founder & CEO of NetZero.
MODERATORS
Manuel Cirauqui, Director at Eina Idea
Federica Massa Saluzzo, Academic Director of the Master in Sustainability and Innovation at EADA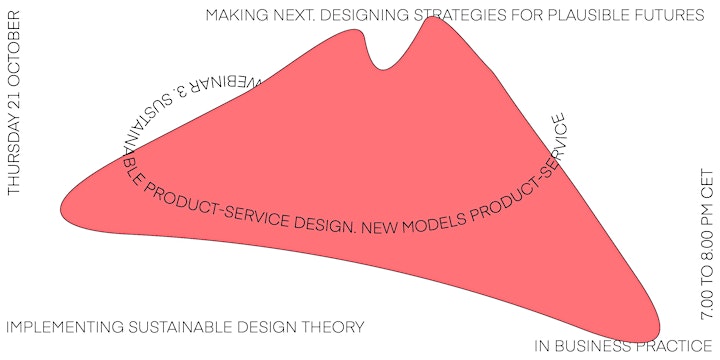 DAY 3 - Sustainable product-service design
NEW MODELS PRODUCT-SERVICE
Thursday, October 21, 2021 - 7:00 to 8:00 pm CEST
Developing a merge of tangible products and intangible services able to meet the needs of the end customer while promoting sustainability.
Thinking beyond the life cycle of a product, taking into account social aspects, stakeholders, and user interactions. Creating a cascade of sustainable practices that flows through the supply chain
SPEAKERS
Robert Metzke, Global Head of Sustainability at Philips.
Sustainable healthcare and access to care.
SPACE TO GENERATE DIFFERENCES
Reducing the environmental impact of a product with product-as-a-service arrangements.
Marylin B, VP Operations, Regional General Manager at Too Good To Go.
Declan Rankin Jardin, Co-Founder of Alvéole, The Urban Beekeeping Company.
MODERATORS
Pilar Cortada, Founder at EINA Obra
Ignacio Marcos, Senior Partner at McKinsey & Company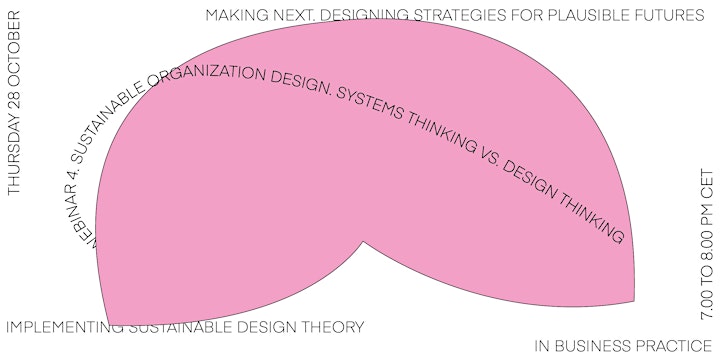 DAY 4 -Sustainable organization design
SYSTEMS THINKING VS. DESIGN THINKING
Thursday, October 28, 2021 - 7:00 to 8:00 pm CEST
Developing new ways of doing business by integrating sustainability in the objectives and operations of the organization.
Systems thinking — understood as sensitivity to the circular nature of the world in which we live — helps manage change and integration based on a "top-down" overview. It means, first, considering the big picture and then the concrete actions. This helps product design and development teams establish an environmentally responsive system that aligns the organization and designers environment, sets the direction of products, and focuses design efforts on the product areas that have the greatest impact.
SPEAKERS
Javier Quiñones, CEO & CSO of IKEA USA
On transforming the way of working from a linear to a circular business.
SPACE TO GENERATE DIFFERENCES
Redesigning the business model to make it more sustainable.
Laëtitia Boucher, Regional Sustainability Manager (Southern Europe) at Interface Inc.
Lucas Carné, Co-Founder of 011h and Co-Founder of Privalia.
MODERATORS
Javier Nieto Cubero, Coordinator of the Postgraduate Program in Design Processes for Entrepreneurship and Innovation at EINA
Koke Pursals, President of the Board of Trustees at EADA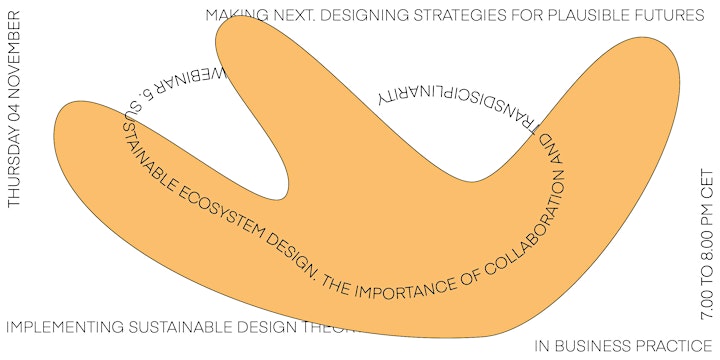 DAY 5 - Sustainable ecosystem design
THE IMPORTANCE OF COLLABORATION AND TRANSDISCIPLINARITY
Thursday, November 04, 2021 - 7:00 to 8:00 pm CET
To design is to imagine the future. Not only the future of objects, products and services, but, most importantly, how humans interact and solve the challenges we face. Organizations must be pushed to think collectively, beyond their business, and redefine unsustainable market practices.
Per Møller, Senior Symbiosis Developer at Kalundborg Symbiosis.
Developing new interactions between companies to reshape markets and industries towards sustainability
FIRESIDE CHAT AND CLOSING: PLAUSIBLE FUTURES FOR BARCELONA
Rafael de Balanzó, Founder Urban Resilience Thinking Design Studio; Ph. D. Sustainability; Architect & Urban Designer; CUNY and EINA/UAB Professor; Architects Without Borders Habitat Program Leader.
Maria Buhigas, Urbanist; Founder Urban-facts. Former Head of the Department of Urban Strategy, Barcelona Regional (2006-13), Member of the Scientific Advisory Council of the European agency ESPON (2017-19) and Councilor of the Barcelona City Council (2019-20).
MODERATORS
Pau de Solá-Morales, Dean of EINA
Maite Barrera, Member of the Executive Committee of Barcelona Global