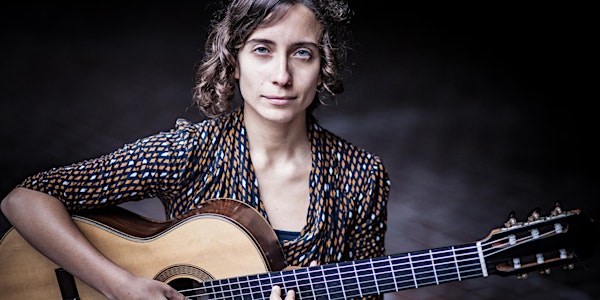 MARIA CAMAHORT - CASTELLÓ D'EMPÚRIES
Guanyadora de diversos premis de composició, ens ofereix un viatge musical format per obres que l'han influenciat i composicions pròpies.
Por Mediterranean Guitar Festival
Fecha y hora
mar., 12 de sep. de 2023 21:00 - 22:00 CEST
Ubicación
Basílica de Santa Maria de Castelló d'Empúries 1 Plaça Mossèn Cinto Verdaguer 17486 Castelló d'Empúries Spain
Política de reembolso
Contacta con el organizador para solicitar un reembolso.
Acerca de este evento
1 hora

Entrada electrónica móvil
Amb els seus propis projectes i altres col·laboracions, Maria ha actuat a sales de concerts nacionals i internacionals: Londres, París, Sant Petersburg, Moscou, Barcelona, Madrid, Edimburg, Brussel·les, Varsòvia, Cracòvia, Ciutat de Mèxic, Chicago, Auckand… i participat a festivals com: Festival de Guitarra de Barcelona, City of London Festival, Bath Guitar Festival, London Guitar Festival, Buxton Festival, Kings Place Festival, Edinburgh Guitar Festival, Edinburgh Fringe Festival, Vaults Festival, Chicago Physical Festival, Festival de Teatre Clàssic de Almagro, Festival de Teatre Clàssic Ciutat de Mèxic, Festival de Guitarra Francisco Tárrega, Festival de Guitarra Áureo Herrero, Clàssics d'Estiu, FIAS Madrid, Mediterranean Guitar Festival, etc.
Va viure a Londres des del 2008 fins al 2017, desenvolupant una carrera concertística en què la seva faceta com a arranjador i compositora va ser un element essencial. El 2017 va tornar a Barcelona, on compagina la seva carrera com a instrumentista amb la seva creixent activitat com a compositora. El 2020 va ser guardonada amb el Segon premi al I Certamen Llobet de Composició per guitarra, i el Segon premi al III Concurs Internacional de Composició Maria de Pablos (Fundació Don Joan de Borbó). El febrer passat va estrenar la seva obra per quartet de corda "Nóos", encàrrec del festival FIAS 2021 (Madrid), i interpretada pel Quartet Bauhaus. Recentment ha estat seleccionada per la Fundació SGAE pels incentius d'estrenes 2020 per l'obra Broken Landscapes, i ha guanyat el primer premi al IV Concurs Internacional de Maria de Pablos. El seu darrer encàrrec és la transcripció per duo de guitarres de l'obra d'Enric Escudé-Cofiner.
Acerca del organizador
Our Mediterranean Guitar Festival brings you the best guitar sounds in the most emblematic churches in the Catalan coasts.
More than a hundred concerts from June to October, all of them with the Spanish guitar as the centre of attention, be it a soloist, a duet a quartet or other formations. By various well-known artists with a long-lasting and recognised concert background, who will delight the whole audience.
Find us in up to ten different Catalan villages, ranging from Costa de Barcelona, to Costa Brava and Costa Daurada.
Don't miss the best Spanish guitar melodies this summer!