Este evento ha finalizado.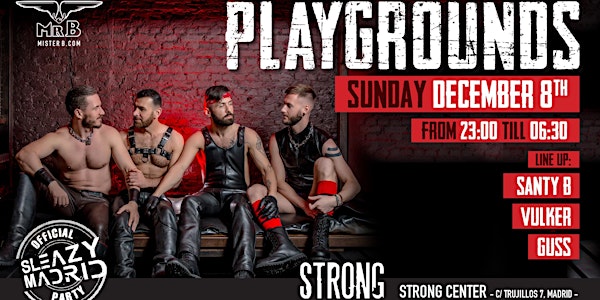 MrB PLAYGROUNDS, SleazyMadrid Winter 2019
Gifts for the first 100 attendees: Backpacks of MISTER B !!! Don´t Miss out on your copy !!!
Cuándo y dónde
Ubicación
Strong Club Trujillos 7 28013 Madrid Spain
Política de reembolso
No se hacen reembolsos
Acerca de este evento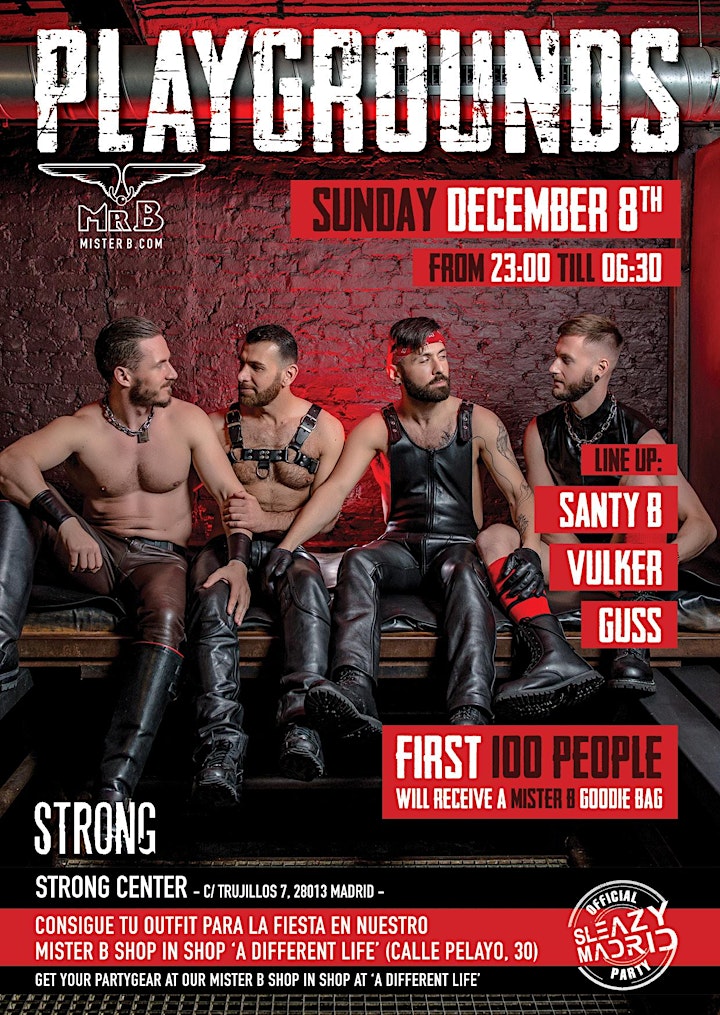 ( ... en Español debajo, ver más ... )
SUNDAY 8 DECEMBER at Strong Club (23:00 - 6:00h)
▬▬▬▬▬▬▬▬▬▬▬▬▬▬▬▬▬▬
☆☆☆ PLAYGROUNDS by MisterB, SleazyMadrid Winter 2019 ☆☆☆
▬▬▬▬▬▬▬▬▬▬▬▬▬▬▬▬▬▬
GIFTS FOR THE FIRST 100 ATTENDEES: BACKPACKS OF "MISTER B" !!! DON´T MISS OUT ON YOUR COPY !!!
STRONG is the perfect place to host MisterB´s PLAYGROUNDS party, as well as many other fetish parties during SLEAZYMADRID WINTER EDITION, it is an ideal place to get lost and play discovering all the nooks and crannies. With a state-of-the-art laser light show equipment, a suitable dance floor, a lot of semi-dark rooms, and lots of booths and labyrinths will make the night pure lust.
◉ Dj line up: VULKER, SANTI B, GUSS
◉ Real Hard Fetish Night
◉ Full Hot Playrooms
● Advance Tickets Online:
► 15€
Get yours here
● On door tickets more expensive according to hours and availability of capacity
All prices including a drink.
23:00 a 6:00h... en STRONG Club
C/ Trujillos 7 - 28013 MADRID
www.sleazymadrid.com
twitter.com/sleazymadrid
facebook.com/sleazymadrid
instagram.com/sleazymadrid
soundcloud.com/sleazymadrid
░░░░░░░░░░░░░░░░░░░░░░░
DOMINGO 8 DICIEMBRE (23:00 - 6:00h)
▬▬▬▬▬▬▬▬▬▬▬▬▬▬▬▬▬▬
☆☆☆ PLAYGROUNDS por MisterB, SleazyMadrid Winter 2019 ☆☆☆
▬▬▬▬▬▬▬▬▬▬▬▬▬▬▬▬▬▬
REGALO A LOS 100 PRIMEROS ASISTENTES CON UNA MOCHILA "MISTER B" !!! NO TE QUEDES SIN ELLA !!!!
STRONG es el lugar perfecto para acoger la fiesta PLAYGROUNDS de Mister B, así como otras muchas fiestas fetichistas durante el SLEAZYMADRID WINTER EDITION. Es un lugar ideal para perderse y jugar descubriendo todos sus rincones y recovecos. Con un equipo de laser shows de vanguardia, una pista de baile adecuada, un montón de habitaciones semi-oscuras, y un montón de cabinas y laberintos haremos de la noche pura lujuria.
◉ Dj line up: VULKER, SANTI B, GUSS
◉ Auténtica Noche Fetish de rollo duro
◉ Zona de juegos bien equipada y llena de acción
Entradas Anticipadas Online:
► 15€
Consíguelas aqui
Todos los precios incluyen una consumición.
● En Puerta precios más caros según horarios y disponibilidad de aforo
23:00 a 6:00h... en STRONG Club
C/ Trujillos 7 - 28013 MADRID
Metros: Callao / Sol / Santo Domingo
www.sleazymadrid.com
twitter.com/sleazymadrid
facebook.com/sleazymadrid
instagram.com/sleazymadrid
soundcloud.com/sleazymadrid