Ha finalizado la venta de entradas
Los registros se han cerrado
Thank you for booking. We will send you a confirmation and instructions!
Información sobre el evento
Ha finalizado la venta de entradas
Los registros se han cerrado
Thank you for booking. We will send you a confirmation and instructions!
Acerca de este evento
Curs d'Hivern 2021 / Winter 2021 Course
CAT
El curs d'Hivern 2021 comença a partir del dia 8 de febrer
El curs és trimestral, una classe setmanal de 45′. Són 10 classes (+1 al final de recuperació). Els grups classe són de màxim 10 families* , dependrà de la sala.
Les inscripcions comencen al principi de cada trimestre (setembre, gener i abril) i es pot venir a provar gratuïtament RESERVANT. Us aconsellem que us matriculeu el més aviat possible per tenir plaça a l'horari que us vagi millor, les places son limitades!
* Com a mesura COVID les classes poden durar menys (40′) i hospedar menys families (max. 6, segon l'espai). Podríem decidir limitar l'aforament a UN acompanyant.
________________________
ENG
2021 Winter course will start on February, 8th
The course lasts 3 months, one weekly class of 45′. The term has 10 classes long (+1 at the end, for the families that missed one of them). Groups are maximum 10 families*, depending on the venue.
Enrolling starts prior to the beginning of each "trimestre" (october, january, april). You can come for a free tryout BOOKING. First come, first served, so hurry up!
* Due to COVID concerns, during Fall 2020 classes could be shorter (40′) and host less families (6 maximum). we may also decide to limit to ONE adult instead of 2.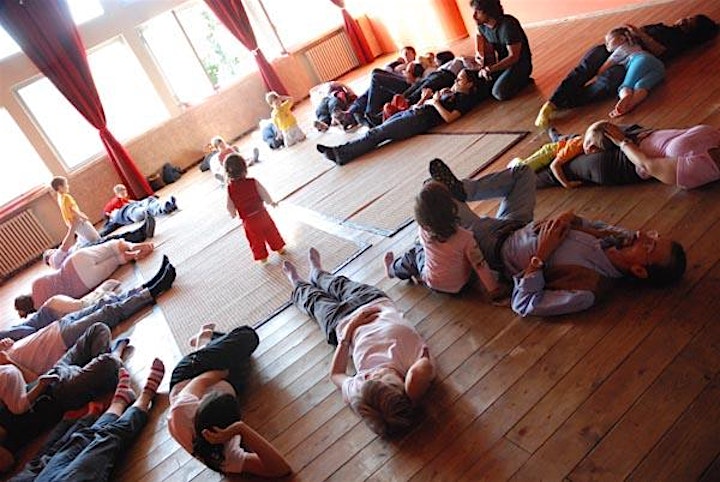 To assist a free tryout class:
1. Choose a venue and weekly timetable from the list below.
2. Select the same weekday time, and the week of your choice, in the Eventbrite list page
3. Wait for a confirmation in your email!
__________________________
-> MT = Music Together for ALL AGES (0-5 years old)
-> BABIES = Only babies (0-8 months)
-> RK = Rhythm Kids (4-5 years old)
__________________________
NEW!!! Eixample Esquerra - El Cau 
Monday 5:00-5:45 (RK/MT)
Monday 6:00-6:45 (MT)
Tuesday 10:30–11:15am (MT)
Sagrada Familia – Cocoa
Tuesday 5:00-5:45 (MT)
Tuesday 6:00-6:45 (MT)
Gràcia – L'Auténtica (ex Porta4)
Wednesday 5:00-5:45 (MT)
Wednesday 6:00-6:45 (MT)
Sant Cugat del Vallés - Fusió Musica i Dansa 
Thursday 11:00 - 11:45am (MT)
Thursday 12:00 - 12:45am (BABIES)
Poble Sec - La lleteria 
Friday 5:00-5:45pm (MT)
Friday 6:00-6:45pm (RK)
Sant Gervasi – Peek-a-Boo 
Saturday 10:00-10:45am (BABIES)
Saturday 10:45-11:30 (MT)
Saturday 11:30-12:15 (RK)
¡Hope to see you soon!