Ha finalizado la venta de entradas
Los registros se han cerrado
Thank you for booking. We will send you a confirmation and instructions!
Music Together is the Music program for kids from zero to five years old with their grownups. Come for a free tryout!
Acerca de este evento
Curs de Tardor 2021 / Fall 2021 Term
CAT
El curs de Tardor 2021 comença a partir del dia 20 de setembre
El curs és trimestral, una classe setmanal de 45′. Són 10 classes (+1 al final de recuperació). Els grups classe són de màxim 10 families* , dependrà de la sala.
Les inscripcions comencen al principi de cada trimestre (setembre, gener i abril) i es pot venir a provar gratuïtament RESERVANT. Us aconsellem que us matriculeu el més aviat possible per tenir plaça a l'horari que us vagi millor, les places son limitades!
* Com a mesura COVID les classes poden durar menys (40′) i hospedar menys families . Podríem decidir limitar l'aforament a UN acompanyant.
________________________
ENG
2021 Fall term will start on September, 20th
The course lasts 3 months, one weekly class of 45′. The term has 10 classes long (+1 at the end, for the families that missed one of them). Groups are maximum 10 families*, depending on the venue.
Enrolling starts prior to the beginning of each "trimestre" (october, january, april). You can come for a free tryout BOOKING. First come, first served, so hurry up!
* Due to COVID concerns, during Fall 2021 classes could be shorter (40′) and host less families Passatge de Frigola, 27 . we may also decide to limit to ONE adult instead of 2.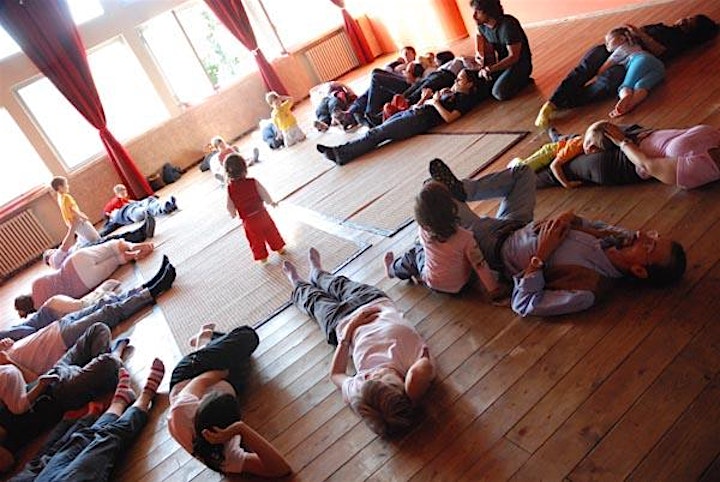 To assist a free tryout class:
1. Choose a venue and weekly timetable from the list below.
2. Select the same weekday time, and the week of your choice, in the Eventbrite list page
3. Wait for a confirmation in your email!
__________________________
-> MT = Music Together for ALL AGES (0-5 years old)
-> BABIES = Only babies (0-8 months)
-> RK = Rhythm Kids (4-5 years old)
__________________________
NEW!!! Eixample Esquerra - El Cau 
Monday 4:00-4:45 (MT/Babies)
Monday 5:00-5:45 (MT)
Monday 6:00-6:45 (MT)
Sagrada Familia – Cocoa
Tuesday 4:00-4:45 (MT/Babies)
Tuesday 5:00-5:45 (MT)
Tuesday 6:00-6:45 (MT)
Gràcia – 2estones
Wednesday 4:00-4:45 (MT/Babies)
Wednesday 5:00-5:45 (MT)
Wednesday 6:00-6:45 (MT)
Sant Cugat del Vallés - Fusió Musica i Dansa 
Thursday 11:00 - 11:45am (MT)
Thursday 12:00 - 12:45am (BABIES)
Thursday 17:00 - 17:45am (MT/BABIES)
Thursday 18:00 - 18:45am (MT)
NEW! Sants / Les Corts - Els Dracs
Tuesday 4:00-4:45 (MT/Babies)
Tuesday 5:00-5:45 (MT)
Tuesday 6:00-6:45 (MT)
Terrassa - per determinar 
Friday 17:00 - 17:45am (MT/BABIES)
Friday 18:00 - 18:45am (MT)
Poble Sec - La lleteria 
Friday 5:30-6:15pm (MT)
Friday 6:15-7:00 pm(RK)
Sant Gervasi – Peek-a-Boo 
Saturday 10:00-10:45am (BABIES)
Saturday 10:45-11:30 (MT)
Saturday 11:30-12:15 (RK)