Este evento ha finalizado.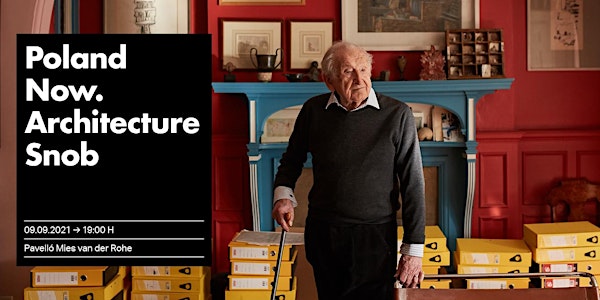 Poland Now. Architecture Snob - New architecture magazine and new architect
Ubicación
Pavelló Mies van der Rohe
7 Avinguda Francesc Ferrer i Guàrdia
08038 Barcelona
Spain
Conference - Debate: Presentation of the new architectural magazine Architecture Snob
Acerca de este evento
https://miesbcn.com/ca/calendari/presentacio-de-la-publicacio-architecture-snob/
CAT - El Pavelló Mies van der Rohe acull la presentació d'Architecture Snob, una nova revista d'arquitectura dirigida per Marcin Szczelina que sorgeix de la necessitat de debatre sobre l'arquitectura contemporània i de fer una mirada crítica a la realitat circumdant.
La presentació a Barcelona d'una nova revista d'arquitectura, a més de ser una manera essencial d'enfortir el debat sobre com vivim i com volem viure, és una oportunitat per connectar institucions i arquitectes polonesos amb arquitectes de la ciutat de Barcelona amb projectes a Polònia i debatre entorn del lema de la revista #architecturematters.
**
CAS - El Pabellón Mies van der Rohe acoge la presentación de Architecture Snob, una nueva revista de arquitectura dirigida por Marcin Szczelina que surge de la necesidad de debatir sobre la arquitectura contemporánea y de hacer una mirada crítica a la realidad circundante.
La presentación en Barcelona de una nueva revista de arquitectura, además de ser una forma esencial de fortalecer el debate sobre cómo vivimos y cómo queremos vivir, es una oportunidad para conectar instituciones y arquitectos polacos con arquitectos de la ciudad de Barcelona con proyectos en Polonia y debatir en torno al lema de la revista #architecturematters.
**
ENG - The Mies van der Rohe Pavilion hosts the presentation of Architecture Snob, a new architecture magazine directed by Marcin Szczelina that arises from the need to discuss contemporary architecture and to take a critical look at the surrounding reality.
The presentation in Barcelona of a new architecture magazine, as well as being an essential way to strengthen the debate on how we live and how we want to live, is an opportunity to connect Polish institutions and architects with architects from the city of Barcelona with projects in Poland and debate around the motto of the magazine #architecturematters.
PROGRAM
19.00 Introduction. Anna Ramos, Ivan Blasi
19.05 Presentation of the magazine. Marcin Szczelina
19.10 Polish context. Projects in Poland
Philharmonic Hall in Szczecin
Alberto Veiga and Fabrizio Barozzi, Estudio Barozzi Veiga
19.25
The University of Silesia Faculty of Radio and Television in Katowice
Jordi Badia, BAAS Arquitectura
19.40
Multifunctional Concert Hall "Jordanki" in Toruń
Fernando Menis, Menis Arquitectos
19.55 Poland Now
Elektrownia Powiśle, Riverview
Szymon Wojciechowski, APA Wojciechowski Architekci
20.10
Centre for Local Activity
Marlena Wolnik, MWArchitekci
20.25
Cukrownia Żnin
Piotr Grochowski and Wojciech Kolęda, Less is Core
20.40 - 21.10 Discussion. How to design in Poland.
Szymon Wojciechowski, Marlena Wolnik, Piotr Grochowski, Wojciech Koleda, Alberto Veiga, Fabrizio Barozzi, Jordi Badia, Fernando Menis
Moderated by Anna Ramos and Marcin Szczelina
21.15 - 21.35 Live performance, Raf Skowroński, Polish singer.