Este evento ha finalizado.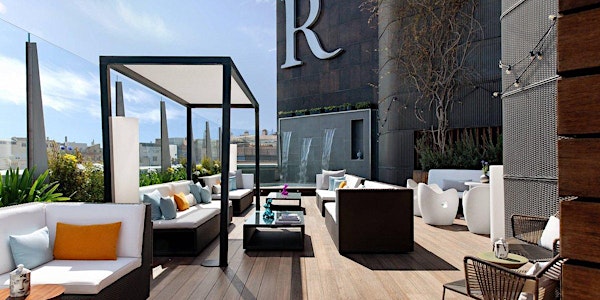 Rooftop afterwork party with a views. Free entrance.
The best 80´s djs rooftop party looking the sunset and the sea.
Cuándo y dónde
Ubicación
Renaissance Barcelona Hotel Carrer de Pau Claris, 122 08009 Barcelona Spain
Acerca de este evento
¡NUEVO EVENTO LOS LUNES CON LA MEJOR MUSICA POP!
Cada lunes afterwork en Goja Rooftop del RENAISSANCE BARCELONA HOTEL de 5 estrellas, que ofrece increíbles vistas a Barcelona, buen ambiente y los mejores cocktails. Por fin un evento en lunes con música que hará tu inicio de semana mucho más llevadero.
Una propuesta nueva en Barcelona para poder disfrutar de buena música con dj cada semana en una terraza en el centro de la ciudad con vistas a Barcelona, con cócteles de Martini Fiero & Tonic exquisitos y tapas mediterráneas para acompañar.
Ven a disfrutar con tus amigos los lunes para que no pasen desapercibidos de 19:00 a 22:00 con dj y después abierto hasta las 23:59 con hilo musical. Por lo que podréis disfrutar de una velada completa de buena música y fresquitos en la última planta.
*Es necesario reservar mesa para grupos a partir de 10 personas.
*Fist come first serve basis hasta llenar aforo.
*Consumición obligatoria
Powered by Martini Fiero
Síguenos en Instagram @renbarcelonahotel @martinispain y @we_sounds_
Contact us and we will organize it for you!
Celebrate your birthday?
Send us a message to find out about benefits and presents! info@wesounds.com
▷ We sounds
https://www.wesounds.com
https://www.instagram.com/we_sounds_/
RENAISSANCE BARCELONA HOTEL (grupo Marriott)
Carrer de Pau Claris, 122
Metro
L4 GIRONA
Provença
Bus 6, 7, 39, 47, V17, V19,
------------------------------------------------------------------------------------
NEW EVENT ON MONDAYS WITH THE BEST POP MUSIC!
Every Monday afterwork at RENAISSANCE BARCELONA HOTEL, a 4-star hotel with an incredible rooftop overlooking all of Barcelona, ​​enjoying good cocktails and finally an event on Monday with music that will make your week much more bearable.
A new proposal in Barcelona to be able to enjoy good music with a DJ every week in a large space with views of Barcelona, ​​with exquisite Martini Fiero cocktails and very generous tapas if you feel like tasting.
Come and enjoy with your friends so that your Mondays do not go unnoticed from 7:00 p.m. to 10:00 p.m. with a DJ and then open until 11:59 p.m. with piped music. So you can enjoy a full evening of good music and refreshments on the top floor.
Powered by Matini
Contact us and we will organize it for you!
Celebrate your birthday?
Send us a message to find out about benefits and presents! info@wesounds.com
▷ We sound
https://www.wesounds.com
https://www.instagram.com/we_sounds_/
RENAISSANCE BARCELONA HOTEL (Marriott group)
Carrer de Pau Claris, 122
L4 GIRONA
Bus 6, 7, 39, 47, V17, V19,
-------------------------------------------------- ----------------------------------