Este evento ha finalizado.
Science & Cooking World Congress
II SCIENCIE & COOKING WORLD CONGRESS BARCELONA 2021 - Sustainability. Research, Economics & Health
Cuándo y dónde
Ubicación
Universidad de Barcelona 585 Gran Via de les Corts Catalanes 08007 Barcelona Spain
Política de reembolso
Contacta con el organizador para solicitar un reembolso.
La tarifa de Eventbrite no es reembolsable.
Acerca de este evento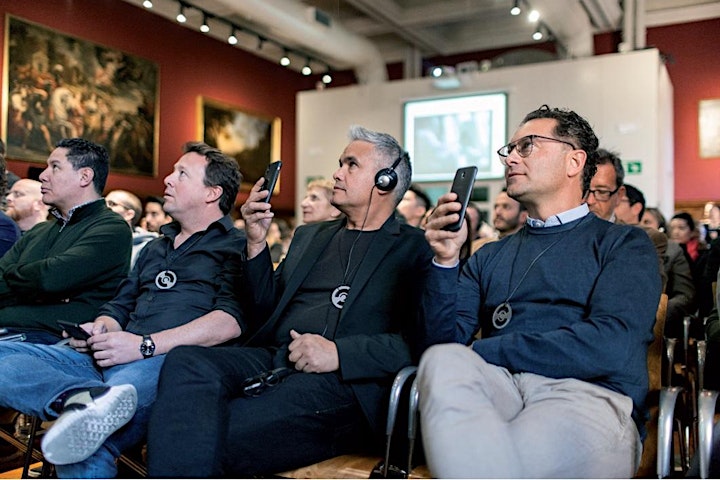 Vuelve el Science & Cooking World Congress Barcelona!
El 8, 9 y 10 de noviembre en la Universidad de Barcelona se celebrará el evento mundial más grande de ciencia y cocina.
La entrada al congreso incluye:
- Acceso a todas las ponencias, poder conocer a los expertos cara a cara e interactuar con ellos
- Servicio de Brunch, de la teoría a la práctica. Se podrá degustar productos creados exclusivamente para el SCWC.
- Oportunidad de participar en actividades complementarias al congreso, como conocer tu microbioma (para poder participar es necesario registrarse aquí, el precio del estudio no está incluido en la entrada, pero sin entrada no se puede participar al estudio).
Actividades y ponencias con los mejores expertos
Tres días llenos de ponencias de la mano de expertos del sector como:
El aprovechamiento total del atún rojo, clave para la sostenibilidad (Begonya Melich, responsable de I+D y Ekaitz Apraiz, xef executivode Tunateca. Balfegó.)
La investigación imprescindible para introducir el plancton en gastronomía ( Alberto Palomar ,Asesor gastronómico y CCO de Plancton Marino, y Ángel León).
Grasas sostenibles para una alimentación mas saludable (Montefeltro Cubiq foods. Aplicación a Gastronomía Sergi Palacín (R. Alchemix) y Pere Planagumà, Escatafood).
Science and Cooking y el desperdicio alimentario (Ada Parellada y Gemma Salvador).
Bienvenida con Ferran Adrià (Presidente del Comité Científico Gastronómico del Congreso)
¡Y mucho más! Puedes consultar todas las actividades aquí (el horario puede estar sujeto a cambios)
SCWC a world wide congress
El SCWC Barcelona 2021 tiene como Objetivos específicos la Internacionalización y Socialización. Estos objetivos se derivan del mandato de Desarrollar el manifiesto (SCIENTIFIC Gastronomy BARCELONA 2019)
Crear delegaciones en todo el mundo con el fin de dibujar un mapa de la situación de la ciencia y la cocina en la actualidad a nivel mundial.
Saber más sobre las delegaciones
Evento seguro
Teniendo en cuenta la situación actual de pandemia, consideramos prioridad máxima realizar un evento seguro en todos los aspectos. Por este motivo, todas las ponencias se transmitirán virtualmente, para poder disfrutar del congreso.
Así mismo, se cumplirán todas las medidas de seguridad anti-Covid 19 estipuladas en el momento del acontecimiento.
The Science & Cooking World Congress Barcelona is back!
On November 8, 9 and 10 at the University of Barcelona, ​​the world's largest science and cooking event will be held.
FREE tickets now available for the streaming! All the presentations will be transmitted virtually, in order to enjoy the congress.
Activities and presentations with the best experts
Three days full of presentations by experts from the sector such as:
The total utilization of the key bluefin tuna for sustainability (Begonya Melich, head of R&D and Ekaitz Apraiz, executive xef of Tunateca. Balfegó.)
The essential research to introduce plankton in gastronomy (Alberto Palomar (Gastronomic advisor and CCO of Marine Plankton) and Ángel León)
Sustainable fats for a healthier diet (Montefeltro Cubiq foods. Application to Gastronomy Sergi Palacín (R. Alchemix) and Pere Planagumà (Escatafood).)
Science and Cooking and food waste (Ada Parellada and Gemma Salvador.)
You can check all the activities here (the schedule may be subject to change)
SCWC to worldwide congress
The SCWC Barcelona 2021 has as specific objectives: Internationalization and Socialization.
These objectives are derived from the mandate to Develop the manifesto (SCIENTIFIC Gastronomy BARCELONA 2019)
Create delegations around the world in order to draw a map of the situation of science and cuisine today worldwide.
Learn more about the delegations
Safe event
Taking into account the current pandemic situation, we consider a top priority to carry out a safe event in all aspects. For this reason, all the presentations will be transmitted virtually, in order to enjoy the congress.
Likewise, all the anti-Covid 19 security measures stipulated at the time of the event will be carried out.