Este evento ha finalizado.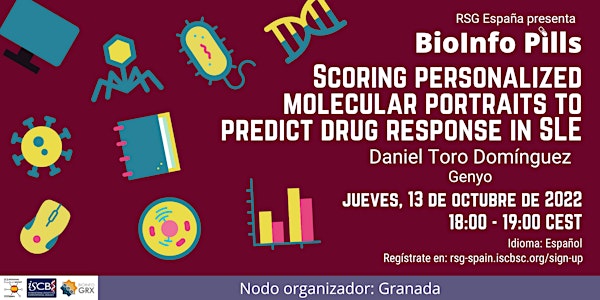 Scoring personalized molecular portraits to predict drug response in SLE
Scoring personalized molecular portraits identify SLE subtypes and predict individualized drug response, symptomatology and disease progress
Acerca de este evento
RSG-Spain inicia su ciclo de charlas BioinfoPills para la temporada 22/23.
Para esta temporada traemos un formato nuevo, mas compacto y directo.
Ponente: Daniel Toro Dominguez (GENyO)
Titulo: Scoring personalized molecular portraits identify SLE subtypes and predict individualized drug response,symptomatology and disease progression
Idioma: Español
Bio:
Doctor en Biomedicina por la Universidad de Granada. Interesado principalmente en el uso de datos ómicos para establecer un nuevo esquema de clasificación de las enfermedades autoinmunes para mejorar el diagnóstico y el tratamiento. Postdoc en el grupo de la Dra. Alarcón-Riquelme y a Unidad de BioInformatica de GENyO.
Resumen:
Objectives:
Systemic Lupus Erythematosus is a complex autoimmune disease that leads to important worsening of the quality of life and significant suffering to those affected. Symptoms appears unpredictably during disease course, and currently, therapies used are partially inefficient, which are applied based on a trial-and-error approach that clearly requires improvement. These facts are mainly due to the molecular heterogeneity of the disease, being personalized medicine the big promise for the future of autoimmunity. With this work we intend to take a step further in that direction by developing MyPROSLE, a system capable of measuring and scoring the personalized molecular portrait of individual patients to support clinicians in therapeutic decisions.
Methods:
Immunological pathways or functional gene-modules from different databases were used to represent the transcriptome of the patients. A dysregulation score for each gene-module (or M-score) was calculated at patient level using averaged z-scores from the expression of their genes in the patient compared with healthy gene expression distributions. A total of 9 different cohorts comprising more around 4300 patients and 750 healthy samples were used to select disease relevant gene-modules and to analyzed the association between patient-signatures, clinical manifestation, prognosis and flare and remission events. A tenth cohort with more than 400 patients treated with placebo or tabalumab and followed up in 3 times was used to predict personalized drug responses. Random forest-based classification models were built to predict over 90 different clinical manifestation and response or non-response to drugs based on M-scores.
Results:
Our system allows to summarize the molecular portrait of a patient by measuring dysregulation magnitude of 206 gene-modules with respect to healthy distributions. These gene-modules are clustered into 9 main lupus signatures, the combination of which revealed highly differentiated pathological mechanisms. We show that dysregulation of certain lupus-signatures or specific gene-modules is strongly associated with different clinical manifestations and could be used to accurately predict drug responsive or non-responsive patients and the time when remissions and relapses of the disease are to occur in the short time.
Conclusions:
MyPROSLE is available on https://www.myprosle.genyo.es and allows the users characterize molecularly individual patients and extract key information for medical practice to support for more precise therapeutic decisions.
Contacto: Danieltorodominguez@gmail.com
Puedes ponerte en contacto con nosotros o averiguar más en nuestra página web,
https://www.rsg-spain.iscbsc.org
¡Únete, crea tu propio nodo, hagamos crecer esta comunidad jóven de bioinfos!
Síguenos en nuestras redes sociales!
Twitter: @RSGSpain
Instagram: @rsg_spain