Este evento ha finalizado.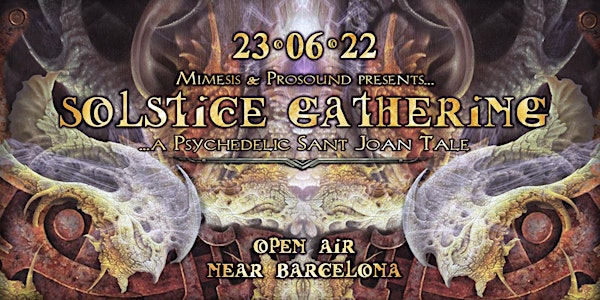 Solstice Gathering 2022 - A Psychedelic Sant Joan
Psychedelic Open Air Gathering by Mimesis Decoration and Prosound Audio , working together to deliver you a great journey <3
Cuándo y dónde
Ubicación
Castellví de la Marca Castellvi de la marca 08732 Castellví de la Marca Spain
Política de reembolso
Contacta con el organizador para solicitar un reembolso.
Acerca de este evento
—————————————
Sant Joan és una nit màgica en què se celebra el solstici d'estiu (amb dos dies de retard pel nostre calendari). Una nit de trobada de familia i amics, per això hem pensat que es la ocasió ideal per ajuntar forçes i fer una festa de les que queden marcades a la nostra memòria!!
Sona familiar? 😃 clar, això és perquè ja és tota una tradició!! i després de dos anys en que no hem pogut celebrar-lo a causa del Covid, tornem amb més ganes i energia que mai!!
----------------------------------
Sant Joan is a magical night in which we celebrate the summer solstice (delayed 2 days due to our calendar). A family and friends gathering night, so we thought is the perfect ocasion to summon forces and make a party that last on our memory!!
Sounds familiar? 😃 Obviously, cause is already quite a tradition!! and after two years not being able to celebrate it due to Covid, we come back more eager and with more energy than ever!!
=================ஜ۩۞۩ஜ===============
=================ஜ۩۞۩ஜ===============
●ૐ●MUSIC ●ૐ●
★ GOASIA [Full live act 1st time since 2005! Kanc Cover and Balint Tihamer on stage] ★ Spacedock Records / Suntrip Records ★ RS ★
https://soundcloud.com/goasia
★ TALAMASCA [Retrospective Set] ★ Dacru Records ★ FRA ★
https://soundcloud.com/talamasca
★ AGNETON [Live] ★ Sita Records ★ BEL ★
https://soundcloud.com/agneton
★ CELS MIMESIS [live] ★ Mimesis ★
https://soundcloud.com/celsmimesis
★ CÉSAR MIMESIS ★ Suntrip Records ★
https://soundcloud.com/cesarmimesis
★ DUMI vs. APUNKALIPSIS ★ Prosound / Loka Munia ★ Special B-Day set!
★ KËNDA ★ Ovni Records ★
https://soundcloud.com/djanekenda
★ BAHR MIMESIS ★ Mimesis ★ Full On Golden Years Special set!
https://soundcloud.com/djbahrmimesis
★ GONTA ★ Psykomaniak ★
https://www.facebook.com/djGonta/
=================ஜ۩۞۩ஜ===============
●ૐ● DECORATION ●ૐ●
★ MIMESIS - PSYCHEDELIC ART ★ FESTIVAL SETUP!!
www.mimesisproject.com
=================ஜ۩۞۩ஜ===============
●ૐ● SOUND ●ૐ●
★ 16.000W Line Array Amate Audio* ★ by ProSound Audio Rental
https://www.facebook.com/ProSoundAudioRental
*100% designed and manufactured in BCN ♥
=================ஜ۩۞۩ஜ===============
●ૐ● OTHERS ●ૐ●
★ Performance by Elipsy Lights ★
https://web.facebook.com/eklipsylights
★Market Area ★ Food stands ★
=================ஜ۩۞۩ஜ===============
●ૐ● LOCATION ●ૐ●
The chosen location for this ocassion is again the grounds of the Castellví de la Marca football camp, at 60km from Barcelona, where we'll benefit of its great infraestructure having builded toilets, drinkable water, small picnic zone, etc...
Maps location:
https://goo.gl/maps/hrHaYBQdWRH2
Coordinates:
41.328838, 1.593445 // 41°19'43.8"N 1°35'36.4"E
●ૐ● LOCAL GUESTS ●ૐ●
As we believe is important to make the local people feel the event as theirs and become part of it, all the legal residents of Castellví de la Marca and La Múnia have a reduced access price to the event showing an acreditative ID with the address on it.
٠•●●•٠٠•●●•٠٠•●●•٠٠••●●•٠•●●•٠٠•●●•٠٠•●●•٠٠••●●
Organize:
★ MIMESIS & PROSOUND ★
https://www.facebook.com/MimesisProject
https://www.facebook.com/ProSoundAudioRental/
٠•●●•٠٠•●●•٠٠•●●•٠٠••●●•٠•●●•٠٠•●●•٠٠•●●•٠٠••●●
TICKETS:
www.mimesis.club