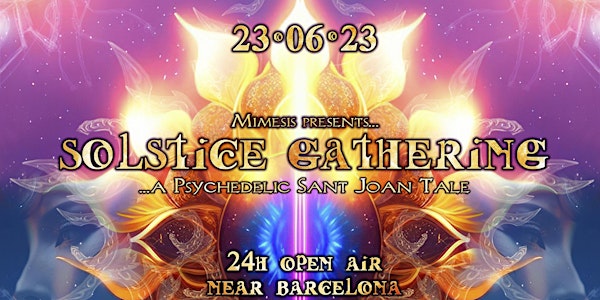 Solstice Gathering 2023 - A Psychedelic Sant Joan Tale
Psychedelic Open Air Gathering by Mimesis
Fecha y hora
vie., 23 de jun. de 2023 21:00 - sáb., 24 de jun. de 2023 21:00 CEST
Ubicación
Solstice Gathering 22 veïnat de massabé 17410 Sils Spain
Política de reembolso
Contacta con el organizador para solicitar un reembolso.
Acerca de este evento
1 día

Entrada electrónica móvil
----------------------------------
Sant Joan és una nit màgica en què se celebra el solstici d'estiu (amb dos dies de retard pel nostre calendari). Una nit de trobada de familia i amics.... us sona??
QUINES GANES TENIEM DE TORNAR A ESCRIURE AQUESTA INTRO!! Tota una tradició ja celebrar-ho amb Mimesis des de 2017 i aquest any intentarem pujar el nivell amb una nova localització espectacular i més accessible!! (a només 15 minuts caminant de la parada de rodalies... 😮)
Guardeu la data, 23-24 de Juny, i seguiu la conta d'Instagram @solstice.mimesis on us mantindrem actualitzats de les novetats!
----------------------------------
Sant Joan is a magical night in which we celebrate the summer solstice (delayed 2 days due to our calendar). A family and friends gathering night.... sounds familiar??
HOW EAGER WE WERE OF WRITING AGAIN THIS INTRO!! Such a tradition to celebrate it with Mimesis since 2017 and this year we'll try to rise the bar with a new astounding and more accessible location!! (only 15 minutes walking from the train station... 😮)
Save the date, 23-24 June, and follow the Instagram account @solstice.mimesis where we'll keep you posted of the updates!
Acerca del organizador
Mimesis is a psychedelic art association from Barcelona, mainly focused on crafting arts, design and music.
It was created at 2009 as a friends' collective with the intention of spreading the psychedelic philosophy, and after some years of focusing on familiar and free parties, cultural events, playing and doing some decorations on small gigs, etc. we started working mainly to improve and evolve our decorations, and in 2013 decided to dedicate our energies and lives to take a step forward and do something fresh and different…

You can find more information about us and our work in our website:
www.mimesisproject.com