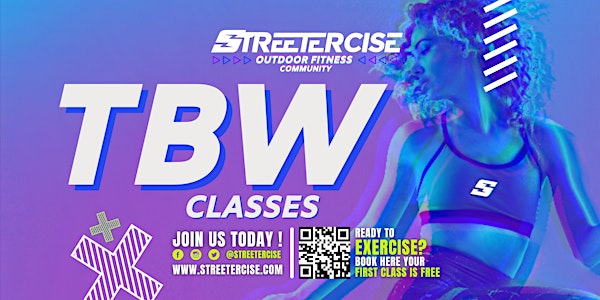 STREETERCISE® Total Body Workout Classes
Join our TBW CLASS every week in BARCELONA CIUTADELLA PARK
Cuándo y dónde
Ubicación
STREETERCISE® Ciutadella Park Passeig de Picasso, 21 08003 Barcelona Spain
Política de reembolso
Reembolsos hasta 30 días antes del evento
La tarifa de Eventbrite no es reembolsable.
Acerca de este evento
Join our TBW CLASS every week in BARCELONA CIUTADELLA PARK
About TOTAL BODY WORKOUT
WHAT IS TBW?
is a high-energy fitness class with moves that cater for total beginners to total addicts. We combine athletic movements like running, lunging, and jumping with strength exercises such as push-ups and squats.
STREETERCISE™ instructor will pump out energising tunes and lead you through the workout – challenging your limits in a good way, burning up to 1000 calories** and leaving you with a sense of achievement.
Inspired by elite athletic training principles,
TBW is a scientific core workout for incredible core tone and sports performance. You build strength, stability, and endurance in the muscles that support your core, improve balance, assist injury prevention, and become better at everything you do.
"All the moves in TBW have options, so it's challenging but achievable whatever your level of fitness. During the workout, trained Instructors guide you through the correct technique as you work Your body, as well as body weight exercises like crunches, and hovers. Plus there are some hip, butt, and lower back exercises too.
BENEFITS?
TBW is a whole-body workout that burns calories while toning and shaping. You'll build stamina and our sports-inspired moves will improve your coordination and agility. Get quicker off the mark in everything you do.
------------------------------------------------------------------------------------
JOIN OUR TBW CLASS EVERY WEEK IN BCN CIUTADELLA PARK
1st CLASS FREE (RESERVED For all our NEW CLIENTS)
❤️Donations are always welcome.
Normal Price:
Single Class 6,90€
⚠️IMPORTANT: Don't forget to send us a Telegram or WhatsApp message to confirm or cancel your attendance. +34699871318,
DIRECT MESSAGE US HERE
WHATSAPP https://wa.me/699871318
TELEGRAM https://t.me/streeterciser
Visit our website: www.streetercise.com
Follow us on Instagram.com/streetercise
———————————————————————————-
⚠️IMPORTANT INFOS⚠️
(Please Read Before Booking)
✅In order to provide you a better quality service we advise you to Reserve your class with a minimum 4 hours before class start, or best with 24h in advance.
👉🏻**About Cancelation, please let us know with a minimum of 4h in advance**
👉🏻**Minimum Participant for classes we require is *5/6 people to start a class.
⚠️Remember for all classes⚠️
*Dance Classes*: we advise you to wear comfortable dancing shoes, bring with you a bottle of water to Dehydrate and a towel to dry.
*HiiT & Workout Classes * Take your own mats, towels, water, and comfortable shoes.
Please arrive 10-15min before the classes start, for the check-in ✅
////////////:::://///////////::::///////////
Ps/ Share this event with relatives close & friends! More we are better is the fun! Hope to See you soon ;) there 😜🙌🏻