Información sobre el evento
Can you imagine an online experience that is more unique? Here, at our small workshop in Barcelona, we decided to combine all the benefits
Acerca de este evento
At The Espadrilles Experience, the participants learn EVERYTHING about the history and origins of the most traditional Spanish shoes. But we thought: this is not enough! That's why each and everyone gets to customize a pair of Espadrilles of their own liking, which we ship to their home, ALL INCLUDED!
Our experience is not only about getting together online with people from all around world, having fun and learning about a different culture. It's by far the best experience of all, as it includes a pair of shoes!
Can't beat that! Here you will design the espadrilles of your dreams, we will make them LIVE and then ship them to you, all included! It is the only experience where you receive your creation at home. Without having to pay an extra fee.
The online workshop was born by combining the new concept (online experience) with the old one (physical product). At the end of the day, you are going to receive a pair of shoes designed by you.
A pair of shoes you know everything about: how it started as a workers' shoe and ended up being an international fashion statement.
One pair per ticket, but you can share the experience with friends and family
The price included one pair of shoes and the shipped to your home.
👀You can check other guests creations on our IG @barcelonahandmade
Frequently Asked Questions
What is an Espadrille?
The Espadrilles are the most iconic shoes from Spain. They originally used to have a canvas or cotton fabric upper and a flexible sole made of esparto rope. Today, we use a layer of rubber on the outsole, for greater durability.
What equipment is needed in order to participate?
You only need a device and a stable internet connection in order to connect to the online experience. The device can be anything from a personal computer to a smartphone.
How much does an experience like this last?
The duration of the experience is around 90 minutes.
Once we finish the workshop you will register your address for the shipping, all included
Worldwide Express shipping is included with FedEx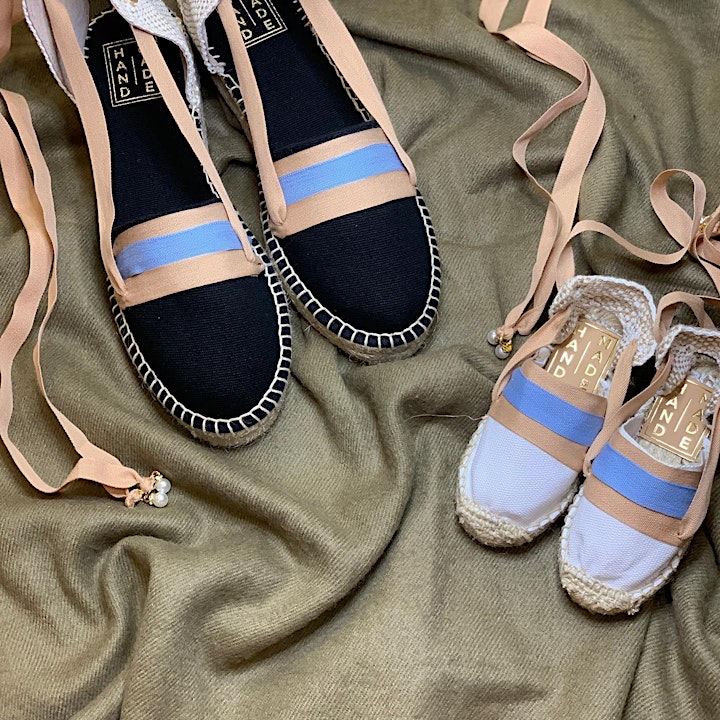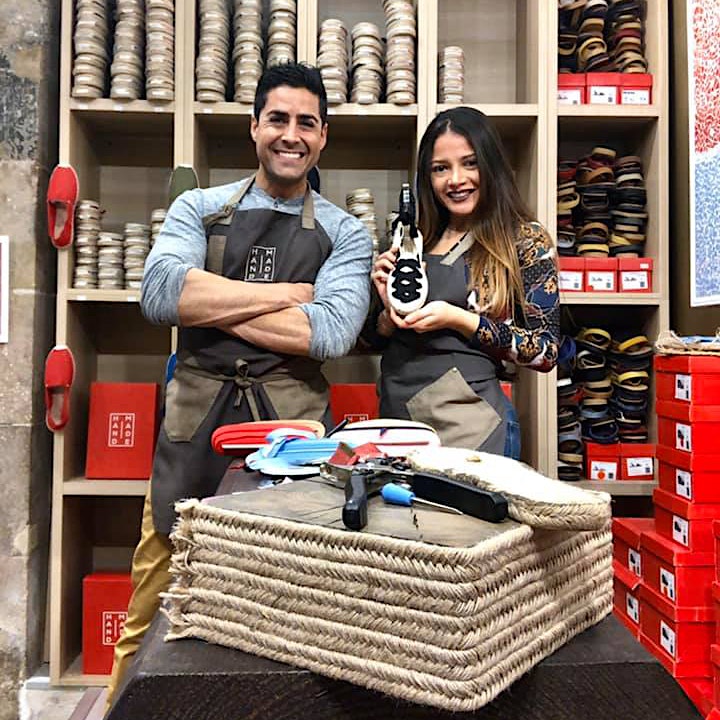 About the host,
This is Luis and Kathe, the founders and artisans of HANDMADE® BARCELONA!We have been making shoes for many years, in our local family-owned factories. HANDMADE® is an ethical brand from Cataluña, Spain, selling traditional shoes made by hand.The Espadrilles Experience is something that we are proud of. We teach people all around the world everything they need to know about Espadrilles.The Experience will bring you to our workshop in Barcelona and it includes a pair of shoes shipped to your home.