Este evento ha finalizado.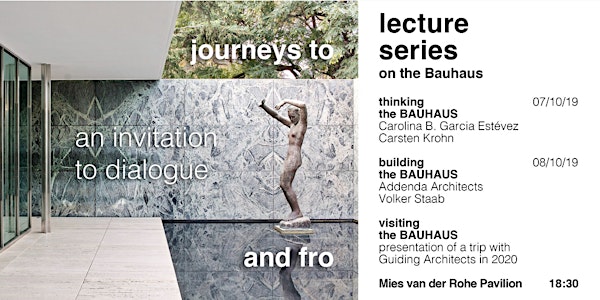 The Bauhaus Centenary - Journeys To and Fro: An Invitation to Dialogue
Ubicación
Pavelló Mies van der Rohe
7 Avinguda Francesc Ferrer i Guàrdia
08038 Barcelona
Spain
The Bauhaus Centenary - Journeys To and From: An Invitation to Dialogue - (Day one)
Acerca de este evento
The two-day event, organized on the occasion of the 100th anniversary of the Bauhaus, seeks to disseminate knowledge and promote the exchange of ideas between Germany and Spain on the legacy of the legendary school. The lecture series will be complemented with a trip to the Bauhaus Cities of Weimar, Dessau and Berlin, which is expected to take place in spring 2020.
Invited speakers include the authors of the extension of the Bauhaus Archive in Berlin and the new Bauhaus Museum Dessau, Volker Staab and Addenda Architects (González Hinz Zabala), who will present their respective projects on 8 October under the common theme of "Building the Bauhaus".
Architectural photographer and theorist Carsten Krohn from Berlin and Catalan architect and professor of architectural theory and history Carolina Beatriz García Estévez will be the guest speakers on 7 October. On this occasion, entitled"Thinking the Bauhaus", Krohn is going to talk about "the unknown Mies" and García Estévez about the literary andvisual influences of Rainer Maria Rilke and Paul Klee in the work of Mies van der Rohe.
On both days, Thomas M. Krüger, co-founder of Guiding Architects in Berlin, will give a brief introduction to the topic and the speakers.
PROGRAMM 07/10 – "Thinking the Bauhaus"
18:30 Registration
18:45 Welcome and short introduction by Thomas Krüger – Guiding Architects
19:00 Lecture Carolina Beatriz García Estévez: "Unveiled Mimesis: Rilke, Klee and Mies on the Search for Origins"
19:40 Lecture Carsten Krohn: "The Unknown Mies"
20:20 Panel discussion, moderation by Ariadna Perich
20:50 Questions
21:00 End of event