Este evento ha finalizado.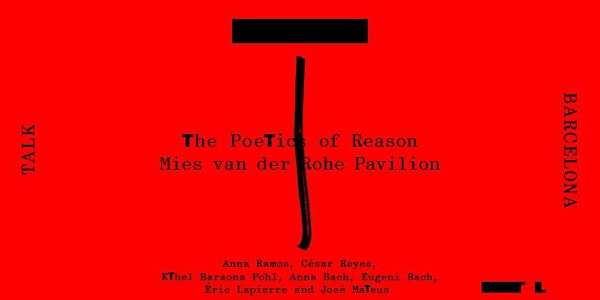 The Poetics of Reason. Presentation of the Lisbon Triennale
Cuándo y dónde
Ubicación
Pavelló Mies van der Rohe 7 Avinguda de Francesc Ferrer i Guàrdia 08038 Barcelona Spain
Descripción
The Poetics of Reason Talk
with Anna Ramos, Ethel Baraona Pohl, Anna & Eugeni Bach, José Mateus, César Reyes and Éric Lapierre
Mies van der Rohe Pavilion
Mies van der Rohe Pavilion will stage a talk about The Poetics of Reason, title of the fifth edition of Lisbon Architecture Triennale.This is our last pit stop of the international presentations, joining a remarkable line-up of invited speakers: Anna Ramos (Director of Fundació Mies van der Rohe), Ethel Baraona Pohl and César Reyes (Co-founders of DPR Barcelona), Anna & Eugeni Bach (Architects), Éric Lapierre (Chief Curator of Triennale 2019), and José Mateus (Chairman of Lisbon Architecture Triennale).
The fact that architecture is grounded into reason and rationality as the key to be understandable, i.e. shareable, by everyone, and not just by architects is this starting point of this discussion.
For all its subjective and non-scientific dimension, architecture does rest on reason and the aim of this discussion is to shed light onto the specificity of this reason. As a result of a massification of construction – more buildings have been built since the beginning of the previous century than ever before – such a condition implies that everybody is entitled to understand architecture without a specific background in the field.
The debate will include a Q&A session and will be followed by the screening of Bauhaus documentary. Previous presentations of this international tour includes cities like Venice, Helsinki, Cork and Paris. Barcelona is the last one before coming back to Lisbon. Save the date for the opening week of Triennale 2019, from 3-5 October. More info: www.trienaldelisboa.com
tags: talk, architecture, triennale,
---
La poètica de la raó. Presentació de la Triennale de Lisboa
La Triennal de Lisboa que tindrà lloc entre el 3 d'octubre de 2019 i el 2 de desembre de 2020, es presenta a tot Europa com una invitació de diferents institucions culturals: en aquesta ocasió, la Fundació Mies van der Rohe l'acull a Barcelona, amb l'equip curatorial reunit al Pavelló Mies van der Rohe.
La 5a edició de la Triennal d'Arquitectura de Lisboa es defineix sota nom de "La poètica de la raó". Aquest títol indica que, malgrat tota la seva dimensió subjectiva i no científica, l'arquitectura es basa en la raó, i apunta a ressaltar l'especificitat d'aquesta raó. De fet, que l'arquitectura es basi en la raó i la racionalitat és clau perquè sigui comprensible, és a dir, compartible, per tots, i no només pels arquitectes. Ara més que mai, resulta essencial definir una arquitectura per a la nostra condició contemporània ordinària. Com a resultat de la massificació de la construcció, s'han construït més edificis des de principis del segle anterior que mai abans, aquesta condició implica que tots tenen dret a comprendre l'arquitectura sense un coneixement específic en el camp. Cadascuna de les cinc exposicions que componen la Triennal 2019 abordarà un aspecte o dimensió particular d'aquest tema, en un intent per circumscriure els interessos de la racionalitat arquitectònica. Podeu trobar informació sobre les exposicions, el programa de xerrades i més aquí: https://www.trienaldelisboa.com/programme/triennali/2019
---
La poética de la razón. Presentación de la Triennale de Lisboa
La Trienal de Lisboa que tendrá lugar entre el 3 de octubre de 2019 y el 2 de diciembre de 2020 se presenta en toda Europa como una invitación de diferentes instituciones culturales: en esta ocasión, la Fundació Mies van der Rohe la acoge en Barcelona, con el equipo curatorial reunido en el pabellón Mies van der Rohe.
La 5ª edición de la Trienal de Arquitectura de Lisboa se define bajo nombre de «La poética de la razón». Este título indica que, a pesar de toda su dimensión subjetiva y no científica, la arquitectura se basa en la razón, y apunta a resaltar la especificidad de esta razón. De hecho, que la arquitectura se base en la razón y la racionalidad es clave para que sea comprensible, es decir, compartible, por todos, y no solo por los arquitectos. Ahora más que nunca, resulta esencial definir una arquitectura para nuestra condición contemporánea ordinaria. Como resultado de la masificación de la construcción, se han construido más edificios desde principios del siglo anterior que nunca antes, tal condición implica que todos tienen derecho a comprender la arquitectura sin un conocimiento específico en el campo. Cada una de las cinco exposiciones que componen la Trienal 2019 abordará un aspecto o dimensión particular de este tema, en un intento por circunscribir los intereses de la racionalidad arquitectónica. Puede encontrar información sobre las exposiciones, el programa de charlas y más aquí: https://www.trienaldelisboa.com/programme/triennali/2019
---
The Poetics of Reason. Presentation of the Lisbon Triennale
"The Poetics of Reason" Lisbon Triennale (October 3, 2019–December 2, 2020) is presented around Europe, as an invitation from different cultural institutions: on this occasion the Fundació Mies van der Rohe hosts it in Barcelona, with the curatorial team gather at the Mies van der Rohe Pavilion.
The 5th edition of the Lisbon Architecture Triennale will be The Poetics of Reason. This title states that, for all its subjective and non-scientific dimension, architecture does rest on reason, and its aim is to shed light onto the specificity of this reason. Indeed, the fact that architecture is grounded into reason and rationality is key to its being understandable, i.e. shareable, by everyone, and not just by architects. More than ever before, it stands as a condition to define an architecture for our contemporary ordinary condition. As a result of massification of construction—more buildings have been built since the beginning of the previous century than ever before—such a condition implies that everybody is entitled to understand architecture without a specific background in the field. Each of the five exhibitions that compose the Triennale 2019 will take up one particular aspect or dimension of this theme, in an attempt to circumscribe the stakes of architectural rationality. You can find info on the exhibitions, the program of talks and more here: https://www.trienaldelisboa.com/programme/triennali/2019