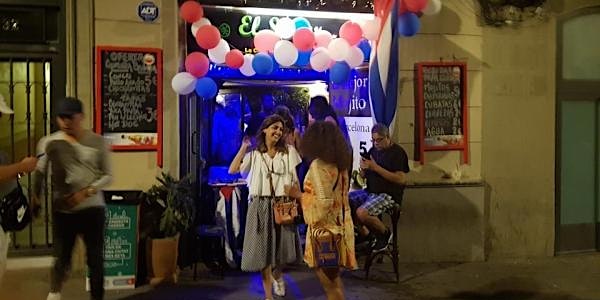 Múltiples fechas
TUESDAY SALSA & BACHATA FREE CLASSES
Join us for a different evening at EL SABOR CUBANO. Learn how to dance bachata & salsa with other international people
Fecha y hora
mar., 13 de dic. de 2022 20:00 - mié., 2 de ago. de 2023 3:00 CET
Ubicación
El Sabor 32 Carrer de Francisco Giner 08012 Barcelona Spain
Acerca de este evento
Come join us at El Sabor Cubano
📍Carrer de Francisco Giner, 32, 08012 Barcelona
FREE bachata & salsa lessons 💃 for ALL LEVELS, with a professional teacher
Authentic Cuban mojitos🍹, international people, and party vibes🎉 .
FOOD & DRINKS: We have cheap drinks and food for our group, and some special deals all night. Beer, wine. You only pay for your drink.
Meet other international students and expats in a festive environment.
Can I come alone? Yes, 95% of those attending come on their own. Our staff will be on hand to welcome you and introduce you to others in the group.
-----
🚨Join our whatsapp group ERASMUS FRIENDS BARCELONA: https://chat.whatsapp.com/G2vANeB9TeNEmI51iwEIHw
🚨Become a member for FREE on our website ERASMUS FRIENDS BARCELONA: https://marywavewebs.wixsite.com/erasmus-friends-bcn
We also organize group HIIT workouts🏋🏻, Pool🎱, darts🎯 & beerpong🍻, excursions and getaways✈️, brunches 🥘, parties🎉... and many more
💬Contact the event organizer if you want us to organize a private activity / event for you (& your friends)
Acerca del organizador
Erasmus Friends Barcelona is here to make sure this will be the best experience of your life.
We organize plenty of FUN ACTIVITIES such as free guide tours, meetups, free welcome dinners, weekend trips, parties, brunches, picnics, cruises, group workouts, professional networking sessions, career advice, and much more.
We also organize PRIVATE EVENTS: private parties, anniversaries & celebrations, trips, etc. Get in touch!!
Link to whatsapp group: https://chat.whatsapp.com/G2vANeB9TeNEmI51iwEIHw