Este evento ha finalizado.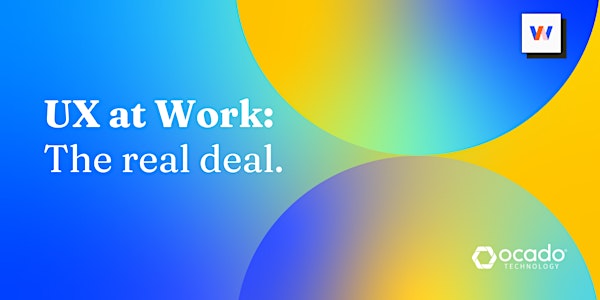 UX at work: the real deal
Want to learn the real challenges of UX at work? Join three allWomen graduates who share their experience at Ocado Technology!
Cuándo y dónde
Ubicación
Ocado Technology Barcelona 112 Carrer de Badajoz 08018 Barcelona Spain
Acerca de este evento
As a new UX grad, you are eager to apply all the learnings and methodologies immediately to your first job. But what happens when you join a multinational corporation? What are the challenges of real-life projects?
Join three allWomen graduates who share their experience adapting to the ways of working in a well-established E-commerce team at Ocado Technology - a company on a mission to transform online grocery retail and enable some of the world's most forward-thinking retailers to deliver grocery online profitably, scalably and sustainably.
They'll share the experiences and challenges of day-to-day work, with real examples. From internal collaboration, obtaining stakeholder buy-in to defining project scope and implementing roadmaps.
This presentation, organized with Ocado Technology, will be followed by a networking event on our cosy groundfloor terrace with snacks and drinks on the house!
Meet the speakers:
Amalia Speratti
Amalia is a UX Researcher with over 15 years of experience working in collaborative projects in international and multidisciplinary teams. Her studies include Graphic Design in Toronto, Canada and Exhibition Design in Barcelona, Spain. She has worked in Toronto and Barcelona in varied fields such as corporate design, project management, event planning, communications coordination, language teaching and service design. Her interest in studying UX Design is the result of all this since it involves working with people, helping them have the best possible experience and helping teams develop innovative solutions.
She champions Design Thinking and user-centered methodologies including user research, stakeholder workshops and participatory design, while aligning with business needs and product strategy. She believes cross-functional collaboration is key to an effective and creative work environment.
Her multilingual and cultural awareness comes from living in several countries (Paraguay, US, Canada and Spain), and her ability to speak six languages: English, Spanish, French, Portuguese, Italian and Catalan. She loves to travel and explore new cultures and languages. She is also the Co-founder and Musical Director of a Brazilian drumming band in Barcelona.
For a sample of her work visit: https://uxfol.io/amasperat
Jésica Sánchez Fernández
Jésica is a Product Designer with 15 years of experience in visual design and an international background. She is passionate about solving real problems through technology and design with a user-centric approach.
With extensive experience in design systems she is able to understand how to solve problems with the best patterns taking a holistic approach.
She believes that creating an effective process to find the best solution to solve problems is essential, using design thinking and agile methodologies as well as listening carefully to users' feedback and keep iterating to create the best possible product and solution.
She has worked in several design studios, advertising agencies, blockchain start-ups and event corporations across Australia, Vietnam, Bolivia and Spain, giving her a very holistic understanding of business, necessities and cultural backgrounds.
For a sample of her work visit: https://www.jesicasanchez.com/
Ligia Olmos
Ligia is a multi-skilled Product Designer and Creative with more than a decade of experience in creative conceptualisation, user experience and production across multiple mediums and platforms.
When working as a Creative, she was always attracted to the operational part of the creative process, the discussions around the problem to solve and the interactions with other disciplines to make a project happen that is why she evolved from Visual to Product Design.
She has lived and worked in 3 different countries (Brazil, England and Spain) which has given her the ability to identify different cultural needs and expectations and to quickly adapt to new methodologies, software and processes.
For a sample of her work visit https://www.behance.net/ligiaolmosrossi
https://www.instagram.com/geometric_therapy/
allWomen is a global platform to train, transform and empower women in technology. We deliver transformative learning experiences for career shifters and boosters. If you're interested in starting or boosting your own career in tech, join one of our courses in Data Science, Data Analytics, UX/UI & Product Management. Check out our page and reach out for more information! 💜