Información sobre el evento
Política de reembolso
Contacta con el organizador para solicitar un reembolso.
La tarifa de Eventbrite no es reembolsable.
English classes for those ready to leave the comfort zone and really express themselves. ENGAGE. ENJOY. LEARN.
Acerca de este evento
WATCH AND TALK METHOD
The theme of the class
What can we learn from astronauts and how they deal with risk?
This Watch and Talk Method class is based on a video by "Big Think" and features Canadian astronaut Chris Hadfield (the one that played the guitar in space!). What is it that persuades astronauts to do such a risky job? How do they manage their fears? There is a lot we can all learn from Chris even though he never has his feet on the ground! ;-)
Read the description below to see if this is for you...
Who are these classes for?
Our English classes are not for everyone. They are not designed for children or teenagers, nor do we offer preparation courses for English exams or for beginner students. Nor is our methodology suitable for everyone! If you want to stay in the "comfort zone" and do hundreds of grammar exercises, these are not the classes for you!
Our English classes are exclusively for adults with an intermediate or higher level of English who are willing to step out of their "comfort zone" to really improve their language skills.
If you want to...
-understand native speakers from all over the world
- be able to watch your favourite TV series with subtitles
- speak fluently and confidently on a wide variety of subjects expressing your own opinion and personality.
If that sounds like you, keep on reading!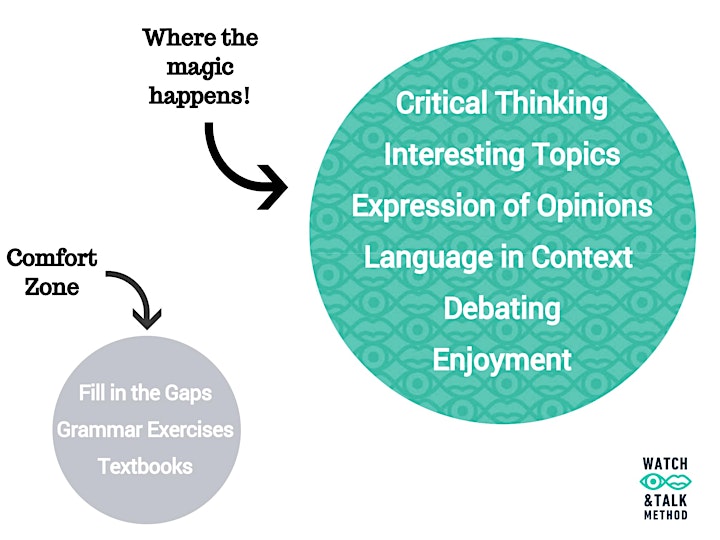 OUR METHODOLOGY
To achieve these objectives, we take advantage of the potential of video, which is what the Watch and Talk Method is all about. We carefully choose a video and use our experience and knowledge to turn it into an English class that engages you as much as possible, so that you can practice and improve your English in a very dynamic, interesting and entertaining way.
THE FORMAT OF THE CLASS
Each video is approximately 5 minutes long and students usually watch the video twice (the first to train their listening comprehension, and the second to increase their vocabulary).
Therefore, most of the class is devoted to expressing personal opinions and discussing with classmates, thinking critically and relating the topic to personal and professional life and, of course, the teacher deals with any doubts or language problems that arise during the class.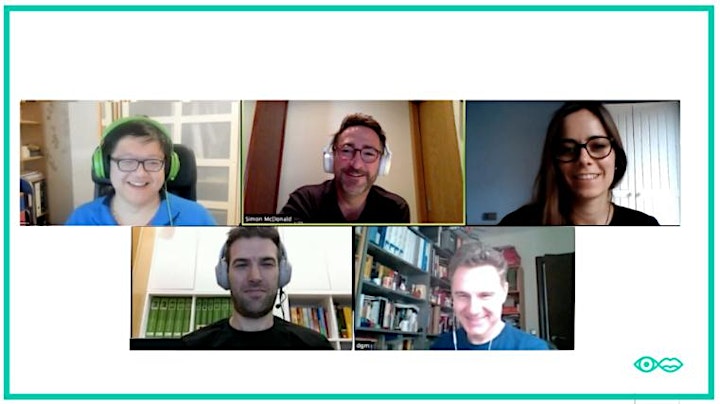 CLASS FREQUENCY AND YOUR COMMITMENT
With these classes, we have decided to take a very different path. We know that not everyone wants to commit to a full academic year as with the uncertainty Covid has created, it's difficult to know what we will do next week so next year is impossible to predict, right? Therefore, we have decided to let students pay weekly to give you maximum flexibility - if you don't attend, you don't pay. It's very simple.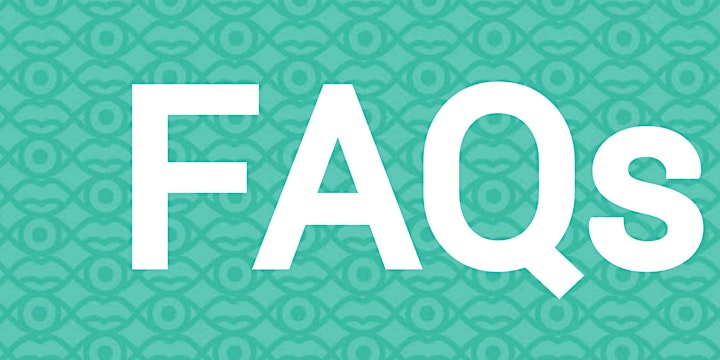 How much do the class cost?
The cost per class (1.5h) is 15 euros. It is not the cheapest English course, but with a maximum of 6 students per class and maximum flexibility, we believe it is one of the best value for money and if you want to get a discount (up to 30%!) for you and your friends, you can do so by buying your tickets together.
What is the level of the course?
Our conversation classes are designed for intermediate and higher levels.
What is "Watch and Talk Method"?
Watch and Talk Method is a language school (https://watchandtalkmethod.com/) that provides language training for companies. We offer English courses for professionals (in-company) and, from now on, with you too!
We aim to create a much more modern and dynamic way of learning English, to meet people's growing interest in today's world and to leave behind the old world of "fill-in-the-gaps" and heavy, out-of-context grammar exercises".
How many students are in each online class?
Just so you know, these classes are present on multiple social media platforms like Meetup, Facebook, LinkedIn etc so the number of students registered doesn't represent the group. (As I mentioned,) there will not be more than 6 students per group.
Got more questions?
Email me and I'll get back to you ASAP.
Fecha y hora
Ubicación
Política de reembolso
Contacta con el organizador para solicitar un reembolso.
La tarifa de Eventbrite no es reembolsable.