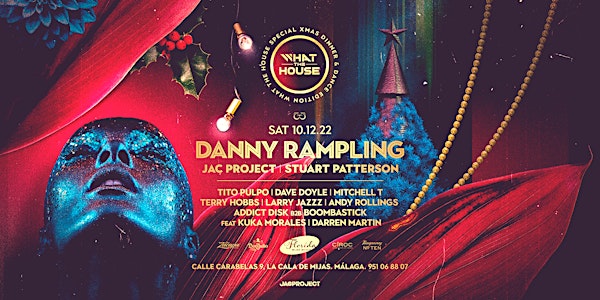 "What The House" Dinner & Dance Xmas Edition
What The House W/ Danny Rampling, Jac Project, Stuart Patterson, Tito Pulpo, Mitchell T, Andy Rollings, Addict Disk, etc.
Cuándo y dónde
Ubicación
Florida Mijas Beach 9 Calle Carabelas 29649 La Cala de Mijas Spain
Política de reembolso
Reembolsos hasta 30 días antes del evento
La tarifa de Eventbrite no es reembolsable.
Acerca de este evento
10 horas

Entrada electrónica móvil
What The House regresa a Florida Beach para celebrar una espectacular edición navideña el sábado 10 de diciembre, combinando cena y fiesta tal y como sucedió tan exitosamente durante la pasada noche de Halloween.La programacin estar encabezada por el gran DANNY RAMPLING y JAC PROJECT, y la familia WTH esta vez será representada por Stuart Patterson, Tito Pulpo, Mitchell T, Terry Hobbs, Andy Rollings, Dave Doyle, Addict Disk, Boombastick y Larry Jazzz!!. La apertura de puerta tendrá lugar a las 17:00 y se podrá disfrutar de sesiones de djs en la zona bar hasta la apertura del club, a partir de las 20:00 se puede cenar y desde las 22:00 podrá acceder al club de baile.
DANNY RAMPLING
A este dj nacido en Londres se le atribuye ser el inventor del Acid House.
Empezó trabajando en la pionera emisora inglesa KISS FM donde tenía un programa semanal. En los 80 se fue a los clubs de Ibiza y descubrió el intoxicante \"Balearic Sound\".
De vuelta a Londres y junto a su futura mujer, lanzó el club \"Shoom\" en 1987, el precursor de tantos otros exitosos clubes ingleses. Danny se juntó a BBC Radio 1 en 1994 y se le considera uno de los djs de house más prestigiosos del mundo.
El amor que sentía por la música empezó a una temprana edad. Creció escuchando los iconos del pop de los 70, su colección de discos se desenvolvió rápidamente y se refleja en la variedad de música que Danny incluye en sus sets de hoy en día.
-
What The House returns to Florida Beach for a spectacular Christmas edition on Saturday, December 10, combining dinner and partying just as it did so successfully last Halloween night. The lineup will be headlined by the great DANNY RAMPLING and JAC PROJECT, and the WTH family this time will be represented by Stuart Patterson, Tito Pulpo, Mitchell T, Terry Hobbs, Andy Rollings, Dave Doyle, Addict Disk, Boombastick and Larry Jazzz!!. Doors will open at 5:00 p.m. and you will be able to enjoy DJ sessions in the bar area until the club opens. From 8:00 p.m. you can have dinner and from 10:00 p.m. you can access the club.
DANNY RAMPLIN
This London-born DJ is credited with being the inventor of Acid House.
As well as being one of the godfathers of the UK dance movement he has been a huge influence on house music worldwide.
He started working at the pioneering English station KISS FM where he had a weekly show. In the 80's he went to the clubs of Ibiza and discovered the intoxicating \"Balearic Sound\".
Once back in London he launched his \"Shoom\" parties in 1987 and this became the inspiration of many other successful English club nights across the country. Danny joined BBC Radio 1 in 1994 where his Saturday show "the Love Groove Dance Party" was essential listen for house livers up and down the land! Danny is still considered one of the most prestigious house DJs in the world.
His love for music began at an early age. Growing up listening to '70s pop icons, his record collection developed rapidly and is reflected in the variety of music Danny includes in his sets today. Do not miss this rare opportunity to see a TRUE LEGEND on the Costa Del Sol!