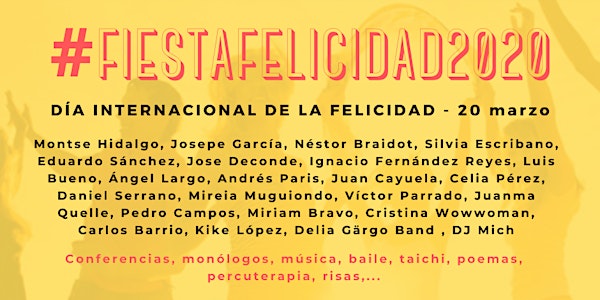 FIESTA FELICIDAD (aún puedes ver los contenidos, pincha en VER DETALLES)
CONTÁGIATE DE FELICIDAD CONTRA EL COVID19 Y CELEBRA EL DÍA INTERNACIONAL DE LA FELICIDAD. Marathon de expertos y artistas para que disfrutes
When and where
Location
Evento on-line Madrid 28006 Madrid Spain
Refund Policy
Contact the organizer to request a refund.
Eventbrite's fee is nonrefundable.
About this event
LA FIESTA DE LA FELICIDAD. 20 marzo. Día Internacional de la Felicidad
Aún puedes ver los contenidos de la Fiesta de la Felicidad en:
https://bit.ly/institutogenuine
Puedes hacer tus donaciones en: pinchando en DETALLES Y DESPU´ÉS EN EL BOTÓN DONACI´ÓN
INTERVENDRÁN:
Montse Hidalgo, Josepe García, Néstor Braidot, Silvia Escribano, Eduardo Sánchez, Jose Deconde, Ignacio Fernández Reyes, Luis Bueno, Ángel Largo, Juan Cayuela, Celia Pérez, Daniel Serrano, Andrés Paris, Mireia Muguiondo, Víctor Parrado, Juanma Quelle, Pedro Campos, Miriam Bravo, Cristina Wowwoman, Carlos Barrio, Kike López, Delia Gärgo Band , DJ Mich...
QUÉ HAREMOS:
Conferencias, monólogos, música, baile, taichi, poemas, percuterapia, risas,...
🥳😁😇🥰😆🤣😂🤩🥳
CONTÁGIATE DE FELICIDAD CONTRA EL COVID19 Y CELEBRA EL DÍA INTERNACIONAL DE LA FELICIDAD con tod@ nosotr@s
❤🧡💛💚💙💜🖤🤍🤎
El 20 de marzo de cada año se celebra el Día Internacional de la Felicidad, que fue presentado por la Asamblea General de las Naciones Unidas durante 2012 y se celebró por primera vez en 2013.
💫⭐🌟✨⚡💥🔥☀
Como no podría ser de otra forma, este día debemos dedicarlo a ser felices, alejar de nosotros los pensamientos negativos y realizar actividades que te hagan pasar ratos agradables.
El Club de las Personas Genuinas y el Instituto Genuine te presentan una fiesta inigualable, para que DISFRUTES A LO GRANDE aunque sea desde tu casa.
🥰🎤🧎🏼🧎‍♀😂🌟🎷🎼🎧
Entrada GRATUITA
bit.ly/fiestafelicidad2020
El formato será el siguiente:
# Horario de 10 am a 10 pm (hora española)
# 20 intervenciones de 20 minutos
# Cada intervención comenzará a la hora en punto o y media
Será en Facebook Live. Toma nota: http://bit.ly/fiestafelicidad2020
❤🌟!TE ESPERAMOS!!✨💜