Hispano-African projects: Trends, developments and future prospects
Hispano-African projects: Trends, developments and future prospects
About this event
The Africa Construction Law (ACL) and Club de Derecho de la Construcción y la Ingeniería (CDCI) are pleased to invite you to this joint webinar on Hispano-African projects. Spanish infrastructure investments on the African continent have grown dramatically in recent years.
The panel will discuss how these investments are made and the contractual mechanisms available to protect parties to such projects including the use of local contract forms and how risk allocation and contract management issues can be addressed.
• Introduction
• Overview
• Round table discussion
• Q&A from the attendees
This online event is free and limited to 200 delegates.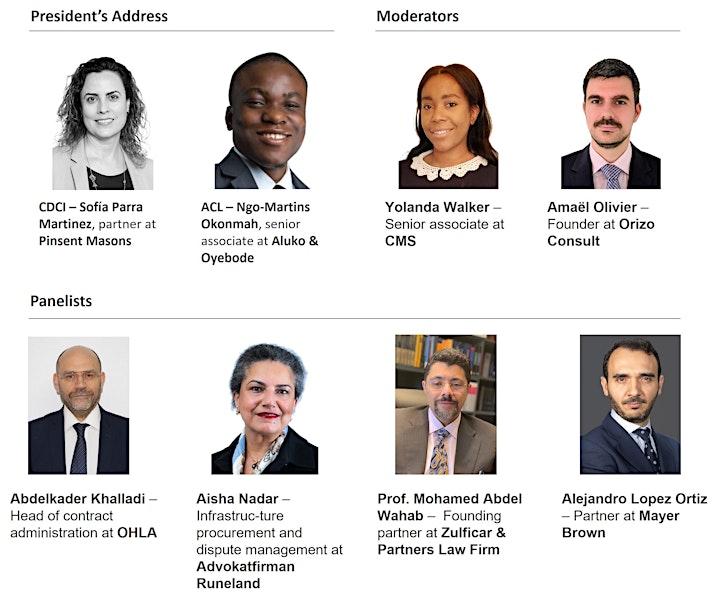 About the Panelists
Abdelkader Khalladi
Abdelkader Khalladi is a Senior Civil Engineer from the "Ecole Nationale des Ingénieurs de Gabés Tunisie", Diploma in Advanced Studies (DEA) in structures's vibration, master's degree in Photovoltaic and Alternative Energies from the University eCampus of Milan, Italy and a master's degree in construction law and arbitration from the Robert Gordon University, Scotland.
He has 35 years of experience in the construction sector. Abdelkader has worked for several international companies, Canadian Company SNC Lavalin, Spanish companies Ferrovial and OHLA. He has been involved in many arbitrations against subcontractors, and states in Ad-Hoc and institutional arbitrations. Since 2014, he is the contract administration director of OHLA.
Abdelkader Khalladi is a fellow of the Chartered Institute of Arbitrators and member of l'Ordre des Ingénieurs de la Tunisie.
Aisha Nadar
Ms. Nadar is a senior consultant at Advokatfirman Runeland AB, Stockholm Sweden. She is active in large-scale cross-border infrastructure and defence programs. For over thirty years, she has handled all phases of their negotiation and implementation. She advises clients on strategic procurement planning, contract drafting, contract management and dispute resolution. She acts as arbitrator, mediator, adjudicator and Dispute Board member and has experience as president and member of tribunals under ICC, SCC, DIAC, AAA and UNCITRAL rules. Aisha serves as Member, AAA-ICDR Council and the Advisory Council of CRCICA and served as a member of the FIDIC Board, responsible for the Contracts Committee (2016-2020). She is listed on the Panel of Conciliators at the International Centre for Settlement of Investment Disputes (ICSID) and the FIDIC President's list and has carried out dispute resolution assignments for organisations such as the World Bank, USAID and US DoD and many commercial players. Ms. Nadar holds a BS degree in Electrical Engineering (University of Nebraska), an MBA (University of Texas-Austin) and an LL.M in International Commercial Dispute Resolution (Queen Mary, University of London).
Alejandro Lopez Ortiz
Admitted to the Paris Bar and Madrid Bar, Alejandro López Ortiz is a partner in the International Arbitration practice of the Paris office. He leads the Latin American arbitration practice of the Firm.
He regularly represents companies and States in commercial and investment arbitrations in complex disputes arising from different economic sectors and industries, having acted as counsel before the major international arbitration institutions such as the ICC, LCIA, ICSID, ICDR, SIAC, the Madrid Court of Arbitration and the Court of the Hungarian Chamber of Commerce, among others, and in ad hoc arbitrations under the UNCITRAL Rules.
A relevant part of his practices focuses on disputes arising from engineering and construction projects and energy, frequently intervening in arbitration and Dispute Boards related to major infrastructure projects, combining elements of private and public law, such as the case of the construction of the third set of locks of a major maritime project in Central America.In addition, Alejandro frequently acts as arbitrator for institutions such as the ICC, the Madrid Court of Arbitration, and belongs to the panel of arbitrators of the ICDR. Sources refer to him as "one of the best arbitrators in Spain" (Chambers Global, 2012).Alejandro is a Member of the Investment Arbitration Subcommittee of the IBA and of the ICC Task Forces on the Revision of the Rules of ICC as Appointing Authority in UNCITRAL or other Ad Hoc Arbitration Proceedings and on the New York Convention on recognition and enforcement of foreign arbitral awards. Furthermore, he was a reporter for the study "Legal Instruments and Practice of Arbitration in the EU", published by the European Parliament in 2014.He has acted as an expert witness before the courts of Ireland and Norway in cases of recognition and enforcement of foreign arbitral awards.Alejandro lectures and publishes extensively in his practice areas. Alejandro holds a law degree from the University Carlos III de Madrid (1996) and an LLM from the London School of Economics (1999).Alejandro has been with Mayer Brown since 2014. Previously, he was an attorney in the International Arbitration group of an major international firm. Before that, he worked with a leading international arbitrator.In additional to his native Spanish, Alejandro is fluent in English, French and understands Portuguese.
Prof. Dr. Mohamed S. Abdel Wahab
Founding Partner and Head of International Arbitration, Construction and Energy (Zulficar & Partners Law Firm); Dean of the Africa Arbitration Academy; Professor of the International Arbitration, English Contract Law and Private International (Cairo University); Chair of the International Expert Advisory Committee of the Permanent Forum of China Construction Law – China; Treasurer & Member of the ICCA Governing Board; Vice-President of the CRCICA Advisory Committee; MIAC Advisory Board Member; LACIAC Court Member; CIMAC Court Member; PCA Court Member (Egypt); Member of the CIArb's Board of Trustees; Member of the International Council on Online Dispute Resolution (ICODR)'s Governing Board; and Senior Vice Chair, IBA Arab Regional Forum. He served as 'Arbitrator', 'Counsel' and 'Legal Expert' in more than 230 cases involving African, Asian, Canadian, European, Middle Eastern and US parties. He features among the top 64 world leading practitioners in Who's Who Global Elite Thought Leaders: International Arbitration (2021), AFRICA's 30 Arbitration Powerlist (2020) and in I-ARB AFRICA's 100 leading African practitioners. He received the LAW Magazine 2017 Best Legal Practitioner Award, the 2018 ASA International Arbitration Advocacy Prize, the 2019 AYA Hall-of-Fame African Arbitrator Award, the 2020 Client Choice International Award and the 2021 Lawdragon Global Litigation 500 Award. Chambers & Partners Global (2021) says, "Peers regard Mohamed Abdel Wahab as "an absolute star in arbitration". Who's Who Legal: Arbitration (2021) says: "He is a top-tier thought leader and in a league of his own" and "a very well-prepared and exceptional arbitrator". Client Choice International (2020) by Lexology says: "He is extremely efficient and reliable; he is one of the most brilliant legal brains of his generation". The Legal500 (2019) states he is 'one of the best in the world'.
Organiser of Hispano-African projects: Trends, developments and future prospects
El Club de Derecho de la Construcción y la Ingeniería (CDCI) es una asociación de profesionales que trabajan en los campos de la construcción y la ingeniería, en materia de contratos, regulación, con un foco especial en la resolución de disputas mediante ADR, litigio y arbitraje.
Nuestro propósito es crear un foro de discusión sobre mejores prácticas y desarrollar un programa de eventos y publicaciones que permitirá a nuestros miembros desarrollarse como profesionales y ampliar sus redes de contactos.