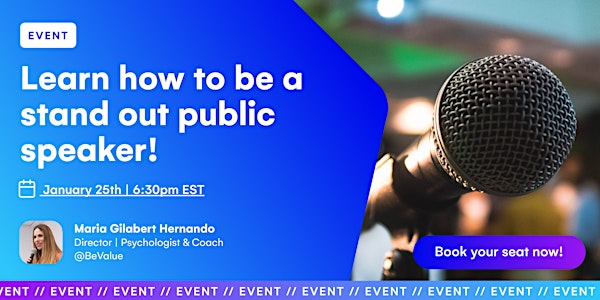 How to Be a Top Speaker? MIAMI
Learn the keys to Be a Top Speaker and try Virtual Reality and Artificial Intelligence to improve this skills.
When and where
Location
Ironhack Miami 111 NE 1st ST 7th Floor MIAMI, FL 33132
About this event
BE A TOP SPEAKER!
We have always dreamed of traveling to the future. But… what would happen if it was the future that came to you? Get ready for the most innovative technology.
The Solution to learn to Speak in Public with high impact has arrived. The revolution in learning methods.
In this event Maria Gilabert, psychologist, coach, international speaker and BeValue's founder, will share:
1. Storytelling
2. What is an emotion? How we can manage our fears?
3. Three techniques and keys to eliminate your fears and nerves
4. Two techniques to learn how to be a top speaker.
5. Practice
After that, you will have the opportunity to experience Virtual Reality together with Artificial Intelligence that will allow you to put into practice what you have learned.
Interactive training thanks to technology to learn and improve like you have never seen before.
Let yourself surprised by Artificial Intelligence and Virtual Reality, with its natural language analysis system and immerse yourself in a 360º environment to train your skills. You will be able to select the scene that best suits with your current challenges by receiving, through a virtual coach, an analysis of your intonation, rhytm, pauses, fillers and other tips to perfect your Public Speaking skills in real time and become a Top Speaker!
Who said innovation is complicated?
The future has arrived.
Thank you to our event sponsor Ironhack Miami!
About Ironhack:
Ironhack is a global tech school that was created to disrupt the way tech education works! They empower students to build new career paths with their award winning tech bootcamps in web development, UI/UX design, and data analytics. Ironhack is one of the key global players in bridging the digital skills gap, serving both those looking to get into tech, as well as the companies hungry for tech talent. They have 10 campuses all over the world and have helped over 10,000 students break into the tech sector.
SPANISH:
Siempre hemos soñado con viajar al futuro. Pero… ¿qué pasaría si fuera el futuro el que llegara hasta ti?
Prepárate para la tecnología más innovadora.
La Solución para aprender a Hablar en Público con alto impacto ha llegado.
La revolución en cuanto a métodos de aprendizaje.
En este evento, Maria Gilabert, psicóloga, coach, fundadora de BeValue y conferenciante internacional, compartirá contigo:
1. Storytelling
2. ¿Qué es una emoción ¿Cmo gestionar tus miedos?
3. Tres técnicas para eliminar tus nervios
4. Dos tcnicas para mejorar tus habilidades para Hablar en Público
5. Practica lo aprendido.
Al finalizar el workshop, tendrás la oportunidad de experimentar la Realidad Virtual junto a la Inteligencia Artificial que te permitirá poner en práctica lo aprendido. Entreno interactivo gracias a la tecnología para aprender y mejorar como nunca antes habías visto.
Déjate sorprender por la Inteligencia Artificial y Realidad Virtual, con su sistema de análisis del lenguaje natural y sumérgete en un entorno 360º para entrenar tus habilidades. Podrás seleccionar el escenario que más se adecue a tus retos actuales recibiendo a través de un coach virtual un análisis de tu entonación, ritmo, pausas, muletillas y otros consejos para perfeccionar tus habilidades para Hablar en Público a tiempo real.
Be a Top Speaker!
¿Quién dijo que la innovación es complicada?
El futuro ha legado. ¡Te esperamos!
¡Gracias a nuestro patrocinador del evento Ironhack Miami!
Acerca de Ironhack:
¡Ironhack es una escuela de tecnología global que se creó para cambiar la forma en que funciona la educación tecnológica! Forman a los estudiantes para que construyan nuevas trayectorias profesionales con sus premiados bootcamps tecnológicos en desarrollo web, diseño de UI/UX y análisis de datos. Ironhack es uno de los actores globales clave para cerrar la brecha de habilidades digitales, sirviendo tanto a aquellos que buscan ingresar a la tecnología como a las empresas que quieren talento tecnológico. Tienen 10 campus en todo el mundo y han ayudado a más de 10,000 estudiantes a ingresar al sector tecnológico.