About this Event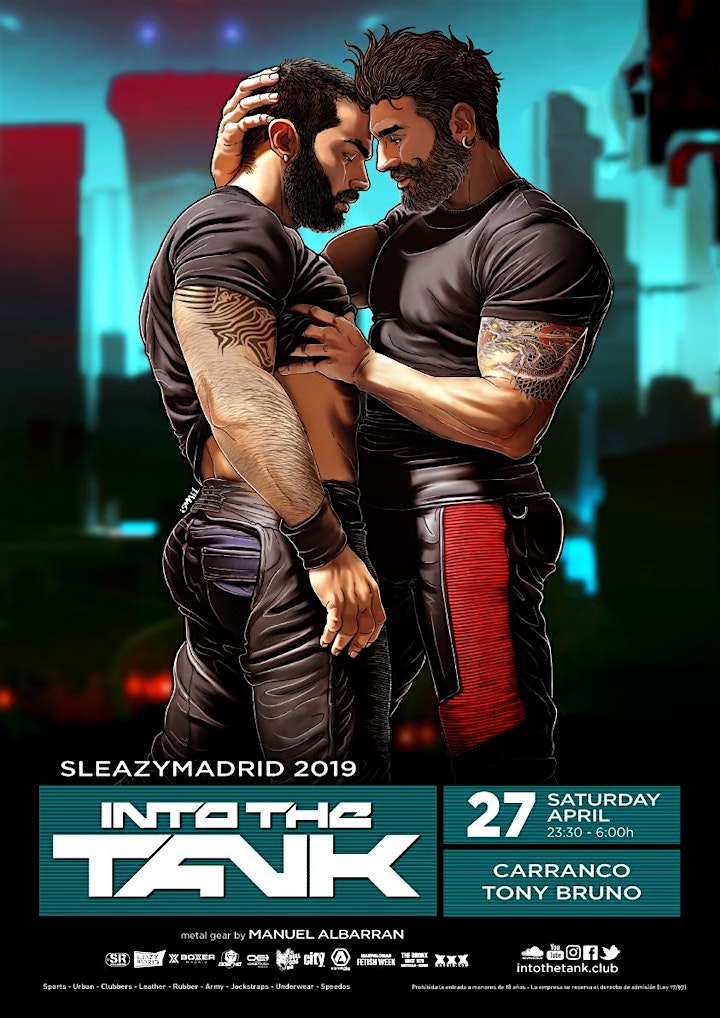 ( ... En Español debajo, ver más ... )
★★★ INTO THE TANK SLEAZYMADRID 2019
SATURDAY 27 APRIL ★★★
▬▬▬▬▬▬▬▬▬▬▬▬▬▬▬▬▬▬▬▬▬▬▬▬▬
★☆★ CARRANCO - TONY BRUNO ★☆★
▬▬▬▬▬▬▬▬▬▬▬▬▬▬▬▬▬▬▬▬▬▬▬▬▬
An explosive fusion of energetic tech-house, powerful groove, and strong jackin´ house in a gay masculine fetish atmosphere.
As in each of the three editions a year of Sleazymadrid, INTO THE TANK will be the main official event party. Come to celebrate it along with hundreds of men looking for great music and masculine action.
From the spectacular dance floor, main space of the event, it will flow the most exciting atmosphere of the party, and soon you´ll learn how to let yourself go by everything that happens around you. Our resident CARRANCO, will guide the session along with TONY BRUNO, making you vibrate with their powerful and hypnotic techniques that will excite you with that unique and INTO - SOUND !!
Metal gear by MANUEL ALBARRAN
Full equipped extra-playrooms and labyrinths installed all around, and lots of spaces to get lost inside. Men only, masculine attitude. In short, you must not miss this iconic fetish event par excellence of southern Europe. A great occasion to unleash your darkest and deepest side. Just pick your favourite fetish outfit and get into the dance-floor, everything else will happen a little later…
Sports Kit, Club Wear, Leather, Urban, Army, Jockstrap, Naked, Topless, Underwear, etc. Remember, do not be fooled by other imitators parties in the city !!!!
● Advance Tickets Online already on sale
► First Round - from 15th December to 28th February = 10€
► Second Round - from 1st to 29th March = 15€
► Third Round - from 1st to 27th April = 20€
All prices including access and a drink.
● On door: tickets also available more expensive, according to hours and availability of capacity
23:30 a 6:00h... en STRONG Club
C/ Trujillos 7 - 28013 MADRID
Metros: Callao / Sol / Santo Domingo
http://www.intothetank.club
https://www.instagram.com/intothetank
https://www.facebook.com/intothetank
https://www.twitter.com/intothetankclub
https://www.soundcloud.com/intothetankclub
https://www.youtube.com/intothetankclub
░░░░░░░░░░░░░░░░░░░░░░░░░░░░░░░░░░░
★★★ INTO THE TANK SLEAZYMADRID 2019
SABADO 27 ABRIL ★★★
▬▬▬▬▬▬▬▬▬▬▬▬▬▬▬▬▬▬▬▬▬▬▬▬▬
★☆★ CARRANCO - TONY BRUNO ★☆★
▬▬▬▬▬▬▬▬▬▬▬▬▬▬▬▬▬▬▬▬▬▬▬▬▬
Una fusión explosiva de tech-house energético, potente groove y jacking-house contundente en un ambiente fetichista masculino y gay.
Como en cada una de las tres ediciones al año de Sleazymadrid, INTO THE TANK será la fiesta oficial principal del evento. Ven a celebrarlo junto con cientos de hombres que buscan buena música y acción masculina.
Desde la espectacular pista de baile, espacio principal del evento, fluirá el ambiente más excitante de la noche, y pronto aprenderás a dejarte llevar por todo lo que sucede a tu alrededor. Nuestro residente CARRANCO, guiará la sesión junto con TONY BRUNO haciéndote vibrar con sus poderosas e hipnóticas técnicas que te entusiasmarán con ese sonido único e INMEDIATO !!
Metal gear por MANUEL ALBARRAN
Extra playrooms y laberintos totalmente equipados instalados alrededor, y un montón de espacios para perderse en su interior. Solo hombres, actitud masculina. En resumen, no te pierdas éste evento, convertido ya de forma internacional en la fiesta de culto fetish del sur de Europa. Una gran ocasión para desatar tu lado más oscuro y profundo. Solo elige tu atuendo fetiche favorito y entra en la pista de baile, todo lo demás sucederá poco después ...
Ropa de deporte, ropa de clubbing, urban, militar, jockstraps, desnudos, sin camiseta, underwear, etc. Recuerda, ¡no te dejes engañar por otras fiestas imitadoras en la ciudad!
● Entradas Anticipadas Online ya a la venta
► Primera Ronda - del 15 de Diciembre al 28 de Febrero = 10€
► Segunda Ronda - del 1 al 29 de Marzo = 15€
► Tercera Ronda - del 1 al 27 Abril = 20€
Todos los precios incluyen acceso y una consumición.
● En Puerta: precios más caros, según horarios y disponibilidad de aforo.
23:30 a 6:00h... en STRONG Club
C/ Trujillos 7 - 28013 MADRID
Metros: Callao / Sol / Santo Domingo
http://www.intothetank.club
https://www.instagram.com/intothetank
https://www.facebook.com/intothetank
https://www.twitter.com/intothetankclub
https://www.soundcloud.com/intothetankclub
https://www.youtube.com/intothetankclub