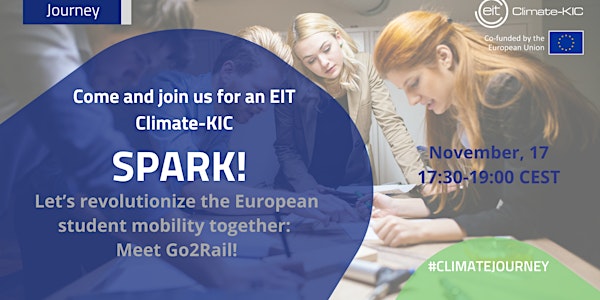 Let's revolutionise the European student mobility together: Meet Go2Rail!
Come and join EIT Climate-KIC for a Spark! Experience . Thought-provoking lectures and workshops for future-oriented skills development.
About this event
Climate Leadership Journey is an extracurricular challenge-based programme from EIT Climate-KIC that prepares master's students, post-graduates, and young professionals to lead the transformation that society needs.
The programme combines over 10 years of experience from our education programmes supported by the European Institute of Technology (EIT). Climate Leadership Journey includes the year-round elements from the Climate Innovation Leadership pilot (which is built on the foundation of the EIT Label framework) and puts the Journey summer school at its core with its strong methodological approach and pedagogy.
The programme runs on yearly cycles from April to December and it is delivered in a blended format where most of the activities are held online except for the two-week summer school which is residential (locations change every year depending on our delivery partners).
SPARK! EXPERIENCE:
In this session you'll get to know and explore Go2Rail, a startup that is working on revolutionizing European student mobility as well as supporting and making accessible to students sustainable behaviors.
Guido (Go2Rail's Co-Founder and CEO) and Carlotta (Sustainability Analyst at Go2Rail) will lead you in this journey. A journey towards an initial overview of the initiative, an in-depth analysis of their platform's functionalities, and a participatory feedback session!"
SPEAKERS:
Guido Martinolli, Co-Founder and CEO at Go2Rail
Is an Erasmus Mundus Alumnus in WOP Psychology and current PhD student in HR Psychology at the research institute IDOCAL - University of Valencia. He participated in "The Journey" summer school in 2020 where the concept of Go2Rail was written down in his "Individual Action Plan". Strongly interested in behavioral change and sustainability, he is leading, together with Nicola La Palombara, Nicola Amoriello and Gianluca Vanni, the Go2Rail team. "The more we are the greener we get!"
Carlotta Storchi, Sustainability Analyst at Go2Rail
24 years old student, she's doing her master in Environmental Engineering at the University of Bologna, now based in Lisbon for the curricular six-months internship at Lisboa E-Nova; an agency dealing with environmental projects both at a municipality and European level. She's been collaborating with Go2Rail since September 2021, when she met the founders in the Climate KIC context and started a great collaboration, still proceeding and always improving. Passionate about sustainability at 360°, convinced that for facing the climate crisis, different competences, backgrounds and individual actions have to merge together and become one entity, where diversity and cooperation are two essential pillars.