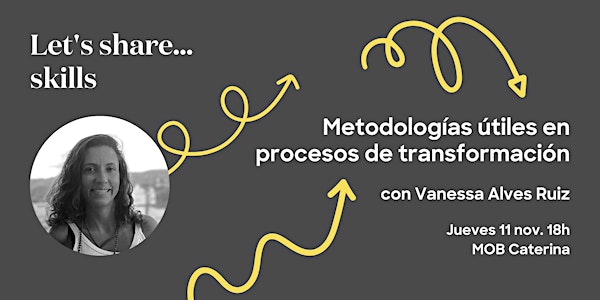 Let's share... skills: Metodologías útiles en procesos de transformación
Vanessa Alves Ruiz, shares her life transition methodology to bring acceptance, clarity and tools in moments of transformation
About this event
Todxs sabemos que el cambio es inevitable, pero nos cuesta salir de nuestra zona de confort. ¿Cuál es la clave para abrazar el cambio?
En este evento, Vanessa Alves Ruiz, una coworker de MOB, nos hablará de sus herramientas de transición en la vida: desde la exploración de las formas en que surge la necesidad de cambio hasta el trabajo para superar el miedo a cambiar: Al final del evento tendrás herramientas para empezar a elegir activamente el cambio siempre que sea necesario y nunca ser empujado a ello.
Vanessa Alves Ruiz creó la metodología de Transición de Vida para aportar aceptación, claridad y herramientas en los momentos de transformación, a través de sesiones individuales y grupales, conferencias y retiros. Entusiasta del camino del autoconocimiento y del despertar de la conciencia, es facilitadora del Viaje de Propósito de Vida, terapeuta y profesora de Lectura del Aura y profesora de Meditación Rosa (limpieza, protección y elevación energética).
"El cambio aporta novedad y nos obliga a salir de nuestra zona de confort a diario" - Vanessa Alves Ruiz
Con nuestros eventos Let's share, pretendemos aumentar el acceso al conocimiento y la comprensión de conceptos clave por parte de personas experimentadas en su campo. Compartimos habilidades, conocimientos, proyectos y mucho más. Nuestro objetivo es crear oportunidades de networking, ayudar a las personas a crecer en sus negocios y conseguir que se inspiren en los demás.
MOB es un ecosistema lleno de talento y proyectos destacados, así que... ¡Let's Share!
--------
We all know change is inevitable, yet we struggle when stepping out of our comfort zones! What is the key to embracing change?
In this event, Vanessa Alves Ruiz, a MOB coworker will tell us all about her life transition tools: from exploring the ways in which the need for change arises to working on going beyond the fear of changing: At the end of the event you will have tools to start actively choosing change whenever it is necessary and never be pushed into it.
Vanessa Alves Ruiz created the Life Transition methodology to bring acceptance, clarity and tools in moments of transformation, through individual and group sessions, conferences and retreats. Enthusiastic about the path of self-knowledge and the awakening of consciousness, she is a facilitator of the Life Purpose Journey, therapist and teacher of Aura Reading and teacher of Rose Meditation (cleansing, protection and energetic elevation).
"Change brings newness and forces us out of our comfort zone on a daily basis" – Vanessa Alves Ruiz
With our Let's share events, we aim to increase access to knowledge and understanding of key concepts by experienced individuals in their field. We share skills, knowledge, projects and more! Our goal is to create opportunities for networking, helping people grow in their businesses and get them inspired by others.
MOB is an ecosystem full of talent and outstanding projects so… Let's share!
Organizer of Let's share... skills: Metodologías útiles en procesos de transformación