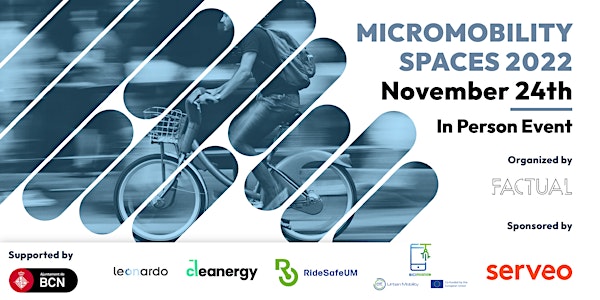 Micromobility Spaces 2022
FACTUAL flagship event is coming soon ! This year we invite you to an in-person event with a new and more entertaining format.
When and where
Location
Ca l'Alier Carrer de Pere IV 362 08019 Barcelona Spain
About this event
FACTUAL flagship event - Micromobility Spaces
will take place on Thursday, November 24th in Ca l-Alier (Barcelona) from 09:30 to 14:00.
Once again, major players from the public and private sectors will get together to talk about hot topics in micromobility and how they envision the future of this sector, with a specific focus on sustainability and innovation.
At Micromobility Spaces 2022 not only you will listen to engaging conversations and meet inspiring mobility professionals, but you will also get to know new trends and projects in the field, promoted by international organisations such as the EIT Urban Mobility.
Moreover, this year we will launch the first edition of our FACTUAL Award. Startups are invited to participate in an engaging Challenge to solve one of the major mobility issues:
How can we make our cities more sustainable through innovation and technology?
If you are a startup and want to sign up for the Award, click here:
We look forward to meeting you on November 24th!
This event is designed for Transport & Mobility Professionals
You will get the chance to network with well-established and experienced professionals belonging to the Public and Private sectors, International Organisations and Research Institutes and receive insights regarding the hottest mobility topics.
Hurry up: seats are limited!
Official Agenda:
9:30 - Keynote, Josep Laborda, CEO & Managing Partner at FACTUAL
9:45 - Roundtable 1, moderated by Marc Figuls, Managing Partner at FACTUAL
Road safety and micromobility: synergies between cities and companies to boost it
Elena Cristóbal, Innovation Project Manager at CARNET
Oriol Altisench, Deputy Mobility Manager at Barcelona City Council
Maite Pérez, Head of Sustainable Mobility Planning Dpt., at AMB
Pedro Javier Fernández López - Head of Department of international projects at Mobility Area, Madrid City Council
Anthi Tsakiropoulou - Sustainability Consultant at MDA Thessaloniki
10:45 - FACTUAL Award - PechaKucha challenge
11:35 - Networking coffee
12:10 - Roundtable 2, moderated by Jordi Casas Juan, City Club and Living Labs Officer at EIT Urban Mobility
How technology and innovation are shaping the future of mobility
Gerard Sellarès Boada, Area Manager at Dott
Gabriele Giustiniani, Progetto Leonardo
Branco Calleja, CEO at YUP
Jordi Bacardit, Senior Manager Public Policy, at TIER Mobility
Metin Türkay, Founder of SmartOpt & Head of the Dpt. of Industrial Engineering at Koç University
13:00 - Interview, hosted by Stefania Pesavento, Lead Consultant at FACTUAL
Different approaches towards promoting cycling in our cities and how different players envision the future of active mobility
Marco Menichetti, Senior Consultant at Pin Bike
Roxy Tacq, CycleRAP Expert
Roger Junqueras, Director UTE Pedalem Barcelona at Serveo
13:45 - Factual Award winner announcement, Wrap-up and Conclusion