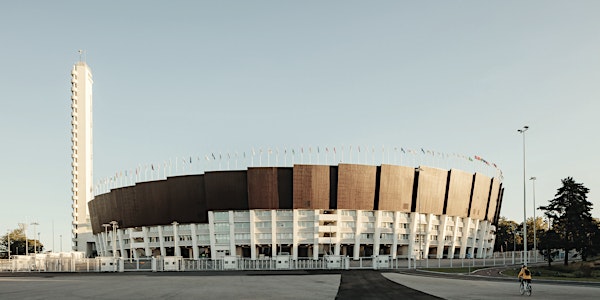 Out&About EUmies Awards - Helsinki Olympic Stadium / K2S; NRT
A guided stadium tour to the Helsinki Olympic Stadium Refurbishment and Extension.
When and where
Location
Paavo Nurmen tie 1 1 Paavo Nurmen tie 00250 Helsinki Finland
About this event
Kuluvana vuonna vietetään Helsingin olympialaisten 70-vuotisjuhlavuotta. Myös opastetuilla stadionkierroksilla sukelletaan uudistettuun stadioniin tutustumisen lomassa historiaan ja eletään uusiksi kisojen ikimuistoisia hetkiä. Kierroksella pääset myös stadionin torniin ja Urheilumuseoon. Opastettu stadionkierros pitää sisällään 60 minuutin opastuksen Olympiastadionin ja Urheilumuseon tiloissa. Vierailuun kannattaa varata aikaa yhteensä vähintään 1,5 tuntia. Tule ja näe, miten stadionin ainutlaatuinen arkkitehtuuri on saatettu uuteen loistoonsa.
Helsinki Olympic Stadium. The tour starts from the Visitor Centre.
This year will mark the 70th anniversary of the Helsinki Olympics. During the guided tour, you will immerge in the Stadium history and relive the 1952 Games. You will also have the chance to go to the Stadium Tower and The Sports Museum. A guided tour of the Stadium includes a 60 minute visit to the Olympic Stadium and Sports Museum premises. Please reserve at least 1.5 hours for the visit. Come and see for yourself what is new and how the unique Stadium architecture has found its new splendour.
Helsinki Olympic Stadium. The tour starts from the Visitor Centre.