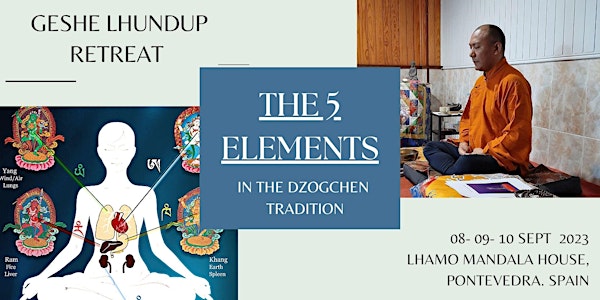 Geshe Lhundup Spain Retreat
The 5 Elements in the Dzogchen Tradition
Fecha y hora
vie., 8 de sep. de 2023 15:00 - dom., 10 de sep. de 2023 18:00 CEST
Ubicación
Lhamo Mandala House Chan n 7 Cerdedo Cotobade 36856 Pontevedra Spain
Política de reembolso
No se hacen reembolsos
Acerca de este evento
2 días 3 horas

Entrada electrónica móvil
>> ABOUT THE RETREAT <<
RETREAT WITH LAMA GESHE LHUNDUP
Everybody knows the five elements, but we don't know how important they are in our life. We don't even know how to deal with them in our daily life, and how they can influence our body, mind and energies. We can learn how to recharge our energies through these elements.
All these answers can be found in ancient traditions such as the Bon Tradition. In this Weekend Retreat we will practise
- Each element according to the part of the body or Chakras.
-The specific mantra for each element
- The Mudra for each element
- The movements associated with each element
- Meditation for each element
.
"I hope these practices can help you on the path of healing and also help you to heal others" Geshe Lhundup
.
> Limited places available!
> Geshe Lhundup teaches in English. Spanish translation will be available
> Geshe Lhundup will offer the transmission (lung) of the text of the 5 elements to the participants of the retreat.
> Starts: Friday 08 September at 15:00
> Ends: Sunday, September 10th at 18:00
> Place: Casa Lhamo Mandala. Carballedo - Pontevedra
> Registration: silviayogatibetano@gmail.com
.
>> ABOUT THE SPACE <<<
Lhamo Mandala is a small haven of peace hidden in the Rías Baixas, next to the river and in the rural heart of Pontevedra.; Galicia, Spain. With spiritual and wellness retreats, as well as exclusive getaways, our family home offers you unforgettable experiences. A truly unique place and a project inspired by the dissemination of the ancient Buddhist teachings of Tibet, where we strive to keep alive the knowledge passed down for centuries, especially through Tibetan yogas, immerse yourself in the magic of our forests, mountains and rivers. Explore hiking trails, encounter wildlife and discover a rich tapestry of wellness experiences and activities. This includes workshops with renowned teachers, yoga, meditation, Tibetan healing therapies, massage, bodywork and much more.
.
>> ABOUT GESHE LHUNDUP <<<
Geshe Lhundup, born in Tibet in 1976, is a Geshe (doctor of philosophy) in the Tibetan Bon tradition.
Geshe Lhundup was born into a nomadic family in Tibet, in a small village called Damrani, at around the age of 12, he made the decision to become a monk. He entered the monastery of Patsang in Kham. Patsang is one of the great family lines of Yungdrung Bon.
He received the teachings and transmissions of Dzogchen and Trul-Khor, as well as the Tsa-Lung from several great Dzogchen masters of the Bon tradition, holders of their lineages, especially during a retreat in a cave in the mountains at 14 o'clock.
It was in 1993, at the age of 17, that Geshe Lhundup decided to leave his native country. He then went on a pilgrimage to Mount Kailash in Tibet for 2 months. He made 19 circumambulations and finally walked all the way to India. He fled with a group of 29 other people, including four other Bonpo monks, on foot across the Himalayas.
HE Yongdzin Tenzin Namdak Rinpoche, the oldest master of the Bon tradition and founder of the Triten Norbutse monastery in Nepal. He encouraged them to continue to Menri Monastery in India, where they could study to prepare for the Geshe level (PHD Doctor of Philosophy).
He studied sutras, tantras and Dzogchen, as well as Tibetan grammar, poetry, astrology, medicine, mandala painting, calligraphy, yoga and meditation. After 15 years of studies and exams, he received his Geshe diploma.
In 2010, Geshe Lhundup came to France where he teaches students who want to learn the science of the nature of the mind and who wish to discover meditation, the teachings of Dzogchen and Yundrung Bön: the ancient philosophy of Tibet.
Geshe Tenzin Wangyal Rinpoche contacted him in 2013 to give him advice and offered to start teaching his students in France for the Ligmincha association. He became the resident lama in Paris and France for a few years and then decided to create his own structure, the Sagesse du Tibet association which represents him.
Geshe Lhundup now lives in Versailles, teaches in France and internationally.
.
>> ABOUT THE ORGANISER <<
Hello, my name is Silvia!
I am an Educator and Teacher of Lu Jong, Tibetan healing yoga, Mandalas and Meditation. I met "Tibetan yoga" in 2014 in Galicia and I trained as a teacher in 2018 with the Tibetan master Tulku Lobsang Rinpoche and was selected as Educator (teacher of teachers) by Tulku Lobsang in 2022, since then I have never stopped learning.
In these teachings, being based on Buddhist philosophy, we first seek compassion towards ourselves, and all sentient beings, trying to generate a mind full of joy and happiness that inspires us to be a better version of ourselves.
I was certified as a Yoga Instructor by the Yoga Alliance (200h) in 2016 and then with Tulku Lobsang Rinpoche as a teacher of Lu Jong - Tibetan Healing Yoga (2018), being Tulku-la my Refuge teacher, I follow his teachings all over Europe and I have participated in numerous Retreats with him.
I worked and lived for a year and a half at the Jamyang Buddhist Centre in London, an FPMT centre, founded by Lama Zopa Rinpoche, where I also taught regular Lu Jong classes and started my Lam Rim studies with Geshe Tenzin Namdak.
In 2019 I organised, on two occasions, the teachings of Dzogchen master Chaphur Rinpoche in Galicia, whom I met in 2015 in California; today Geshe Lhundup is the one who continues with the Dzogchen teachings in Galicia.
Main Dharma teachers: Tulku Lobsang Rinpoche; HH Kyapgon Ngawang Tenzin Rinpoche, HH Dalai Lama, Chaphur Rinpoche, Geshe Tenzin Namdak, Geshe Lhundup, Jhado Rinpoche, Khensur Jhado Rinpoche.
When I returned to Galicia I created Lhamo Mandala House, a rural house in a small village in Pontevedra, dedicated to protect and spread the ancient teachings of the Dharma and Tibetan yogas.
>> Visit the website of the Lhamo Mandala House here
.
>> RETREAT PRICES <<<
- Without accommodation 297 € *
- Shared room 345 € **
* Includes: Teachings, administration fees and meals (from Friday dinner to Sunday lunch + teas/coffees and snacks).Eventbrite fees not included.
** Includes: Teachings, administration fees and accommodation in shared room (4 persons) (incl. full board from Friday dinner to Sunday lunch + teas/coffees and snacks during breaks). Eventbrite fees not included.
.
>> Further information: Geshe Lhundup teaches in English, consecutive translation into Spanish will be provided.
>> Please note. Lhamo Mandala is a small rural house, located 20 m from Pontevedra by car. Accommodation is limited and fills up quickly. There are other rural lodgings in the area that cost around 60€ per night. We will be happy to provide you with more information.
.
>> HOW TO JOIN THE RETREAT <<
Registration is now open! Registration for this event closes on August 30th.
A payment of 150€ is required to reserve your place in the Retreat
> The balance will be paid in cash on the first day of the Retreat
> Due to the limited number of places, preference will be given to those who register for the Retreat with accommodation.
Reservations: silviayogatibetano@gmail.com
.
>> ABOUT MEALS <<<
>> Eating together is an important part of the retreat, a space/time to create sangha, to practice generosity, patience, contentment and a unique occasion to accompany Geshela.
>> The menus are vegetarian (we follow an ovo-lacto-vegetarian diet). Popular, abundant and varied menus, traditional dishes suitable for all tastes: paellas, pasta with sauce, omelettes, salad, padron peppers, homemade desserts (cakes, pies, custards...). Using local products, fresh vegetables and organic food as much as possible.
>> We are sorry do not have the option of special meals (allergies, intolerances, etc.) If you have any allergies, you are welcome to bring your own food. A small kitchen, microwave and fridge are available for those who need to prepare special meals. Please contact the organisation for further information.
.
>> PLEASE BRING <<<
> Meditation cushion
> Blanket and/or yoga mat
> Comfortable clothes
> Pen and paper to take notes
.
>> HOW TO GET TO LHAMO MANDALA
Nearest airports:
Vigo airport (47 km)
Santiago de Compostela Airport (85 km).
>> From Vigo take a taxi or bus to the Guixar Train Station; from there you will go directly to the Pontevedra train station. In Pontevedra we will organize cars, from the train station, to go up to Lhamo Mandala.
>> From the Santiago airport, take the bus to go to the Santiago Train Station, bus stop: Estación de Autobuses Intermodal (Santiago)From the Santiago train station you can travel directly to the Pontevedra train station. In Pontevedra we will organize cars, from the train station, to go up to Lhamo Mandala.
.
>> CANCELLATION POLICY <<<
If the Retreat is cancelled by the organisers, a full refund will be made (except for Eventbrite fees or cards).
No refunds of the registration fee will be made if the participant cancels his/her participation.
.
>> ADDITIONAL INFORMATION <<<
> The Retreat can be booked with or without accommodation.
> It is not possible to bring food from outside.
> Geshe Lhundup teaches in English. Translation into Spanish will be provided.
> You will be asked to sign a liability waiver form prior to the start of the teachings.
> You will need to contact the organisation by email to confirm your booking.
> To book, please send your name, address and telephone number to silviayogatibetano@gmail.com
.
>> MORE INFORMATION <<<
For more information or any questions, please contact the organisation at:
silviayogatibetano@gmail.com
Acerca del organizador
Hola!:
 Me llamo Silvia y soy profesora centificada de Lu Jong -Yoga tibetano- por la NMI, bajo el linaje de Tulku Lobsang, también organizo las enseñanzas de Chaphur Rinpoche en Galicia. Me apasiona el arte y la creatividad, he impartido cursos presenciales y digitales de mandalas durante años y a día de hoy me dedico a compartir las enseñanzas que me han sido transmitidas con todos aquellos que deseen sentirse más conectados con su verdadera naturaleza. Organizo retiros, talleres, charlas y eventos en mi espacio, de distintas enseñanzas budistas y propios.