Este evento ha finalizado.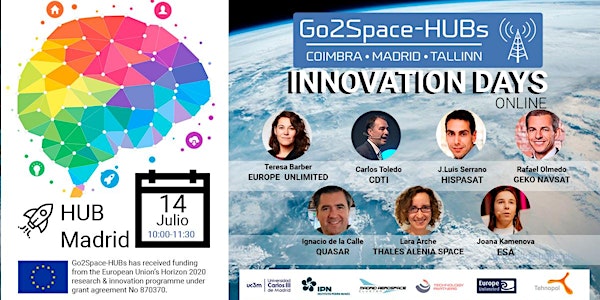 INNOVATION DAYS. HUB Madrid
Los INNOVATION DAYS de Go2Space-HUBs. El apoyo y la orientación que necesitas para llevar a tu start-up / scale-up al siguiente nivel!
Acerca de este evento
Si eres emprendedor, start-up, empresa, inversor, mentor o institución relacionada con el sector Espacio en las áreas de digitalización, desarrollo sostenible, defensa, seguridad y tecnología espacial, no te puedes perder este evento online donde se presentará el proyecto europeo Go2Space-HUBs y se detallarán las actividades previstas en el HUB de Madrid.
AGENDA:
10:00- Welcome
Jarosław Sołtys, Project Director. Technology Partners Foundation
10:05- ESA: springboard for acceleration of start-ups.
Joana Kamenova, Outreach and Business Analyst. European Space Agency (ESA)
10:15- Presentación del proyecto europeo Go2Space-HUBs
Emma Crespo. Emprendimiento y Desarrollo Empresarial. Servicio de Emprendimiento e Innovación. Universidad Carlos III de Madrid (UC3M)
10:25- Mesa redonda 1: Retos del sector espacial europeo. Instrumentos financieros para start-ups.
Teresa Barber, Junior Business Development, Digital. Europe Unlimited
Carlos Toledo. Departamento de Promoción Institucional y Cooperación Territorial. Dirección de Programas de la UE y Cooperación Territorial. CDTI
10:45- Mesa redonda 2: De tecnologías espaciales a negocios innovadores
José Luis Serrano, Head of Services, Solutions and Innovation. Hispasat
Lara Arche Andradas, Innovation Manager. Innovation Point of Contact. Thales Alenia Space
Rafael Olmedo, Founder & CEO. Geko Navsat
Dr. Ignacio de la Calle, Director de Desarrollo de Negocio. Quasar Science Resources
11:15- Presentación del Programa de Aceleración
Gemma Villegas. Emprendimiento y Desarrollo Empresarial. Servicio de Emprendimiento e Innovación. Universidad Carlos III de Madrid (UC3M)
11:25- Reserva de encuentros B2B y ronda de preguntas
11:35- Cierre
MODERA: Jorge Onsulve, Director y Presentador del podcast La Fábrica de la Ciencia, Universe Explorers & Wish Spatial Project.
...............................................................................................................................
Go2Space-HUBs tiene como objetivo el desarrollo y crecimiento de empresas europeas que ofrecen tecnología y servicios desde y hacia el sector espacial, asegurando la generación de valor y la innovación a través de la creación de tres HUBs en Madrid, Coimbra (Portugal) y Tallinn (Estonia).
Desde el HUB de Madrid se está trabajando en la creación de un completo Programa de Aceleración, para el que seleccionará a un total de 20 start-ups y scale-ups que desarrollen su actividad en alguna de las cuatro áreas que recoge el programa:
1. Digitalización (Big Data, IoT, Smart Cities, Smart Transport…)
2. Objetivos de Desarrollo Sostenible (un futuro bajo en carbón, impacto social positivo…)
3. Defensa y Seguridad (ciberseguridad, Big Data, Fintech…)
4. Tecnología Espacial (upstream y downstream)
A través de Go2Space-HUBs se espera generar nuevas iniciativas que complementen a las que actualmente se desarrollan a nivel europeo, de ahí la estrecha vinculación que se generará entre Go2Space-HUBs y los programas Copernicus y Galileo o la participación en las Comunidades de Conocimiento e Innovación del European Institute of Technology and Innovation (EIT).
La Universidad Carlos III de Madrid desde su Parque Científico, coordina este proyecto Horizonte 2020, en el que también participa Madrid Aerospace Cluster. El resto del consorcio está compuesto por entidades de Bélgica, Estonia, Polonia y Portugal, que representan a los actores clave en el ecosistema de las start-ups y del espacio: Technology Partners, Europe Unlimited, Tehnopol y el Instituto Pedro Nunes.
Más información: go2space-hubs.eu